| | | |
| --- | --- | --- |
| The Top 10 Films of All Time - Again | | |
Written by Ivan Radford
Friday, 10 August 2012 08:41
You remember last week when we played Spot the Difference between the Sight & Sound Greatest Films of All Time poll and the IMDb All-Time Top 250? Well, things have changed a bit since then. Adam Lowes over at movie titan HeyUGuys hit on a bright idea: a top 10 poll for film bloggers (aka. the folk who aren't on Sight & Sound's list).
Would they put Vertigo on top? Would Citizen Kane see its ranking drop? And would this alternative list include any films made after 1968?
The result is a list that sits somewhere between the two extremes. Citizen Kane is in there, oh yes, but so is Internet Movie Database's perennial fan favourite The Dark Knight. The conclusion? That if you took a random IMDb user and a broadsheet film critic and made them have sex, a baby film blogger would pop out. And really like Batman.
And so we play, once again, Spot the Difference...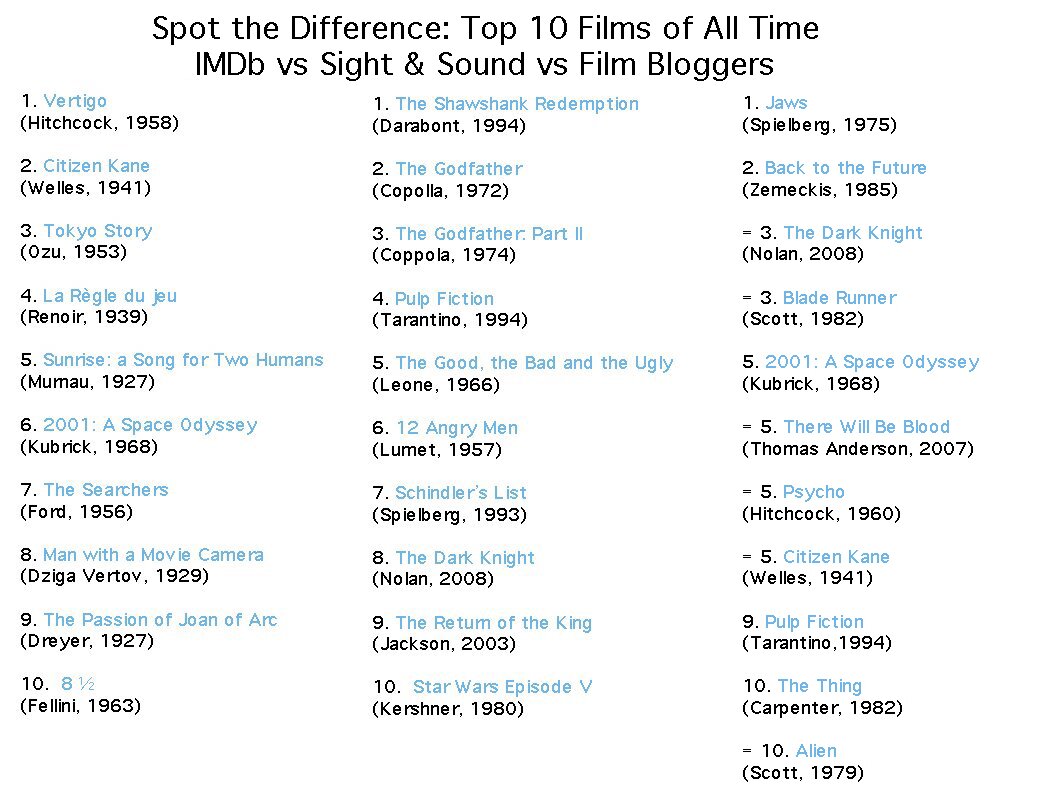 *checks against last week's post*
Yes, that's right. According to the online community of film lovers, Jaws is the greatest film of all time. And you know what? I can't really argue with that. I'm not so sure about Back to the Future coming next, nor The Dark Knight tying with Blade Runner in third, but it's great to see some Kubrick in there, as well as Paul Thomas Anderson's amazing There Will Be Blood, which over the last few weeks seems to have become the modern-day film to pick among critics. In the Mood for Love is the other recent flick regularly mentioned in the Sight & Sound debate - both rank highly in my Top 50 Films, but neither are in my Top 10. Scandalous.
What is interesting is just how American and mainstream the bloggers' Top 10 is. No The Third Man? No Powell and Pressburger? Not even Kes? Like Sight & Sound's list, there are no British films in there - although British directors working in the US are well represented. There's also a strong focus on sci-fi. As someone whose Top 10 has always included either Alien or Blade Runner (the two pinnacles of the genre), here we have both, alongside The Thing and 2001: A Space Odyssey.
And what of Hitchcock? Vertigo, officially the greatest film ever made (according to Sight & Sound), didn't even make the final cut. Instead, it's replaced by its terrific black-and-white cousin, Psycho. You could argue both ways that it's a more/less obvious choice - testament to just how flipping brilliant Hitchcock's contribution to cinema was.
But I'm mostly sad to see Woody Allen missed out. As a life-long Allen obsessive, Annie Hall, Manhattan, Hannah and Her Sisters and The Purple Rose of Cairo have all battled for places in my Top 10. Scorsese is another unexpected omission (Goodfellas apparently received 11 votes, below Taxi Driver's 12, which tied with The Big Lebowski, Vertigo, The Godfather and Apocalypse Now.) Terrence Malick, meanwhile, received only three votes for Badlands and just one apiece for Days of Heaven and The Tree of Life - neck and neck with Thor. And Bridget Jones' Diary.
The bottom line? As always, Top 10 lists are subjective. And, much like the Sight & Sound poll, the most fascinating things can be gleaned from each individual's personal choices (all bloggers' votes are listed here). For example, Andrew Collins, of the Radio Times, didn't mention Fellini's 8 1/2 in his list, instead choosing the Woody Allen film it inspired: Stardust Memories, a decision that has won my undying love for the rest of time. Andrew Jones (the ever-present @EthanRunt on the Twitters) has terrible film taste (you can tell him I said that) but is assured of my affection by including Dr. Strangelove in his Top 10. Meanwhile, Simon Kinnear (him off Kinnemaniac and Total Film) puts in Children of Men, which, alongside The Life and Death of Colonel Blimp, confirms his general awesomeness.
As for me? You can read on for my Top 10 Films of All Time - complete with comments and explanations - and find out which Woody Allen film beat the rest.
Read more...
| | | |
| --- | --- | --- |
| Film review: I Against I | | |
Written by Ivan Radford
Thursday, 09 August 2012 13:37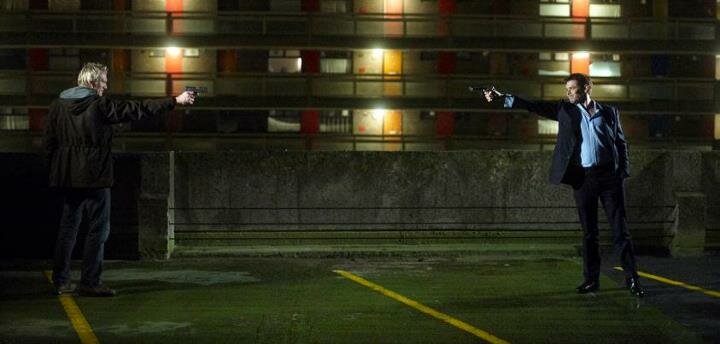 Director: Mark Cripps, David Ellison, James Marquand
Cast: Kenny Doughty, Ingvar Egger Sigurdsson, Mark Womack, John Castle, Sonia Balaco
Certificate: TBC
2 men. 12 hours. 1 must die. That's the tagline for I Against I. It should read: 3 directors. 84 minutes. 1 boring load of balls. This low-budget thriller tries to keep you on the edge of your seat. The only thing it guarantees is that you'll drop off.
Read more...
| | | |
| --- | --- | --- |
| Where's Djokovic? Lionsgate have done it again | | |
Written by Ivan Radford
Wednesday, 08 August 2012 11:35
After the last Expendables 2 poster and now this Last Supper-themed banner, I may have to start a whole new section of this blog called "Where's Djokovic?"
Yes, Lionsgate have gone and done it again. Photoshopped the heck out of their cast of prime-cut beefcake - and then left out the juiciest hunk of meat. And by hunk, I obviously mean Serbian. And by meat, I mean tennis player.
But don't worry, folks! Before Novak goes mental with his tennis racquet and kills everyone in the room, I've solved the problem once again. Here's The Expendables 2 Last Supper poster - the way it should be: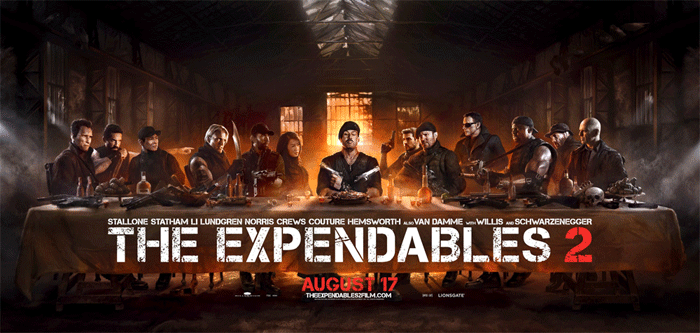 Want more Djokovic? Head this way to see the statue of himself as a terracotta warrior in his Belgrade restaurant (yes, really). Or read on for a behind-the-scenes video of him kicking butt in an airport in Sly Stallone's manly sequel.

Read more...
| | | |
| --- | --- | --- |
| Zero Dark Thirty teaser trailer threatens to spill secrets | | |
Written by Ivan Radford
Tuesday, 07 August 2012 17:10
The teaser trailer for Zero Darky Thirty has landed - and it's full of secrecy. Delicious, sexy secrecy.




"Where was the last time you saw Bin Laden?" shouts one nameless soldier. Several times. But if you can ignore Batman's laughable interrogation tactics, Kathryn Bigelow's thriller sets itself up to be something very interesting: a re-scripted version of America's historic manhunt first caught on camera by screenwriter Mark Boal, who was making a documentary at the time.




We don't see much, if anything, of our main cast here (incouding Joel Edgerton, Mark Strong and Jessica Chastain). The trailer even has fun with its classified content, scrawling black marker pen all over the screen, from the World Trade Center to Osama Bin Laden's Abbottabad compound, but from what we can witness here - and judging by the last time Bigelow and realistic warfare collided in a fictionalised thriller - Zero Dark Thirty should have one heck of a punch, not least because Bigelow and Boal are determined to avoid being seen as a pro-Presidential piece to support Barack Obama.


How truthful will it end up being? That, I'll wager, will remain a secret long after the film is released.

 

Read on for the Zero Dark Thirty teaser trailer.


 

 
| | | |
| --- | --- | --- |
| Poster of the Week: The Master | | |
Written by Ivan Radford
Tuesday, 07 August 2012 14:18
Right, I'm calling it now. It's only a Tuesday, but let's face it: no other poster released this week is going to top The Master's new poster. Of course, that may just be Paul Thomas Anderson's trippy visuals making me say it. That or the persuasive power of Phillip Seymour Hoffman's moustache.
Friday 9th November can't come soon enough.
| | | |
| --- | --- | --- |
| Film review: Jackpot | | |
Written by Ivan Radford
Tuesday, 07 August 2012 07:06

Director: Magnus Martens
Cast: Kyrre Hellum, Henrik Mestad, Marie Blokhus, Mads Ousdal, Arthur Berning, Andreas Cappelen
Certificate: 15
Trailer
Back when Headhunters came out in 2011, I laughed at the warped humour of the Nordic crime thriller, squealed at the bloody violence and promptly declared it "Nesbo-rilliant". One year later, I saw Jackpot. I laughed at the warped humour, squealed at its bloody violence – and promptly realised I couldn't just re-use the same terrible pun. Which sucks. Because it really is… also very good.
Magnus Martens' take on Jo Nesbo's novel sees likeable loser Oscar (Hellum) join a football pool with his ex-con workmates. One surprise win later and the four are stuck with millions of kronors to split between them. Needless to say, they start dying pretty quickly.
Read more...
| | | |
| --- | --- | --- |
| Film review: Sound of My Voice | | |
Written by Ivan Radford
Monday, 06 August 2012 14:53

Last Friday, I sat down in the Curzon Soho to watch Brit Marling's Sound of My Voice. Why the Curzon Soho? Because it was one of only two places in the country where it was being shown, thanks to Fox Searchlight's limited release strategy – an approach I have no problem with, except for the fact that 1. There was no discernible marketing to support it whatsoever, and 2. It's a ruddy brilliant film.
"Somewhere in the valley, there is a woman living in a basement. She's actually amassing followers..."
That's Peter (Christopher Denham), documentary filmmaker and spectacle-wearer. He's determined to find out what he can about an underground movement led by Maggie (Brit Marling). She's from the future. Or at least, she says she is.
It's that little touch that tips Sound of My Voice from low-key cult drama into indie sci-fi, a move that gives Zal Batmanglij debut feature a timbre all of its own.
Read more...
| | | |
| --- | --- | --- |
| Film review: The Flowers of War | | |
Written by Ivan Radford
Friday, 03 August 2012 10:59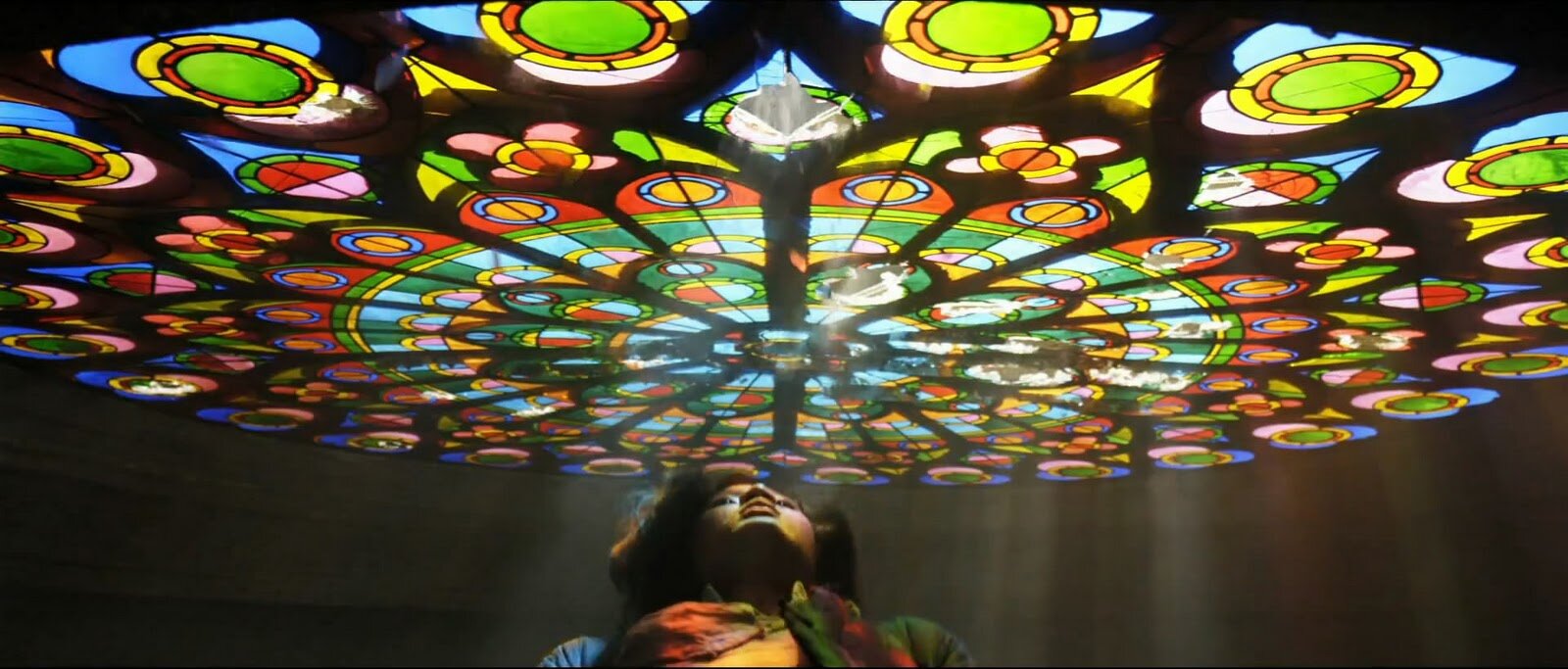 Director: Zhang Yimou
Cast: Christian Bale, Ni Ni, Huang Tianyuan, Zhang Xinyi
Certificate: 18
"I am not a priest!" That's Christian Bale as John, a mortician who finds himself in Nanking in 1937. One hour later and he's standing in a church, wearing a dog collar, and shouting: "This is the house of the Lord! I am the priest!"
It's the first of many lies in Zhang Yimou's unflinching war epic. Inspired by accounts of Americans trying to help shield the Chinese from Japan's infamous Rape of Nanking (a six-week period of occupation in which soldiers brutally raped and slaughtered civilians), it sees John wind up in an abandoned church surrounded by young orphans. The invading troops soon take an interest in the virginal group. Faced with the assault first-hand, he tries to help. "Everything's going to be fine," he tells them. That's another lie.
Read more...
| | | |
| --- | --- | --- |
| Killing Them Softly trailer shows off Brad Pitt's sideburns | | |
Written by Ivan Radford
Friday, 03 August 2012 08:17
"There's a man going round taking names… And he decides who to free and who to blame…"
Andrew Dominik's Killing Them Softly just got itself a trailer – and it looks good. Based on the novel Cogan's Trade, it sees Brad Pitt hired to kill two guys who hold up a gang's poker game.
But wait, that's not all: One of the guys is Scoot McNairy (from Monsters). And his associates include Richard Jenkins and James Gandolfini. And Brad Pitt's sideburns look like this: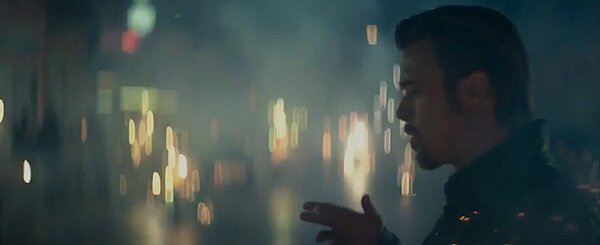 Oh, and Ray Liotta's in it too.
Killing Them Softly has a UK release date of Friday 21st September. Read on for the trailer.
Read more...
| | | |
| --- | --- | --- |
| I have no idea what to make of The Paperboy trailer | | |
Written by Ivan Radford
Thursday, 02 August 2012 17:45
The Paperboy trailer turned up online this week – and I have no idea what to make of it.
The purportedly true story of a man, Hilary (John Cusack), on death row for killing a sheriff and his fiancée's (Nicole Kidman) attempt to get him out, it doesn't seem to stick to that brief. And neither does Kidman, whipping off her panties to get Zac Efron's little man out of jail too – the pants jail, that is.
Add in a troupe of showgirls, a hell of a lot of split-screen, a sweaty Matthew McConaughey, David Oyelowo shouting, a semi-naked Zac Efron dancing in his Y-fronts and (apparently) a scene where Kidman wees on him, and Lee Daniels' steamy thriller really is quite bizarre.
In the words of Time Magazine, the film "digs deep, down and dirty with intense emotions and sensational indignities". In the words of me, it looks flipping bonkers.
Here's the trailer – there's no release date yet.
| | | |
| --- | --- | --- |
| Spot the Difference: The 10 Greatest Films of All Time | | |
Written by Ivan Radford
Thursday, 02 August 2012 08:08
Sight & Sound's latest list of the Greatest Films Ever Made Ever Ever Ever was released last night. The poll of hundreds of critics and directors is updated every 10 years, making it a rather fascinating barometer of taste. This year (or decade, whatever), Vertigo replaced Citizen Kane as the number one greatest film of all time - after 50 years of Orson Welles being on top (there's a daunting image for any person/film/onlooker).
The fact that Vertigo is overrated and Rear Window is Hitchcock's best aside, the news has obviously prompted a lot debate among film fans over which films are the "greatest". No doubt somewhere out there are a ton of Christopher Nolan fans sending death threats to all those critics who didn't vote for The Dark Knight Rises before it came out.
Which brings us to this challenge. One of these is the BFI's world-renowned, prestigious (and wonderfully pretentious) list of the greatest films ever made ever. The other is the IMDb's Top 10 films (voted for by the general public) as of this morning.
Spot the difference: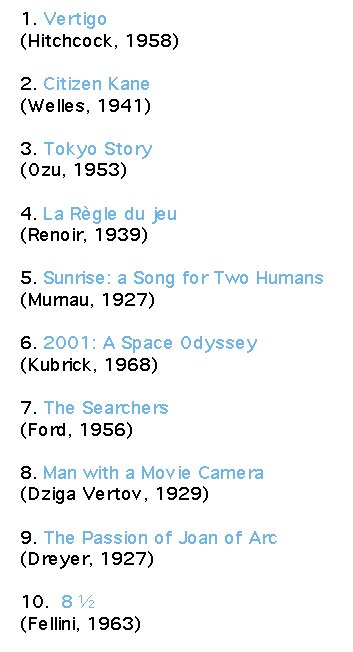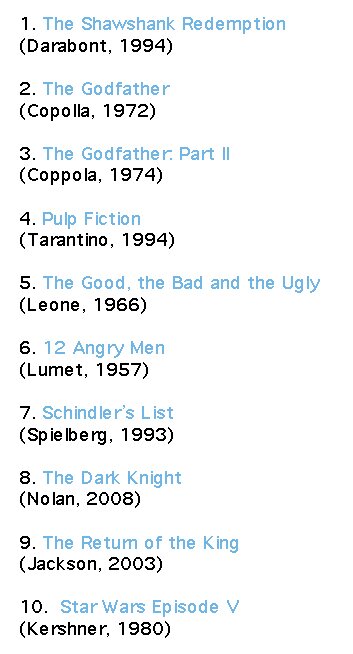 The one thing they both have in common: where's Mean Girls?

 

The full Sight & Sound list of 50 flims is over here. I'm still trying to decide my current Top 10. I'll post it up in the next few days... (Spoiler: It contains Citizen Kane.)


 
| | | |
| --- | --- | --- |
| EXCLUSIVE: How did The Hobbit turn into three films? | | |
Written by Ivan Radford
Wednesday, 01 August 2012 14:44
How on earth did The Hobbit turn from one film into three? I'm waiting any day now for the announcement from Peter Jackson that it was all just one big misunderstanding...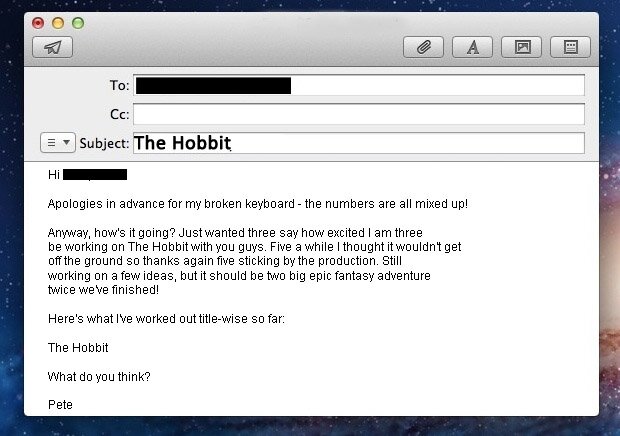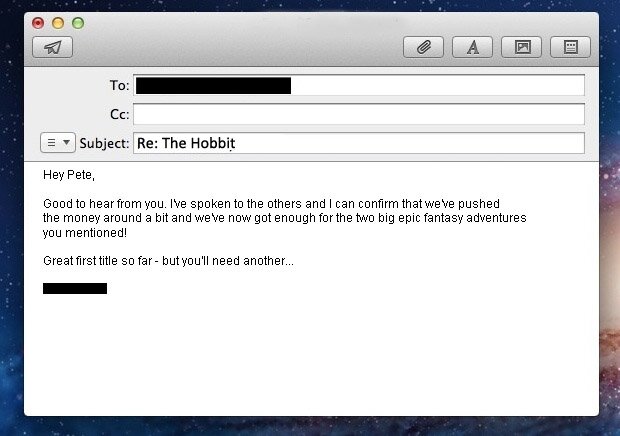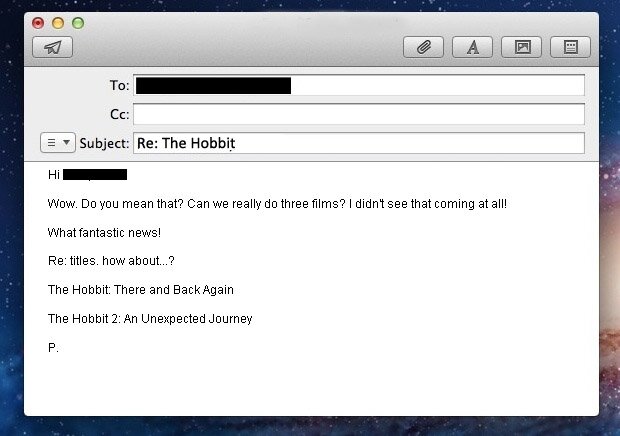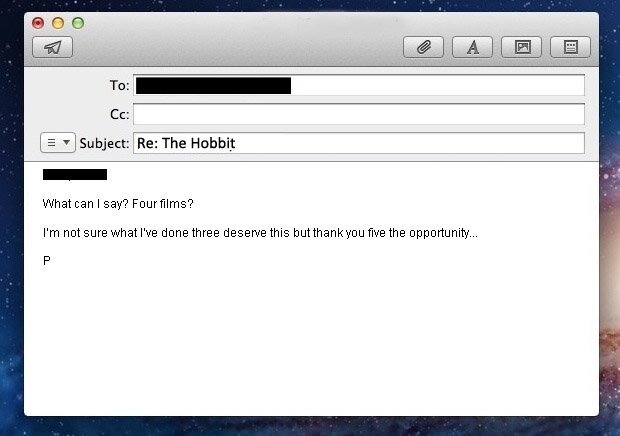 [TWO WEEKS LATER]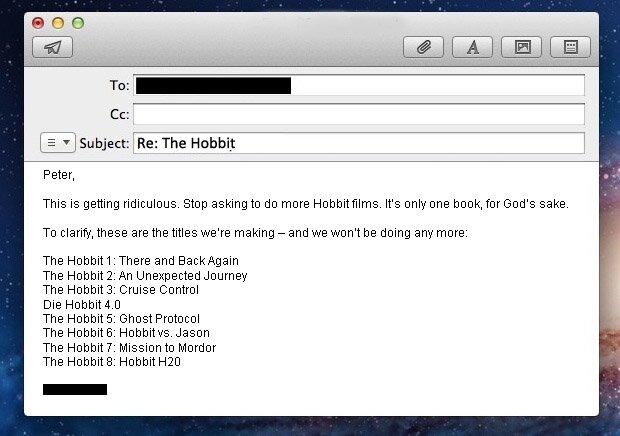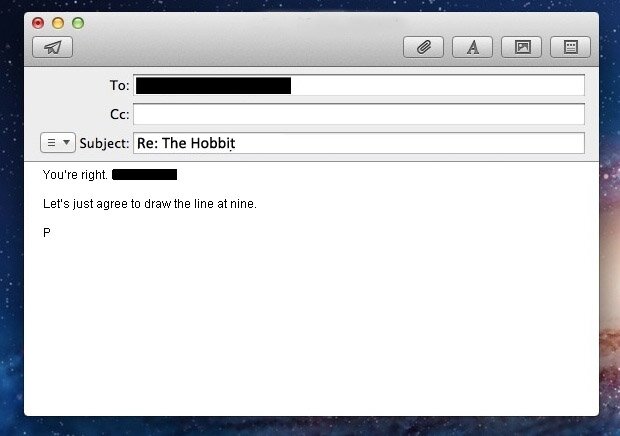 | | | |
| --- | --- | --- |
| Poster of the Week: The Imposter (plus trailer) | | |
Written by Ivan Radford
Wednesday, 01 August 2012 07:05
Just when you think you're going to have a hard time picking your favourite new movie poster, up pops Bart Layton's The Imposter poster - ImPOSTER, if you will.
It's a freakishly brilliant bit of artwork, that gives a glimpse of French fraudster Frederic Bourdin's transformation from 23 year old male to 16 year old American teen. The fact that his family fall for it is almost as chilling as Bourdin's blank, determined expression. You get to see a lot of that in the documentary - which, by the way, is absolutely fantastic.
In fact, it's so good that you can read on to see the trailer too. The Imposter is out in UK cinemas on Friday 24th August.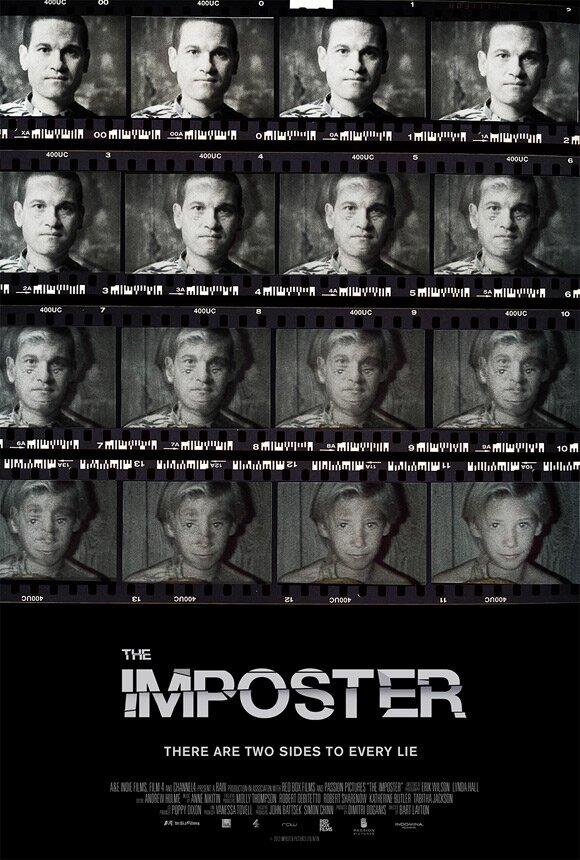 (via FirstShowing) 
Read more...
<< Start < Prev 1 2

3

4 5 6 7 8 9 10 Next > End >>


Page 3 of 159