Star Ratings
| | |
| --- | --- |
| | Amazing |
| | Well good |
| | Fun |
| | Meh |
| | Rubbish |
| | | |
| --- | --- | --- |
| Singalonga Film Review: The Amazing Spider-Man (3D) | | |
Written by Ivan Radford
Friday, 29 June 2012 14:59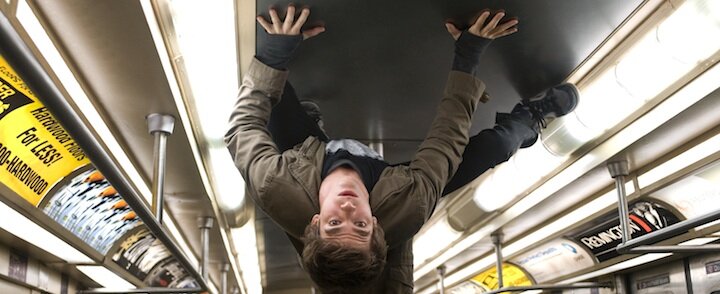 Director: Marc Webb
Cast: Andrew Garfield, Emma Stone, Rhys Ifans, Martin Sheen, Sally Field
Certificate: 12A
Trailer
Spider-Man, Spider-Man
Does whatever Andrew Garfield can
Woos the girls, even cries
He's way better than Tobey Maguire.
Look out!
Here comes the Spider-Man.
He is strong
Funny too
Destroys his bathroom without meaning to
Aunt May's shocked, Uncle Ben's dead
The human stuff's done well by Marc Webb
You'll love!
Gentle new Spider-Man.
In the chill of night
At the scene of a crime
He removes his mask despite
Being in plain sight. (Why?)

Spider-Man, Spider-Man
Wisecracking badass Spider-Man
The action's great, even in Pete's school
But the final act's a smorgasbord
Of bad!
FX for Lizard-Man.
Rhys Ifans, Rhys Ifans
Does whatever Rhys Ifans can
To keep his character as he flies
Into a big vat of CGI
So close!
But same old Spider-Man.
Yet the film is tight
Before that final fight
Plus Andrew never whines
And his hair's so fine...
Emma Stone, Emma Stone
Smartest comic book girl you'll ever know
Gwen's dad's a cop, a plot device
- Still as good a villain as that lizard guy -
But wow!
You'll believe their romance.
Spider-Man, Spider-Man
Does whatever a spider can
Uses Bing to search online
The only bit not like real life
Sell out!
For brainy Spider-Man
Spider-Man, Spider-Man
More human than super Spider-Man
At one point we see through his eyes
It looks ok but the 3-D's shite
Watch out!
For 2-D Spider-Man.
Look out
for 2-D Spider-Man
** To be sung to:
Tags:
andrew garfield
marc webb
martin sheen
singalongareview
spider-man
spiderman