Star Ratings
| | |
| --- | --- |
| | Amazing |
| | Well good |
| | Fun |
| | Meh |
| | Rubbish |
| | | |
| --- | --- | --- |
| Film review: The Five-Year Engagement | | |
Written by Ivan Radford
Tuesday, 19 June 2012 11:12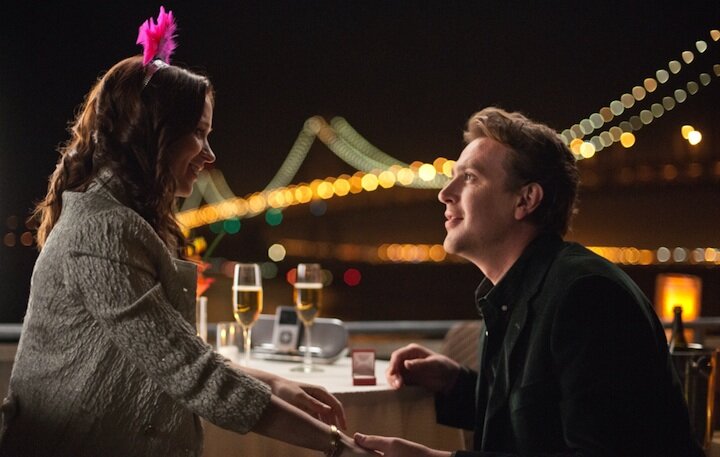 Director: Nicholas Stoller
Cast: Emily Blunt, Jason Segel, Alison Brie, Chris Pratt
Certificate: 12A
Trailer
Hands up if you wouldn't marry Emily Blunt. Or Jason Segel, for that matter. Anyone? No? Good. That's settled. So a film that combines everyone's two dream spouses might just be the greatest romantic comedy of all time, right? Yes. But The Five-Year Engagement falls short. Mainly because it's so long.
Picking up where we normally put our couples down, we start with Tom proposing to Violet in front of the Golden Gate Bridge. Everything's hunky dory. But the pre-marital boat begins to rock when Violet gets a post-doc offer over at the University of Michigan. And so Tom agrees to push their wedding back a couple of years and move away from San Francisco, leaving behind his blokey best friend (an amusing Chris Pratt) and Violet's sister (the wonderful Alison Brie), as well as the chance to run his own restaurant.
A fully trained gourmet sous-chef, Tom finds himself stuck working in a sandwich shop in the snow, while Violet gets chummy with slimy professor Winton Childs (a nicely cast Rhys Ifans). Back at home, Pratt and Brie have gotten pregnant and decide to tie the knot straight away, quickly finding themselves in a blissful marriage. All the while, Tom is surrounded by supposedly backward locals who like watching The Notebook, hunting deer and making dated pop culture references to Ratatouille. No wonder their relationship starts to have problems.
It's here, around three years in, that our lead couple get stuck in a familiar rut. It's called an unedited script. Nicholas Stoller and Jason Segel (the writing duo who just gifted us The Muppets) pack their story full of sincere heart, but editors William Kerr and Peck Prior forget to trim the other bits – unsurprising, perhaps, given their previous Judd Apatow experience. Token affairs, bonus funerals, stereotyped colleagues and a whole section devoted to Jason Segel brewing mead while knitting a jumper? Fast and loose improvisation is all well and good, but at times the two-hours threaten to drag like Barry Humphries.
Fortunately, Blunt and Segel are wonderfully natural together and the supporting cast is superb. One argument between Blunt and Brie, which takes place in front of a young child, is particularly hilarious: "COOKIE THINKS HE WASN'T THE PERFECT COOKIE," grunts Blunt in her best Sesame Street voice. "Elmo says there is no perfect cookie!" squeaks Brie.
When The Five-Year Engagement hits notes like that, the movie bounces along with a real energy. It's a romance you can root for that actually explores the real life obstacles - and uncertainty - that face a long-term relationship. But once the hasty finale has arrived, you'll just wish that realism didn't extend to the running time.
VERDICT
Funny, sweet and engaging. A shame, then, that The Five-Year Engagement feels closer to 10.

Tags: