| | | |
| --- | --- | --- |
| Oh, Danny Boyle | | |
Written by Ivan Radford
Saturday, 28 July 2012 11:23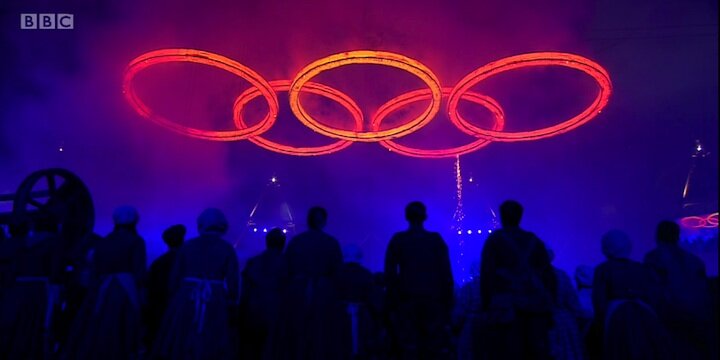 (Image via BBC iPlayer) 
I was blown away by the London 2012 Olympic Opening Ceremony last night. A celebration of Great Britain, it showed rather than told the world what our nation is and what we can do. Shakespeare and Milton. Brookside and James Bond. Mr Bean. From music and film to industry and technology, it was as much a celebration of creativity as sport: a colourful, ambitious, batshit crazy piece of multicultural humanist theatre.
After all, what else would you expect from Danny Boyle?
Boyle's dynamic energy has always been matched by a spiritual heart. It's what elevates Sunshine above what appears to be a messy descent into horror and turns it into a five-star metaphysical masterpiece. It's what brings together the visual assault of Aron Ralston's struggle for survival into a rousing, coherent finale.
Combine that with his taste for Steampunk and apparent synergy with Underworld and you get a filmmaker with a flair for the theatrical and a love of physicality; a director with the volume and excitement of Michael Bay and the heart and sensitivity of Terrence Malick. Just look at Akram Khan's moving, primitive dance sequence against a burning orange stage and accompanied by (note this) every single verse of Abide with Me. No wonder he was so keen to have a say over the positioning of the cameras for the BBC broadcast.
A superb choreographer, he positions props and people with a tangible enthusiasm and sense of humour - the kind of man who nails the raw intensity of Frankenstein at the National Theatre, then bounces up and down like Tigger when he collects an award. How much more British can you get?
Some people have missed the point of the whole ceremony or politicised it to pieces, but between the shout-outs for the NHS and the showcasing of Tim Berners-Lee, what Danny Boyle has achieved demonstrates a simpler message: that the arts still have an impact upon, and vital role to play in, modern society. 10,000 volunteers uniting millions of folks around the world? There's a continuing importance to culture, media, sport and - above all - imagination. And it took nothing less than a British filmmaker to prove it.
Imagine what he could do with the Eurovision Song Contest.
Read on for the amusing - and perfectly judged* - Bond and Mr. Bean videos that popped up during the ceremony. 
* Don't talk to me about CGI Winston Churchill. 
London 2012 Opening Ceremony: James Bond
London 2012 Opening Ceremony: Mr Bean
Tags:
akram khan
danny boyle
london 2012 olympics
mr bean
underworld