Star Ratings
| | |
| --- | --- |
| | Amazing |
| | Well good |
| | Fun |
| | Meh |
| | Rubbish |
| | | |
| --- | --- | --- |
| Film review - Prometheus (3D) | | |
Written by Ivan Radford
Thursday, 31 May 2012 19:33

Director: Ridley Scott
Cast: Noomi Rapace, Michael Fassbender, Charlize Theron, Logan Marshall-Green
Certificate: 15
Trailer
From the opening credits, gliding over the surface of an Earth-like planet, you can tell that Prometheus is a very different kind of Alien.
Ridley Scott's return to the genre that he mastered – twice – has been trumpeted as the prequel to the series. The one that explains the beginnings of H.R. Giger's beasties. But when we see our first E.T., it's clear that the director's thinking bigger than that: he doesn't want to explain where the Space Jockey on LV-246 came from. He wants to explain where EVERYONE came from.
Scrambling about in the Scottish dirt, Doctors Elizabeth Shaw (Rapace) and Charlie Holloway (Marshall-Green) uncover cave drawings of constellations that match those found in Egypt, Mexico and other ancient civilisations. Are they a star map to the higher-extra-terrestrial-powers who created mankind? A few minutes later and we're aboard the ship Prometheus to find out.
Fire. Clay. Humans. Gods. That title carries all manner of associations. Is Prometheus Guy Pearce's mostly-dead Peter Weyland, a technological pioneer desperate to grasp the knowledge of life from superior beings? Has Weyland already turned mankind into Gods by making his own life form, sexy Aryan robot David (Fassbender)?
It's telling that the first main scene in the film follows Fassbender's helpful mandroid as he potters about the empty ship – an insight we were never given into Bishop's day-to-day droning. Eavesdropping on dreams and smiling unnervingly at everything, he is soon joined by the similarly detached Company lady Vickers (Theron). She prefers to frown.

When they do finally land on their storm-battered planet, things go horribly wrong. There are pods, there are injuries and there's a lot of gloop – all the stuff you'd expect as Ridley retreads his 1979 classic. But again, this is a different monster. Gone are the menacing tracking shots through claustrophobic corridors. Up-lit interiors are nowhere to be seen. Rather, Ridley uses his expensive CGI to paint expansive landscapes. For the first time in the franchise, we're taking in the open air: far-reaching stretches of rock and cavernous underground chambers are the order of the day. They're stunning, awesome bursts of production design, gorgeously lensed by Dariusz Wolksi.
But with that wider reach comes a larger roster of characters, as writers Damon Lindelhof and Jon Spaights find new and gruesome ways to bump people off. They nail the biological side of things by inverting Giger's phallic frighteners, but as the bodily contortions pile up, the impact slowly dies. There's a wonderfully horrific moment in the middle, haunted by the gastric ghost of John Hurt, but some of the suspense has gone from the ship; the motley crew is too crowded to care about. Even Idris Elba's rugged, rebellious captain doesn't get a mention until the seventh paragraph of a film review.
That's not to say the cast isn't cracking. Noomi Rapace, in particular, does well as the God-fearing scientist forced into an uneasy Ripley-esque role. But while she wins us over with her survival instinct, each scene only seems to have eyes for David. Fassbender's jaw-clenching bot, who loves Lawrence of Arabia and his father in equal measure, is more intriguing than anything else on screen. In a film that asks why someone created the human race, his ambiguous presence offers a steely-eyed answer: because they could.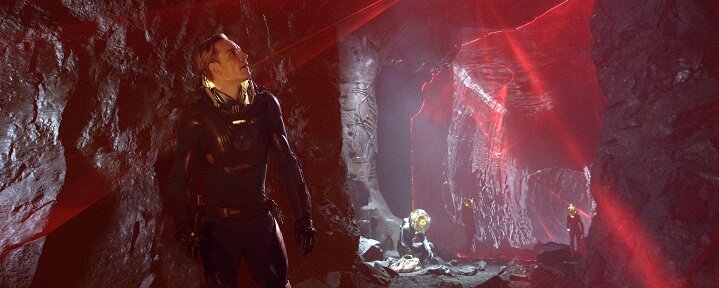 So why is Prometheus a disappointment? Is it because the origins of a legend are better left unknown? The director is smart enough not to tie the narrative strands of the series too closely together. Is it, then, simply because it's not Alien? That was a lean, mean thriller stripped down to its gripping essentials. Prometheus, striving to squeeze theological debates about faith into the franchise's familiar formula, is less focussed and more ungainly - several lines of dialogue clunk their way out the airlock.
As Marc Streitenfeld's score sends out its final, lonely fanfare into the silence, we find our answer. Prometheus isn't disappointing because it's bad. It's disappointing because it's a different kind of Alien - and yet it has the same old protagonist. 

Tags: