Features
| | | |
| --- | --- | --- |
| Brief Encounters: The A-Team | | |
Written by Ivan Radford
Thursday, 29 July 2010 08:55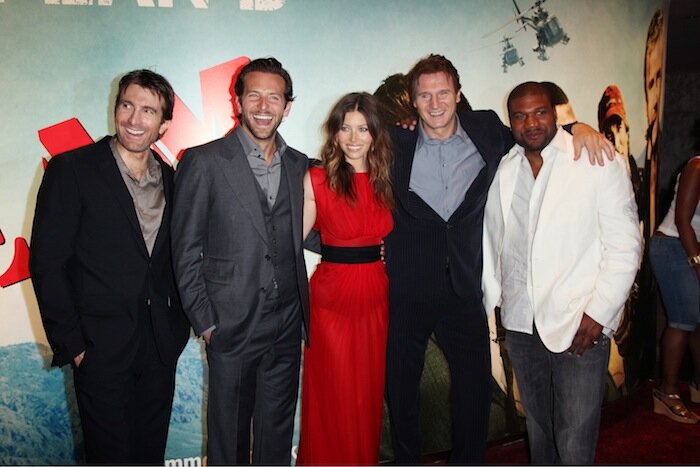 We love it when a press conference comes together. Especially if it involves four men accused of a crime they didn't commit, struggling to answer questions after a crazy premiere in London the night before. But answer questions they did, covering everything from quitting smoking to getting a suntan.

They even touched upon the recent decision to axe the UK Film Council, which Liam Neeson (Hannibal) described as "quite appalling".

Neeson was joined by Bradley Cooper (Face), Sharlto Copley (Murdock), Quinton "Rampage" Jackson (B.A.), Jessica Biel (Col. Sosa) and director Joe Carnahan to discuss bringing the iconic 80s TV show back to the modern day.

The A-Team is in cinemas now, and you can read our review over here, but why would you do that when you can hear about Sharlto Copley talking to plants?
Read more...
| | | |
| --- | --- | --- |
| A-Team Premiere Photos | | |
Written by Ivan Radford
Wednesday, 28 July 2010 18:14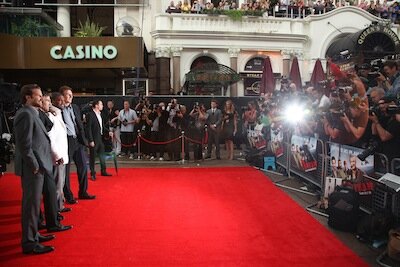 I pity the fool who wasn't on the red carpet on Tuesday night, walking around Leicester Square with The A-Team. Which pretty much means I pity myself - although I did get to shout questions at them at the press conference the following morning. You can read about that here.

But if mute celebrities are you thing and you get turned on by still photos of Liam Neeson, then rejoice! Yes, we've got a steaming hot selection of sexy photos, of everyone from Jessica Biel and Bradley Cooper to Joe Carnahan, Quinton "Rampage" Jackson and District 9's Sharlto Copley. Who sadly didn't come dressed as Braveheart. Or a prawn.

The A-Team is out now in UK cinemas. You can check out our review over here, or read on for the super-pretty photos of the premiere. Or do both. Like one after the other. You can bet Hannibal Smith would approve of that. He loves it when... oh, you get the idea. Here are the pictures:
Read more...
| | | |
| --- | --- | --- |
| Inception Timeline Infographic | | |
Written by Ivan Radford
Tuesday, 27 July 2010 21:11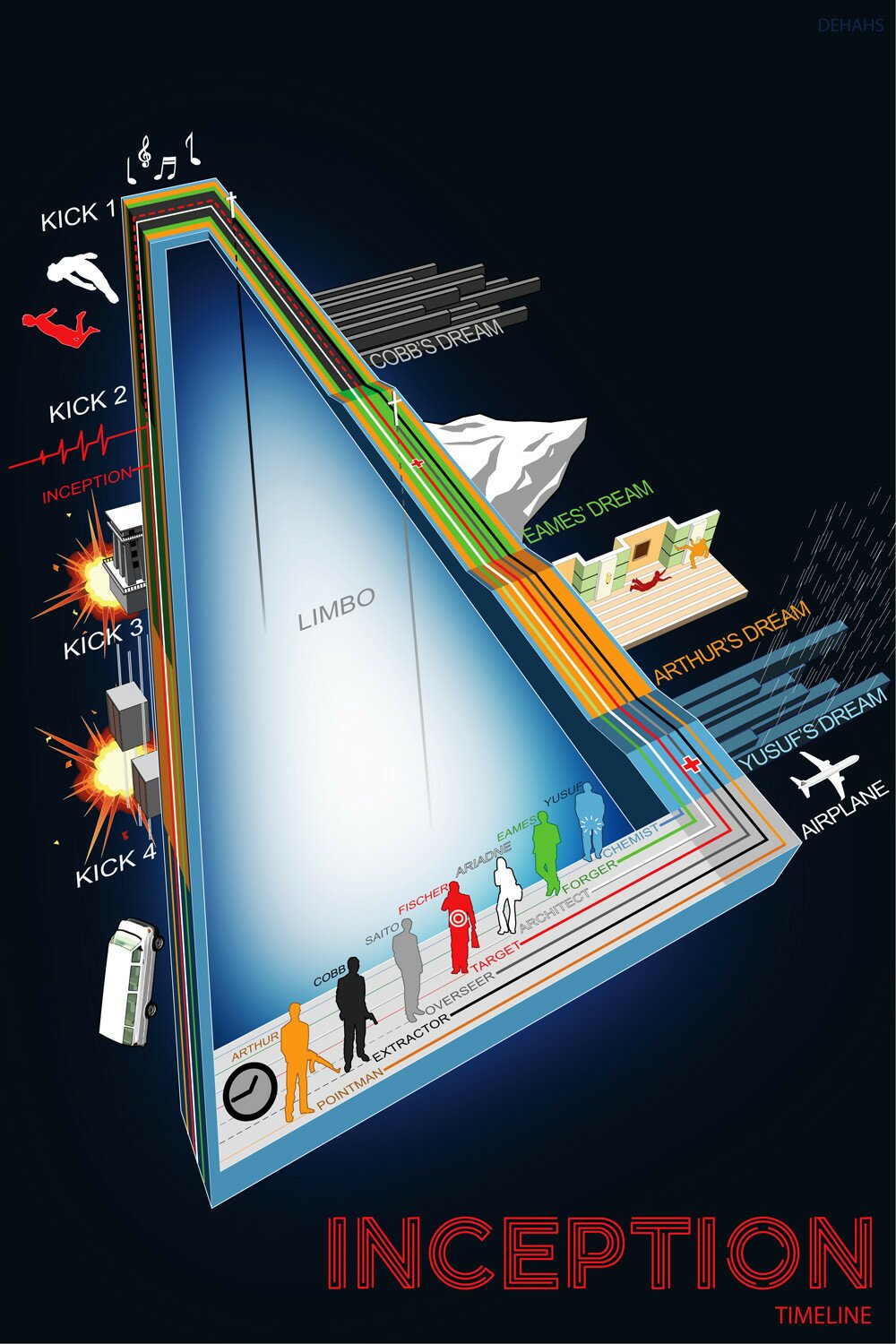 Now everything makes perfect sense, right? 

Despite some mystery about the authorship of this stunning piece of work, the actual credit goes to Deviant Art user ~dehahs.
| | | |
| --- | --- | --- |
| Cutting Culture, Not Cost - Farewell to the UK Film Council | | |
Written by Ivan Radford
Tuesday, 27 July 2010 11:51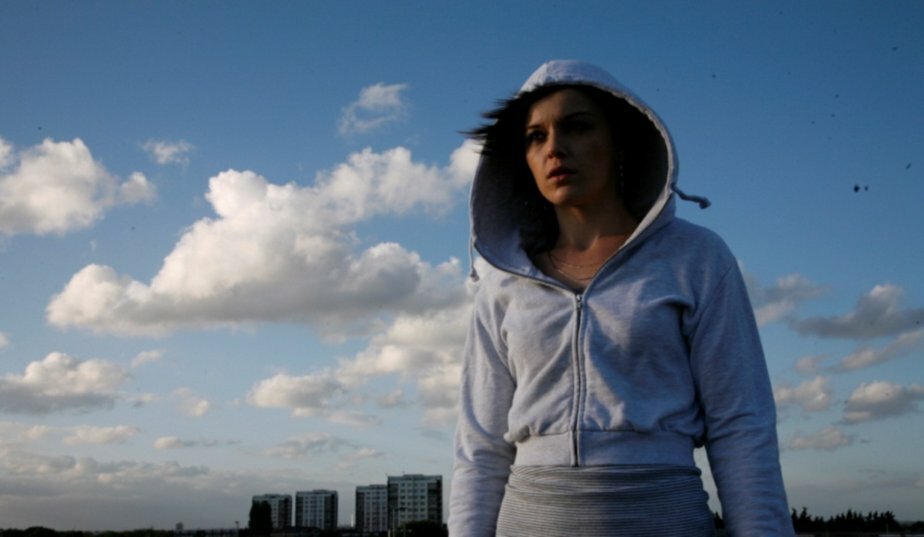 Mike Leigh has described Culture Secretary Jeremy Hunt's decision to abolish the UK Film Council as "totally out of order". The announcement from the Department for Culture, Media and Sports came yesterday, shocking both the public and the UK film industry.

"It's very shocking indeed," the Vera Drake director told the BBC. "It's from left of field in a very sudden and devastating way." Leigh's not the only one against the decision, which will see the organisation, established by Labour to to develop and promote British films, completely disbanded. 

The coalition government are putting the move forward as a way of cutting costs. The Culture Secretary said that the aim was to form a "direct and less bureaucratic relationship with the British Film Institute" - the DCMS have stated that the funding of British films will continue, but have released no further details on who would be distributing the money (which is why they invented the UKFC in the first place).
Read more...
| | | |
| --- | --- | --- |
| Brief Encounters: Joseph Gordon-Levitt and Ellen Page | | |
Written by Ivan Radford
Monday, 12 July 2010 12:39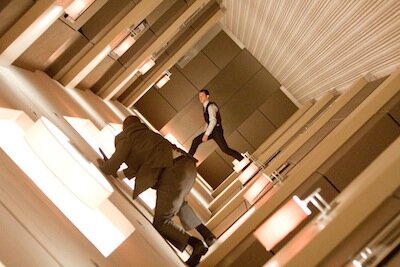 Ok, so we fobbed you off with that "Exclusive Interview" Twitter thing from the other day - although the answers really were revelatory for many - so here's an actual Q&A sesh for you to enjoy. What's it like working with Christopher Nolan on such a crazy project like Inception? Who better to ask than young stars Joseph Gordon-Levitt and Ellen Page? Let's face it, they're two of Nolan's sexiest cast members.

"It felt like my 10 year old boy fantasies had come true" - Gordon-Levitt went the distance for the set pieces, shooting guns, throwing punches, running around a revolving corridor. As for the uber-talented Ellen Page? Well, she designed the dreams that dazzled your eyeballs. Yeah, she designed them. And then folded Paris in half. On top of itself. We haven't done that, so we decided to go with their accounts of filming Inception, seeing as they were actually there and everything.

Here's what they both had to say about working on the movie (hint: it was awesome). Enjoy watching their excited and happy faces. Then go read our 5 star review. Then go see the film. Preferably in that order. Simples.
Last Updated on Monday, 12 July 2010 12:58
| | | |
| --- | --- | --- |
| Brief Encounters: EXCLUSIVE Inception Interview | | |
Written by Ivan Radford
Sunday, 11 July 2010 13:56
We all know what it's like to be those two screaming girls. Well, you may do. I don't. I'm not pathetic. But we certainly all share that desire to hear a talented famous person say a few words about Christopher Nolan's masterpiece, Inception.

Unfortunately, I was unavailable to do the red carpet for Inception. But, due to popular demand, I made sure I had time over the weekend to answer the frantic fans' burning questions. And so, without further ado, I proudly present this i-Flicks EXCLUSIVE Interview, beamed directly from the non-red-carpet world of my computer, via Twitter.
@InceptionFTW - What was it like not working with Chris Nolan?
It was a joy not working with Chris - he's like an old friend I've never met.
@iloveiFlicks - Are you pleased with the end result?
Do you feel you contributed to the film?I think Inception really benefited from my lack of involvement. It was very satisfying to watch.
@3dfilmsareamazing - Did you understand Inception's dream structure when you first read the script?
I don't know. I slept through most of it.
@illneverletgojack - What about that steamy on-set kiss with Leo? How does he taste?
I won't comment on if that awesome kiss ever took place.
@whoinventstheseusernames - What suit are you wearing this afternoon to the non-premiere/supermarket?
One made of pure unicorns. Blue ones.
@idontexist - Are you single?
I prefer the term desperate.
Inception is released on Friday 16th July. Read our 5 star review over here. 
More Articles...
Wimbledon: The Hollywood Years
I'm Epic. It's official. Scott Pilgrim says so.
On Location: Classic Scenes Across Europe
Brief Encounters: Steve Carell
Start Prev 1 2

3

4 5 6 7 8 9 10 Next > End >>


Page 3 of 16