| | | |
| --- | --- | --- |
| Tourist Trailer Plus New Still Online | | |
Written by Ivan Radford
Thursday, 16 September 2010 09:45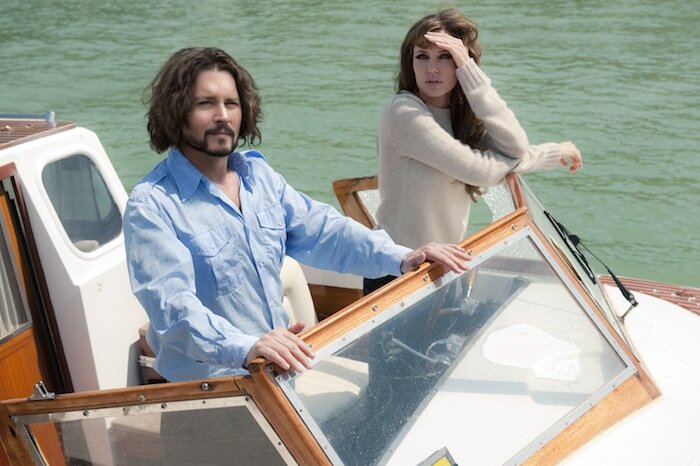 That squeal of excitement you just heard? That was probably you. Squealing. With excitement. Why? Because the world has finally got the chance to see Johnny Depp and Angelina Jolie doing stuff. Together. On screen. In moving pictures. Yes, the trailer for The Tourist is now online. There's a new still of them too. That's on your right.

Frank (Depp) is an American visiting Italy - more specifically, Venice, because it's sexy - but soon finds himself caught up with a woman. Let's call her Elise. She's played by Angelina Jolie, because she's sexy. 

Inevitably, their romance spirals out of control into something complex and gun-related. Why are people trying to kill him? What is Elise up to? And why isn't this called Steven Berkoff Strikes Back, or something equally deserving of its sexy evil villain?

The fairly bland title of The Tourist is more than made up for by its helmer, The Lives of Others' director Florian Henckel von Donnersmarck. Choosing a gorgeous location, a "ravenous" lead actress and a sub-North by Northwest storyline, his crime caper looks more dangerous than Knight & Day ever was. It helps that Johnny Depp isn't doing another variation on Jack Sparrow. And that the script boasts the combined talent of Julian Fellowes and Christopher McQuarrie.

The Tourist will hit UK cinemas in December. Read on to see the sexiness for yourself in the trailer. And pay particular attention to the moment when Paul Bettany steals the whole show, just by saying the words "grab him". Now that's true sex power right there.
Comments (2)
Add your comment