Star Ratings
| | |
| --- | --- |
| | Excellent    |
| | Very Good |
| | Good |
| | Average |
| | Terrible |
| | | |
| --- | --- | --- |
| Tamara Drewe | | |
Written by Ivan Radford
Friday, 10 September 2010 14:58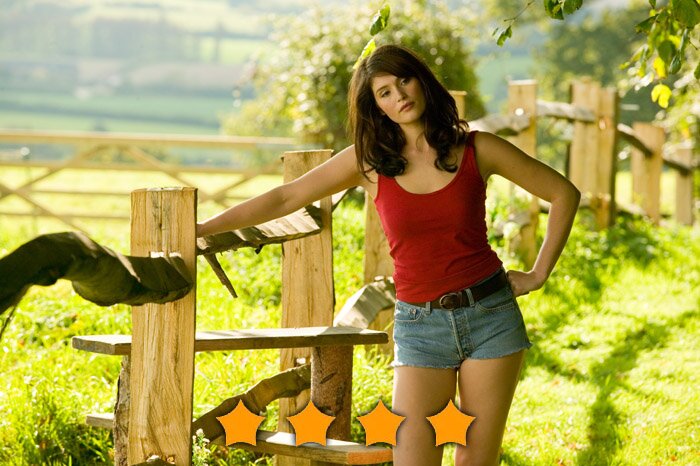 Director: Stephen Frears
Cast: Gemma Arterton, Luke Evans, Roger Allam, Dominic Cooper, Tamsin Greig, Jessica Barden, Charlotte Christie
Certificate: 15
None of us listen to it, but we all know The Archers is really just a hotbed of seedy sex. Rooted firmly in that world is Tamara Drewe, adapted from Posy Simmonds' series of comic strips. Sticking with its mild mockery of Far from the Madding Crowd, Stephen Frears' quaint country comedy is naughty, twee and therefore resoundingly British.

Tamara Drewe (Arterton) is a columnist returning to her home village years after leaving it behind for a glamorous London career. Back, sporting short shorts and a new nose, her arrival soon sets men's heads turning and (ahem) their tongues wagging.

The nicest of the suitors is hunky farmer (and former sweetheart) Andy Cobb (Evans), who still carries a torch for Tamara. But he's soon shunted aside for rocker Ben (Cooper), who plays drums, writes songs and has lots and lots of sex. Somewhere into the bunch fits the sleazy Nicholas Hardiment (Allam), a prolific crime author who uses his house as a writers' retreat - mainly so he can lord it over adoring fans. Keeping his house clean and organised is neglected wifey Beth (Greig), who divides her time between baking scones, proof-reading Nick's manuscripts, and ignoring his incessant infidelity.

Caught between the trousers in waiting, Tamara ploughs the field for all she's got. Watched by ogling teens Jodie (Barden) and Casey (Christie), Tamara's messy love life soon gets meddled in by the bored schoolkids, desperate for somehing to do. Their juvenile actions cause as much chaos as when the farm's cattle go on stampede through the fields - something that happens more than once during the course of the film.

It's all played with a delightfully dry sense of irony, so that smart people have an excuse to enjoy the trashy fun too. Compressed into 100 minutes by Moira Buffoni, you suspect Tamara's script has a lot of funny lines taken straight from the original pages - even the name Ewedown itself is brilliant - but the result is something that instantly appeals. Shot with a cheerful intimacy by Frears, he rounds up his cast in the idyllic setting (it was shot in Devon) and teases them into action. He starts off, in fact, with some tasty shots of Luke Evans with his top off, allowing us to admire the scenic view of nature's beauty. Phwoar. Get a load of them hedges.

Evans' hedges aside, the rest of the cast shine too, a particular standout being the wonderfully leery and repugnant Allam. Meanwhile, an impressive Tamsin Greig channels Emma Thompson with a heartbreaking subtlety that conceals her uncanny comic timing. But best of all is Arterton - shrugging off Prince of Persia and Clash of the Titans, she does sexy, sad and stupid without ever approaching wooden. People wanting proof that she can act, look right here. She dominates the country village with her presence but never loses that vulnerability which makes her likeable. No wonder Jessica Barden and Charlotte Christie are so convincingly enamoured of her and her raunchy celeb lifestyle.

It's incredible how easy they all make it look, even when things take a dark turn. The pseudo-Archer's tone comes crashing down at the surprisingly violent end, but Frears' film is something more than just a sunny episode of Midsomer Murders. It's engaging, witty and great, great fun. It's shorter than Midsomer too.

VERDICT

Intelligently titillating, Tamara Drewe hides its smarts under a hedgerow of filth. Unassuming, undeniable fun.
Your rating
( 1 Vote )
Tags:
charlotte christie
comic book
dominic cooper
far from the madding crowd
gemma arterton
guardian
jessica barden
luke evans
posy simmonds
review
roger allam
stephen frears