Star Ratings
| | |
| --- | --- |
| | Excellent    |
| | Very Good |
| | Good |
| | Average |
| | Terrible |
| | | |
| --- | --- | --- |
| The A-Team | | |
Written by Ivan Radford
Wednesday, 28 July 2010 08:30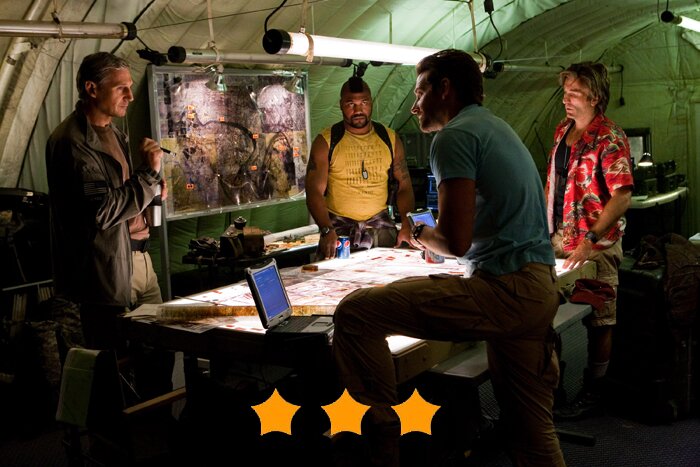 Director: Joe Carnahan
Cast: Liam Neeson, Bradley Cooper, Sharlto Copley, Quinton Rampage Jackson, Patrick Wilson, Jessica Biel
Certificate: 12A
Trailers/Clips
"They are the best. And they specialise in the ridiculous." That's what people in Joe Carnahan's world think of The A-Team, a group of Iraq soldiers who have a reputation for being reckless. And it's proved pretty accurate with a stupendous black-ops mission to retrieve American currency plates. But then they get accused of murdering some grey-haired General and stealing the plates, and therefore have to prove themselves innocent of a crime they didn't commit. Yes, this update of the 80s TV series is a prequel.

As introductions go, the opening works brilliantly - a quick succession of character spots, complete with giant names stamped on the screen. And so we meet cigar-chomping Colonel John "Hannibal" Smith (Neeson), the smooth-talking Templeton "Faceman" Peck (Cooper), Howling Mad Murdock (Copley) and, of course, the butch black man of the group, B.A (Jackson).

They certainly all look the part, as does Carnahan's camerawork - continuing the style of the opening titles, the movie swiftly turns into one long montage. Planning out set pieces, blowing up planes, piloting tanks in mid-air; it's a two-hour series of wildly explosive editing, peppered with attempts at a clever plot.

And that's where this summer movie falls flat: it's got no brains, but it thinks it does. Cue a heap of twists and turns - double crosses, triple crosses, triple-double crosses - that are meant to be smart and surprising. Instead they're just annoying. There's Hannibal's rival army officer, who also wants the plates, a slippery CIA man called Lynch (Wilson), and then there's the fact that our boys are on the run from Face's former lover Sosa (Biel). 

With too many villains popping up in the script, Carnahan's convoluted blockbuster starts to implode. Ramping up the action to balance it out, it builds up to a massively over-the-top finale, which soon becomes messy and rather pointless. Bad CGI doesn't help with that - thank goodness it's not in 3D.

Where The A-Team does work, though, is its casting: the team of actors are easily believable as old friends. As bad as the dialogue gets, the banter is always funny. And that's all down to group chemistry: Cooper is genuinely charming with his rugged grin; Neeson really does seem to love it when a plan comes together; and Sharlto Copley balances out the group's manly overtones (his southern-accented loony is a constant source of hilarity). Throwing in gags that range from Braveheart to One Flew over the Cuckoo's Nest, Copley capers about having a whale of time - first District 9, now this, he's a great talent to watch.

The one weak link comes from Quinton "Rampage" Jackson, who never lives up to Mr T's iconic role. He has the mohawk and the muscles, but his voice is too soft, his presence unfelt. It's a hard part to fill, sure, but you get the feeling halfway through that the writers didn't know what to do with his character. But B.A or no B.A, Carnahan's franchise launches itself with one massive grin. And most of the time, you'll be smirking right along with it.

VERDICT

Full-on escapist entertainment, The A-Team tries to bust one too many blocks. It's not the best, but ridiculous? Yes. Fun? Yeah, that too.
Your rating
( 2 Votes )
Tags:
a-team
ba baracus
bradley cooper
district 9
face
hannibal
joe carnahan
liam neeson
mr t
murdock
quinton rampage jackson