Star Ratings
| | |
| --- | --- |
| | Excellent    |
| | Very Good |
| | Good |
| | Average |
| | Terrible |
| | | |
| --- | --- | --- |
| I'm Still Here | | |
Written by Ivan Radford
Friday, 17 September 2010 09:41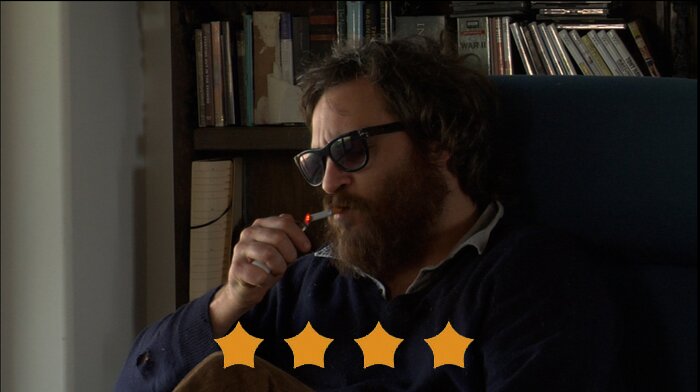 Director: Casey Affleck
Cast: Joaquin Phoenix
Certificate: 15
Trailer/Clip
Is it a hoax? That's the main discussion surrounding I'm Still Here, which purports to show the "lost year" of Joaquin Phoenix, who publicly decided to retire from Hollywood and head to hip-hop instead. Directed by his brother-in-law Casey Affleck, it's a funny, bizarre and candid look at life in the glare of the media. But it is true? Joaquin definitely did stop acting for a while. He did perform as a rapper. And he did grow a beard. The crazy part? Well, that's quite believable too.

Joaquin's nothing if not dedicated to his performance - angry with his acting career, he rants about his lack of Oscars. Then he paces around hotel rooms, reciting lyrics to himself and wearing big sunglasses. The raps themselves are terrible. Awkwardly stumbling over rhythms, JP (as he calls himself) can rhyme anything with anything else. Provided he puts the word "bitches" at the end of the line. Playing his tape to P Diddy, the successful musician looks away from the actor, either bored, tired or trying not to laugh.

It's here that the joke seems to be on the other person. Joaquin frequently meets with other actors to discuss new films, hugging them for too long then saying he doesn't want to read their script anyway. At other times, he simply looks blankly at clueless journalists, scratching his beard and occasionally getting hostile. At one point he accuses Ben Stiller of "playing Ben Stiller" on camera. These scenes, which could be staged, contrast well with the private shots of backstage tension. After one heated argument, someone takes a poo on his face in the middle of the night - it's almost like a more sophisticated version of Borat.

Unlike Sacha Baron Cohen, though, Joaquin has done nothing else for the past two years. He's stayed in character. His commitment is convincing but more important than that, it's engaging. Fresh from the laughs of his David Letterman appearance, he suddenly flips on the journey home, cowering in a tree by the side of the road. The emotional display counters any inconsistency in the editing - his mood swings make sense against the hype that Casey intercuts events with, making the serious sections oddly moving.

One key moment comes when he berates his assistant's worthless existence, challenging him to have a "bit" in life, something to achieve other than wiping Joaquin's arse. After he storms out the room, Casey's camera lingers on the assistant's face, shocked by the onslaught. And that's where I'm Still Here pulls its strongest punch. Not by showing the dark side of a stroppy star who snorts cocaine and parties with prostitutes, but by looking at an artist whose behaviour is subject to the pressure of the press.

Straddling the boundary of reality and fiction, I'm Still Here examines the actor's identity, both as performer and character. Joaquin plays Joaquin Phoenix, and it feels honest. He may actually be unhinged or just not know what he wants, he may even be putting on a big show, but the focus of the film remains the same. And that makes this a sincere documentary. Or an honest deception. And that's the truth. Bitches.

VERDICT

Committed and convincing, I'm Still Here is a brave and unusual piece of cinema. Fascinating.
Your rating
( 1 Vote )
Tags:
career
casey affleck
david letterman
hip-hop
hoax
joaquin phoenix
mental breakdown
mockumentary
retirement