Star Ratings
| | |
| --- | --- |
| | Excellent    |
| | Very Good |
| | Good |
| | Average |
| | Terrible |
2008
| | | |
| --- | --- | --- |
| Before the Devil Knows You're Dead * * * * * | | |
Written by Sam Jansen
Friday, 08 February 2008 00:00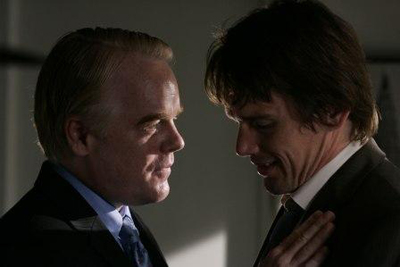 Director: Sidney Lumet
Cast: Philip Seymour Hoffman, Ethan Hawke, Albert Finney
Certificate: 15
Trailer

It's a rarity for a film about a heist to captivate one's attention from start to finish. If you don't find that you've entered something akin to a vegetative state by the time the first person gets shot, then it's been a pretty good outing. It's therefore a credit to this particular bite-of-the-cherry that it manages not only to do just this, but in a way that is both original and exciting.

Read more...
| | | |
| --- | --- | --- |
| Ben X * * * | | |
Written by Ivan Radford
Friday, 29 August 2008 00:00
Director: Nic Balthazar
Cast: Greg Timmermans, Marijke Pinoy, Laura Verlinden, Pol Goossen
Certificate: 12A
Trailer
A Flemish film about a role-playing boy with autism,

Ben X

's poignant premise sounds peculiar, almost unique. Then you hear it's the first film to feature footage of virtual actors within an online RPG and your gut instinct is confirmed:

Ben X

is set to be one weird slice of world cinema.

Read more...
| | | |
| --- | --- | --- |
| Burn After Reading | | |
Written by Ivan Radford
Friday, 17 October 2008 00:00
Directors: Ethan and Joel Coen
Cast: George Clooney, Brad Pitt, Frances McDormand, Tilda Swinton, John Malkovich
Certificate: 15
Trailer
Blinded by the Academy light, many forgot exactly who the Coen brothers are. With this loopy, off-the-cuff comedy, Ethan and Joel have reminded them. For years, America's only auteur duo has refused to tow the party line; from the pitch-black humour of

Fargo

to the matured philosophy of

Miller's Crossing

, they've dished out personal projects without apology. With their latest offering, they've done a complete U-turn, moving from the bleak West of

No Country

into sun-bleached

Lebowski

territory. The result may be brief, but it burns twice as bright.

Read more...
| | | |
| --- | --- | --- |
| Cassandra's Dream * * | | |
Written by Ivan Radford
Friday, 23 May 2008 00:00
Director: Woody Allen
Cast: Colin Farrell, Ewan McGregor, Hayley Atwell, Sally Hawkins, Tom Wilkinson
Certificate: 12A
Trailer
As critics gathered round, faulting his every move, it became hard to imagine that Woody would ever get out of the woods. After the entertaining

Melina and Melina

came

Match Point

– a gripping, class-driven

Crime and Punishment

. It had a clever concept and a beautiful tone, but was let down by truly shoddy dialogue. The light-hearted Scoop never even got a UK release, the stigma of Scarlett Johansson proving too strong for British distributors.

Read more...
| | | |
| --- | --- | --- |
| Cloverfield * * * * | | |
Written by Ivan Radford
Friday, 01 February 2008 00:00
Director: Matt Reeves
Cast: Michael Stahl-David, Lizzy Caplan, T.J. Miller, Odette Yustman
Certificate: 15
What is Cloverfield? In short, it's a giant monster. Where is it from? No idea. What's its motivation? Not a clue. All we know for sure is it's big, mean, and it can decapitate the Statue of Liberty from fifty paces. Which is rather intimidating.

What we do get told about are the potential victims: there's Rob (Stahl-David), a close friend of Beth (Yustman). He's leaving for Japan tomorrow, so everyone's round his place to say farewell, with Hud (Miller) filming the festivities. But Beth storms out after a fight with Bob over her new fella. While he's calming down, the room starts to shake. Then the lights go out. And Miss Liberty's head lands outside. Cue bedlam.

Read more...
| | | |
| --- | --- | --- |
| Death Race | | |
Written by Ivan Radford
Friday, 26 September 2008 00:00
Director: Paul W.S. Anderson
Cast: Jason Statham, Ian McShane, Joan Allen
Certificate: 15
Trailer
A man with no hair, a grudge and a car with big guns – Jason Statham has done it again. Quite how he manages to find these parts is beyond me. Especially given that the characters all happen to look just like him. If Jensen Ames, laid-off steel worker and former racing legend, had a full head of hair, Statham would've been screwed. Who could have played this dumb, macho part if not he? Jason Statham: king of folically challenged action heroes.

Read more...
| | | |
| --- | --- | --- |
| Easy Virtue | | |
Written by Ivan Radford
Friday, 07 November 2008 13:46
Director: Stephan Elliott
Cast: Jessica Biel, Ben Barnes, Kristin Scott Thomas, Colin Firth
Certificate: PG
Trailer
"There's something about you wild child, that's so contagious, let's be outrageous, let's misbehave!"

Boy meets girl. Girl meets family. Hilarity ensues. Sound predictable? Not so, for this is the world of Noel Coward, where class is relative and wit isn't afraid to bite. Straight into the jaws go newlyweds John (Barnes) and Larita (Biel). The two meet in sepia-toned France, the racecar driving American blowing the young lad away. And understandably so – Jessica is jaw-dropping as Larita, sassy sexy and sympathetic in one fell swoop.

Read more...
| | | |
| --- | --- | --- |
| Funny Games * * * * | | |
Written by Ivan Radford
Friday, 04 April 2008 00:00
Director: Michael Haneke
Cast: Naomi Watts, Tim Roth, Michael Pitt, Brady Corbett
Certificate: 18
Trailer

Desensitized and over-saturated by trashy torture porn and an exploitative media, it's hard to be genuinely shocked by on screen violence. But Michael Haneke, the master of audience manipulation, is determined to have a go, porting his 1997 smug lecture on violence and voyeurism overseas, verbatim. The argument is that the film was a message to Hollywood, but they never got it, so he's translated this portentous piece out of Austria and into America. Lucky them.

Read more...
| | | |
| --- | --- | --- |
| Ghost Town | | |
Written by Ivan Radford
Friday, 24 October 2008 00:00
Director: David Koepp
Cast: Ricky Gervais, Tea Leoni, Greg Kinnear
Certificate: 12A
Trailer
Years after that dance, Gervais is trying to break out of Slough and into Hollywood. There was that bit he did in

Night at the Museum

. And the other part in

Stardust

. Now, he's pipped the usual suspects (Steve Carell, or even Simon Pegg) to the lead in David Koepp's

Ghost Town

. Gervais, an Englishman in New York carrying a rom-com? Bizarrely, it kind of works. For one simple reason: Dr Bertram Pincus (Gervais) is a prick. A nasty, unloving prick.

Read more...
| | | |
| --- | --- | --- |
| Gone Baby Gone * * * | | |
Written by Ivan Radford
Friday, 06 June 2008 00:00
Director: Ben Affleck
Cast: Casey Affleck, Michelle Monaghan, Morgan Freeman, Ed Harris, Amy Ryan
Certificate: 15
Trailer
Ben Affleck steps behind the camera for this gritty thriller, penning the adaptation from Dennis Lehane's novel. "I find the people who started in the cracks and then fell through" croaks Casey Affleck's vocally challenged detective as he walks the streets of Boston. Patrick Kenzie's larynx may be weak, but his accent is pitch perfect, as is his nose for a culprit. It's just a shame that the people he comes across aren't the rotund extras lining the sidewalks, but Hollywood stars - a bizarre mix of realism and retarded writing, which fills the cracks between plot holes.

Read more...
Start Prev

1

2 3 4 5 6 7 Next > End >>


Page 1 of 7