Star Ratings
| | |
| --- | --- |
| | Excellent    |
| | Very Good |
| | Good |
| | Average |
| | Terrible |
| | | |
| --- | --- | --- |
| Scott Pilgrim vs the World | | |
Written by Ivan Radford
Friday, 27 August 2010 09:30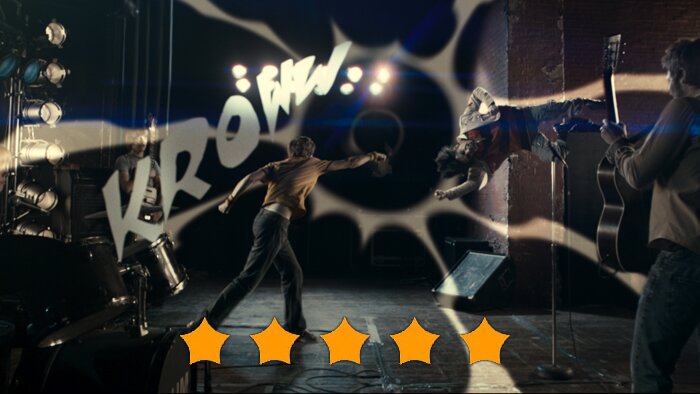 Director: Edgar Wright
Cast: Michael Cera, Mary Elizabeth Winstead, Ellen Wong, Keiran Culkin, Anna Kendrick, Mark Webber
Certificate: 12A
Trailer/Clips 
This is Scott Pilgrim (Cera). Scott Pilgrim's precious little life involves computer games, sleeping and not much else. Unless you count his band, Sex Bob-Omb. They suck. Scott lives with his gay roommate Wallace Wells (Culkin) and is dating a high schooler called Knives Chau (Wong). She's Chinese. Then one day into his head rollerblades the girl of his dreams, Ramona Flowers (Winstead). And every adolescent boy knows exactly what that means: awkward chat-up lines, making out and some serious Street Fighter action.

You see, Ramona has seven exes. And they're all evil. And if Scott wants to date her then he has to defeat every single one of them. It's a wonderful way to depict emotional baggage, and marks the originality of Bryan Lee O'Malley's outstanding graphic novels. As for on screen? Edgar Wright absolutely nails it.

Wright's group of twenty-somethings are full of angst and sarcastic put-downs. From Scott's sister Stacey (Kendrick) to the Sex Bob-Omb's lead talent, Stephen Stills (Webber), they spend their time either insulting Scott or dropping pop-culture references. And for anyone who's ever been through that slacker stage of life, it all rings true.

The evil exes, too, translate well onto the screen, blasting into Scott's life in a series of multi-coloured video game smack-downs. Matthew Patel (Satya Bhabha) does a funny song and dance number, the Kayanagi twins fight using monsters made of soundwaves, and there's a great turn from Mae Whitman - Michael Cera's Arrested Development ex, Anne (her?). As head evil ex, Jason Schwartzman's Gideon Graves is a great blend of sinister and suave, a solid final boss in Scott's quest for Ramona.

But the best of the bunch are Chris Evans and Brandon Routh, whose inspired cameos are as macho as they are hilarious. Using stunt doubles and vegan powers to boost their strength, they shout meaningless one-liners with straight-faced skill.

A lot of the dialogue is taken straight from O'Malley's page, along with frame-for-frame shots and a constant use of aspect ratios and split-screens. It's a unique blend of chaos, which fuses the grammar of video games and cinema in a way that evolves neatly from Wright's work on Spaced. Coupled with a soundtrack that includes 8-bit console tunes, the result is a multi-layered multi-media geek-boy's fantasy.

Pixellating swords, sound effects written in large letters; everything is a natural fit in Wright's hyperactive imagination. Even Michael Cera. It was a controversial casting decision, substituting George Michael Bluth for Scott Pilgrim. But he manages to makes the role his own, from the shaggy hair to Scott's selfish immature motives, ending up closer to the book's hero than you might expect. He's not always a nice guy, but it's easy to engage with the way the world is filtered through Scott's warped mindset.

Edgar Wright's screenplay (co-written with Michael Bacall) sticks to O'Malley's source for most of the runtime. But at less than two hours, it jettisons a lot of Scott's past screwed-up relationships. Kim gets overlooked, but the structure is smooth and speedy. The ending's actually better than the novels, allowing us time to focus on the mysterious Ramona Flowers – Mary Elizabeth Winstead is suitably sexy as the love of Scott's life, but it's not their screentime or dialogue that gives the story depth; it's the reactions of her and the excellent Ellen Wong. Together, they provide the subtext that the manic surface distracts from: get over your baggage, accept who you are, and always level up with a giant hammer.

Words like "generation defining" get thrown around a lot when Scott Pilgrim's in the room. And for O'Malley's outstanding books, it's not a bad shout. Edgar Wright's technical skills make Scott Pilgrim a different experience, but it's equally impressive. Not just because of the stunning stunts and endless effects, but because it speaks to its audience. It says words like: Love. Life. Nintendo. And Canada.

VERDICT

Mature, childish and one of the most energetic things ever put on celluloid. Scott Pilgrim is awesome, surprising no-one.
Your rating
( 1 Vote )
Comments (2)
Add your comment