Blog
| | | |
| --- | --- | --- |
| Presenting... The Expendables 2 Top Trumps! | | |
Written by Ivan Radford
Friday, 17 August 2012 12:49
The Expendables 2 is out in UK cinemas today - you know, in case you hadn't noticed the millions of posters everywhere or the manly explosions of testosterone erupting out of your local multiplex. It's as wilfully stupid, unintentionally hilarious and ridiculously OTT as the first film should have been (see our Expendables 2 review).
Of course, there's no denying that it's little more than a handful of very big, very long set pieces stitched together with bollocks. But what bollocks! Cars crash. Tanks blow up. Uranium mines are destroyed. With every member of the cast trying to outgun the others, it's a massive pissing contest - one great big cinematic game of Top Trumps.
And so I present to you... The Expendables 2 Top Trumps!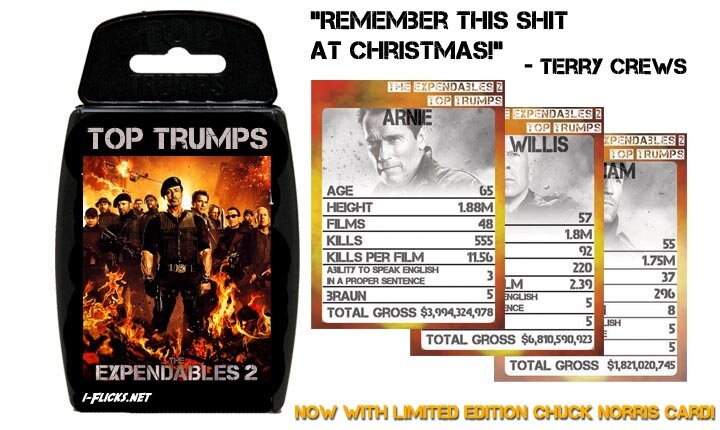 Who's the manliest male man of all the male men? Why should they have all the fun deciding? From the makers of Woody Allen Top Trumps, The Expendables 2 Official Top Trumps Game* combines all the excitement of your new favourite blockbuster with the joy of factual knowledge. How many kills has Arnold Schwarzenegger had in his career? Who's appeared in the highest number of films? Is Sylvester Stallone REALLY that old?
Read on for the full deck.
Read more...
| | | |
| --- | --- | --- |
| Scala Beyond returns this summer - and about time too | | |
Written by Ivan Radford
Wednesday, 15 August 2012 14:01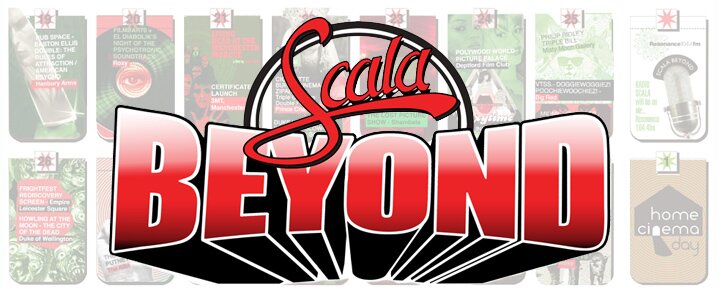 How do you define success for a young film festival? Returning for a second year? Expanding to more venues? Attracting new, live music to go with screenings?
Scala Beyond scores on all three counts - and a couple more. From what was an intimate set of retro screenings run by London's Roxy Bar & Screen that spanned 20 London bars and pubs, Scala Forever has now grown into one mahoosive event. A nationwide celebration of small scale exhibitors and independent thinking? There's still that same mix of unknown gems, gone-off cheese and that comfy mish-mash of sofas and discarded chairs that litter the back end of Roxy's drinking hole, but now it's taking place in 100 locations around the UK. Including pop-up cinemas and schools. That's pretty ruddy successful, if you ask me. I can barely get 15 people round to mine for a BBQ.
So give Philip Wood, Michael Pierce, Justin Harries, Adam Schofield and Andy Kimpton-Nye a hearty round of applause this weekend when Scala Beyond launches for a second year, along with everyone else in the country brave/mental enough to host a film.
The festival runs for a whopping six weeks from Saturday 18th August to Sunday 29th September, promising 70s and 80s action-fests to go with last year's range of European arthouse and more all-nighters than Michael Fassbender in Shame.
It may not be a complete retrospective of Hitchcock, or a premiere of Paul Thomas Anderson's The Master at Venice, but it DOES have a night entirely devoted to dodgy VHS tapes, a rare chance to see John Carpenter's seminal sci-fi Dark Star (complete with live score from Animat) and a screening of a film called Lady Terminator. Yes, really.
Who knows? If you give it enough support, Scala might even be back for a third year in 2013.
The full line-up for Scala Beyond is on their official website, cleverly titled ScalaBeyond.com. Go have a poke around - and tell Lady Terminator I said hi.
| | | |
| --- | --- | --- |
| If you don't laugh at the Seven Psychopaths trailer, you're probably retarded and grew up on a farm | | |
Written by Ivan Radford
Wednesday, 15 August 2012 06:49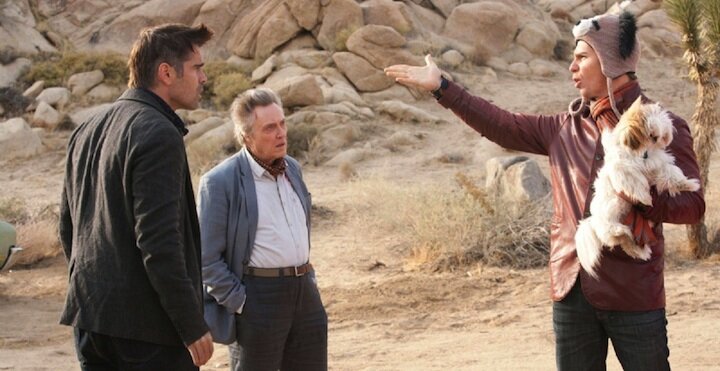 After Six Shooter and In Bruges, I've long suspected Martin McDonagh is one twisted fuck - in the very best way possible. The Seven Psychopaths trailer seems to confirm this. In the words of his sophomore effort, if it doesn't impress you, you're probably retarded and grew up on a farm.
Colin Farrell returns (as a troubled screenwriter called Martin) to join Christopher Walken and Sam Rockwell in a dog kidnapping business - a con that runs pretty smoothly, until they steal Woody Harrelson's pooch. And he's none too happy. He's also a psychopath. Obviously.
So that's four so far. The trailer counts down the rest, along with some seriously snort-inducing dialogue. There's no point in me going on about McDonagh's stage work and his play due in the West End next year, or about the serious post-modern existential drama that will no doubt rear its head in between his new film's blackly comic violence.
Instead, let's just recap for a second: Colin Farrell. Christopher Walken. Tom Waits. Abbie Cornish. Olga Kurylenko. Martin McDonagh. AND Sam Rockwell. You. Retarded. Farm. Etc. 
Read on for the Seven Psychopaths trailer - it's out in the US in October, so expect it to be at the London Film Festival ready for a wintery release.
Read more...
| | | |
| --- | --- | --- |
| If you look up the word cool in a dictionary... | | |
Written by Ivan Radford
Wednesday, 15 August 2012 06:10
You'll find this: 

Now Fox have passed on Joe Carnahan's Daredevil and the rights are heading back to Marvel, here's hoping Kevin Feige takes him up on the offer. And I see this as someone who doesn't really care about Daredevil. Read on to see the hip, sassy, 70s, Serpico-styling retro superhero showreel.
Read more...
| | | |
| --- | --- | --- |
| Happy HitchDay! 5 Hitchcock birthday GIFs | | |
Written by Ivan Radford
Monday, 13 August 2012 18:52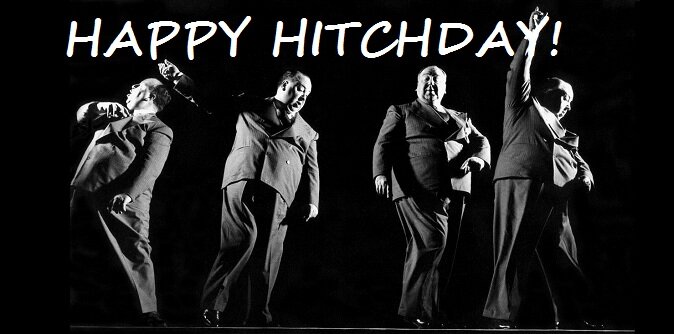 It's Hitchcock's Birthday! But instead of celebrating in the usual manner - chucking some birds at a girl you like, then going home to dress up as your mum and spy on the neighbours - why not mark his 113th birthday with something a little more tacky sophisticated? Like this 5 Hitchcock GIFs, which I randomly picked off the interwebs to try and capture the genius of the man himself.
Because that's how you do justice to genius. You put it in a GIF.
Read more...
| | | |
| --- | --- | --- |
| The Top 10 Films of All Time - Again | | |
Written by Ivan Radford
Friday, 10 August 2012 08:41
You remember last week when we played Spot the Difference between the Sight & Sound Greatest Films of All Time poll and the IMDb All-Time Top 250? Well, things have changed a bit since then. Adam Lowes over at movie titan HeyUGuys hit on a bright idea: a top 10 poll for film bloggers (aka. the folk who aren't on Sight & Sound's list).
Would they put Vertigo on top? Would Citizen Kane see its ranking drop? And would this alternative list include any films made after 1968?
The result is a list that sits somewhere between the two extremes. Citizen Kane is in there, oh yes, but so is Internet Movie Database's perennial fan favourite The Dark Knight. The conclusion? That if you took a random IMDb user and a broadsheet film critic and made them have sex, a baby film blogger would pop out. And really like Batman.
And so we play, once again, Spot the Difference...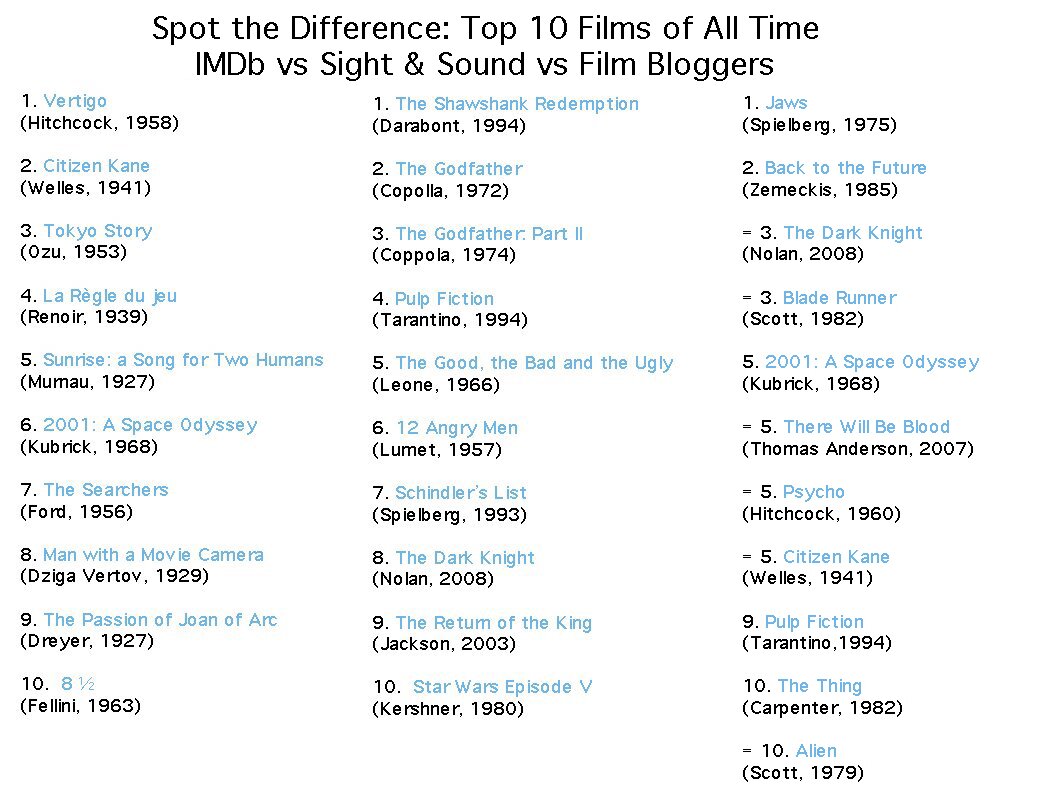 *checks against last week's post*
Yes, that's right. According to the online community of film lovers, Jaws is the greatest film of all time. And you know what? I can't really argue with that. I'm not so sure about Back to the Future coming next, nor The Dark Knight tying with Blade Runner in third, but it's great to see some Kubrick in there, as well as Paul Thomas Anderson's amazing There Will Be Blood, which over the last few weeks seems to have become the modern-day film to pick among critics. In the Mood for Love is the other recent flick regularly mentioned in the Sight & Sound debate - both rank highly in my Top 50 Films, but neither are in my Top 10. Scandalous.
What is interesting is just how American and mainstream the bloggers' Top 10 is. No The Third Man? No Powell and Pressburger? Not even Kes? Like Sight & Sound's list, there are no British films in there - although British directors working in the US are well represented. There's also a strong focus on sci-fi. As someone whose Top 10 has always included either Alien or Blade Runner (the two pinnacles of the genre), here we have both, alongside The Thing and 2001: A Space Odyssey.
And what of Hitchcock? Vertigo, officially the greatest film ever made (according to Sight & Sound), didn't even make the final cut. Instead, it's replaced by its terrific black-and-white cousin, Psycho. You could argue both ways that it's a more/less obvious choice - testament to just how flipping brilliant Hitchcock's contribution to cinema was.
But I'm mostly sad to see Woody Allen missed out. As a life-long Allen obsessive, Annie Hall, Manhattan, Hannah and Her Sisters and The Purple Rose of Cairo have all battled for places in my Top 10. Scorsese is another unexpected omission (Goodfellas apparently received 11 votes, below Taxi Driver's 12, which tied with The Big Lebowski, Vertigo, The Godfather and Apocalypse Now.) Terrence Malick, meanwhile, received only three votes for Badlands and just one apiece for Days of Heaven and The Tree of Life - neck and neck with Thor. And Bridget Jones' Diary.
The bottom line? As always, Top 10 lists are subjective. And, much like the Sight & Sound poll, the most fascinating things can be gleaned from each individual's personal choices (all bloggers' votes are listed here). For example, Andrew Collins, of the Radio Times, didn't mention Fellini's 8 1/2 in his list, instead choosing the Woody Allen film it inspired: Stardust Memories, a decision that has won my undying love for the rest of time. Andrew Jones (the ever-present @EthanRunt on the Twitters) has terrible film taste (you can tell him I said that) but is assured of my affection by including Dr. Strangelove in his Top 10. Meanwhile, Simon Kinnear (him off Kinnemaniac and Total Film) puts in Children of Men, which, alongside The Life and Death of Colonel Blimp, confirms his general awesomeness.
As for me? You can read on for my Top 10 Films of All Time - complete with comments and explanations - and find out which Woody Allen film beat the rest.
Read more...
| | | |
| --- | --- | --- |
| Where's Djokovic? Lionsgate have done it again | | |
Written by Ivan Radford
Wednesday, 08 August 2012 11:35
After the last Expendables 2 poster and now this Last Supper-themed banner, I may have to start a whole new section of this blog called "Where's Djokovic?"
Yes, Lionsgate have gone and done it again. Photoshopped the heck out of their cast of prime-cut beefcake - and then left out the juiciest hunk of meat. And by hunk, I obviously mean Serbian. And by meat, I mean tennis player.
But don't worry, folks! Before Novak goes mental with his tennis racquet and kills everyone in the room, I've solved the problem once again. Here's The Expendables 2 Last Supper poster - the way it should be: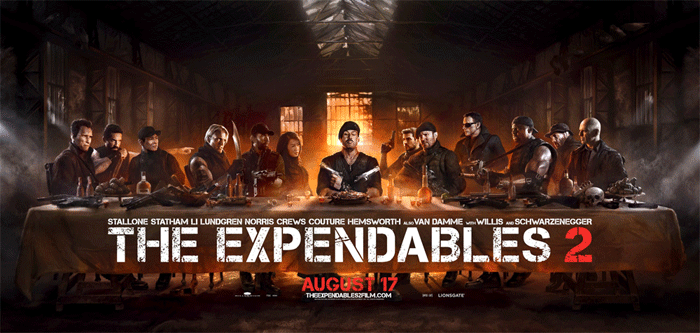 Want more Djokovic? Head this way to see the statue of himself as a terracotta warrior in his Belgrade restaurant (yes, really). Or read on for a behind-the-scenes video of him kicking butt in an airport in Sly Stallone's manly sequel.

Read more...
| | | |
| --- | --- | --- |
| Zero Dark Thirty teaser trailer threatens to spill secrets | | |
Written by Ivan Radford
Tuesday, 07 August 2012 17:10
The teaser trailer for Zero Darky Thirty has landed - and it's full of secrecy. Delicious, sexy secrecy.




"Where was the last time you saw Bin Laden?" shouts one nameless soldier. Several times. But if you can ignore Batman's laughable interrogation tactics, Kathryn Bigelow's thriller sets itself up to be something very interesting: a re-scripted version of America's historic manhunt first caught on camera by screenwriter Mark Boal, who was making a documentary at the time.




We don't see much, if anything, of our main cast here (incouding Joel Edgerton, Mark Strong and Jessica Chastain). The trailer even has fun with its classified content, scrawling black marker pen all over the screen, from the World Trade Center to Osama Bin Laden's Abbottabad compound, but from what we can witness here - and judging by the last time Bigelow and realistic warfare collided in a fictionalised thriller - Zero Dark Thirty should have one heck of a punch, not least because Bigelow and Boal are determined to avoid being seen as a pro-Presidential piece to support Barack Obama.


How truthful will it end up being? That, I'll wager, will remain a secret long after the film is released.

 

Read on for the Zero Dark Thirty teaser trailer.


 

 
<< Start < Prev 1 2 3 4

5

6 7 8 9 10 Next > End >>


Page 5 of 205