Star Ratings
| | |
| --- | --- |
| | Amazing |
| | Well good |
| | Fun |
| | Meh |
| | Rubbish |
| | | |
| --- | --- | --- |
| Film review: Berberian Sound Studio | | |
Written by Ivan Radford
Tuesday, 28 August 2012 08:57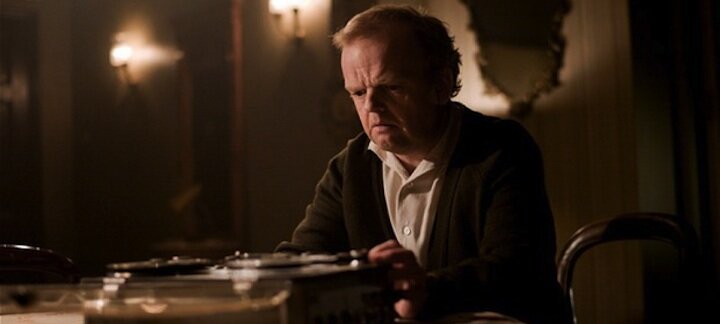 Director: Peter Strickland
Cast: Toby Jones, Antonio Mancino, Tonia Sotiropoulou
Certificate: TBC
When I was 11, I watched a behind-the-scenes featurette on Nickelodeon about The Rugrats. In it, they lifted the acoustic lid on the world of sound mixing. Women bashed bicycles, waggled coathangers, scratched bits of carpet. It was creativity on a level my puny pre-pubescent brain had never imagined. For the childhood me, that was it: I wanted to be a foley artist.
Fast-forward to 2012 and we've gone from coathangers and carpet to watermelons. Who knew that if you chopped, skewered and pummelled that delicious, soft-centered fruit, you would end up with the noise of a horrific, messy murder? Peter Strickland obviously does. And his fascinating meta-horror, Berberian Sound Studio, is the perfect demonstration of exactly what audio can do to a person's brain. It's the Rugrats all over again. But not as we know it.
Enter Toby Jones, looking every bit like the grown-up Tommy. He plays Gilderoy, one of the best sound guys of the 1970s. His hearing is so sharp that director Santini (Mancino) invites him over to Italy to mix the soundtrack for his film, The Equestrian Vortex. It has nothing to do with horses.
Gilderoy instead finds himself squishing tomatoes, pulling apart radishes and chucking watermelons around, as Santini's garish opus plays out in the background. Witches, virgins, monsters? You wouldn't believe what this guy can do with a cabbage. All the while, he struggles to get someone to reimburse the receipt for his flight out.
"I've never worked on a horror movie before," mumbles the timid engineer. "This isn't a horror movie, Gilderoy," comes the greasy reply. "This… is a Santini film."
The same can be said of Berberian Sound Studio. It's not a horror movie at all – not in the traditional sense. But it's full of fear. The titular studio, a cupboard of unseen scares, is a hive of it. It breeds between the analogue tape and the oscillators. It festers between the vegetables and the Kafka-esque Italian system of claiming expenses.
We never see Santini's trashy flick, but we hear every beat: our eardrums witness the horror as it's created. And each dismemberment – every yell – pushes them one decibel closer to bursting.
When they do, Berberian turns the speakers up to 11. Gone is the subtle sound design of the first half: in its place is a batshit piece of art that defies explanation. Without raising his voice, the hypnotic Jones flips into a complete wreck; little more than a pair of ears in a cardigan. Strickland's camera, meanwhile, lingers on the dingy details of the period room, zooming in on vegetables like there's no tomorrow.
Has Gilderoy gone mad? Was he in Santini's movie all along? Have we travelled… to the other side of the cabbage? God knows.
Red lights flash on the screen whenever Gilderoy is recording. One giant word: silenzio. Berberian Sound Studio fills that silence with surreal Lynchian flourishes, but more than that: it drowns it in terror. And it does it all with little more than a microphone and a cabbage.
I'll never think of The Rugrats in the same way again.
VERDICT
A masterclass in the noise of fear, Berberian Sound Studio goes in one ear – and never leaves. Foley shit, it's incredible.

Tags:
berberian sound studio
cabbage
foley
giallo
italian
italy
peter strickland
rugrats
sound
toby jones