| | | |
| --- | --- | --- |
| Scala Beyond returns this summer - and about time too | | |
Written by Ivan Radford
Wednesday, 15 August 2012 14:01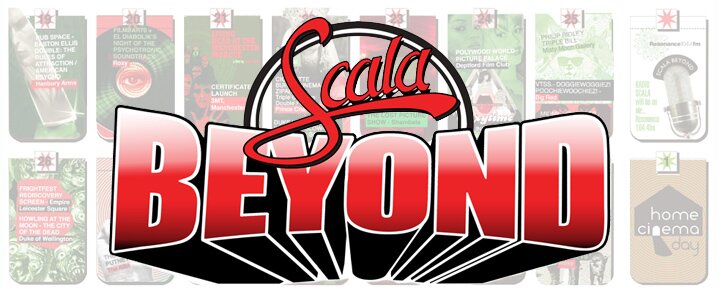 How do you define success for a young film festival? Returning for a second year? Expanding to more venues? Attracting new, live music to go with screenings?
Scala Beyond scores on all three counts - and a couple more. From what was an intimate set of retro screenings run by London's Roxy Bar & Screen that spanned 20 London bars and pubs, Scala Forever has now grown into one mahoosive event. A nationwide celebration of small scale exhibitors and independent thinking? There's still that same mix of unknown gems, gone-off cheese and that comfy mish-mash of sofas and discarded chairs that litter the back end of Roxy's drinking hole, but now it's taking place in 100 locations around the UK. Including pop-up cinemas and schools. That's pretty ruddy successful, if you ask me. I can barely get 15 people round to mine for a BBQ.
So give Philip Wood, Michael Pierce, Justin Harries, Adam Schofield and Andy Kimpton-Nye a hearty round of applause this weekend when Scala Beyond launches for a second year, along with everyone else in the country brave/mental enough to host a film.
The festival runs for a whopping six weeks from Saturday 18th August to Sunday 29th September, promising 70s and 80s action-fests to go with last year's range of European arthouse and more all-nighters than Michael Fassbender in Shame.
It may not be a complete retrospective of Hitchcock, or a premiere of Paul Thomas Anderson's The Master at Venice, but it DOES have a night entirely devoted to dodgy VHS tapes, a rare chance to see John Carpenter's seminal sci-fi Dark Star (complete with live score from Animat) and a screening of a film called Lady Terminator. Yes, really.
Who knows? If you give it enough support, Scala might even be back for a third year in 2013.
The full line-up for Scala Beyond is on their official website, cleverly titled ScalaBeyond.com. Go have a poke around - and tell Lady Terminator I said hi.
Tags:
animat
dark star
film festival
john carpenter
lady terminator
scala beyond
vhs