Blog
| | | |
| --- | --- | --- |
| Great Expectations trailer brings Dickens' best-loved story to life | | |
Written by Ivan Radford
Wednesday, 19 September 2012 06:59
There's nothing like a bit of Great Expectations to round off Charles Dickens' bicentenary. And Mike Newell knows it, bringing his own adaptation of the novel to the screen just in time for the London Film Festival.
Some may take issue with the obvious casting of Helena Bonham Carter as Miss Havisham. Others may complain that we've had enough films based on Great Expectations already. Me? I'm just bothered by the fact that the Great Expectations trailer calls it Dickens' "best-loved story". Nothing can rival my love of A Christmas Carol - thank you, Muppets - except for maybe Sally Hawkins. Luckily, she's in Newell's movie too.
Here's the trailer:
Great Expectations is in UK cinemas on Friday 30th November. 
| | | |
| --- | --- | --- |
| The new Skyfall poster makes no sense | | |
Written by Ivan Radford
Tuesday, 18 September 2012 06:56

There's no two ways about it. The new Skyfall poster makes no sense. Just look at Daniel Craig's expression, which has puzzled many Bond fans. The truth is quite simple. He's thinking: "What the hell happened?" 
I tried to answer his question. Here are the best three explanations I could come up with...
Read more...
| | | |
| --- | --- | --- |
| 20 films you should see at the 20th Raindance Film Festival (2012) | | |
Written by Ivan Radford
Saturday, 15 September 2012 08:49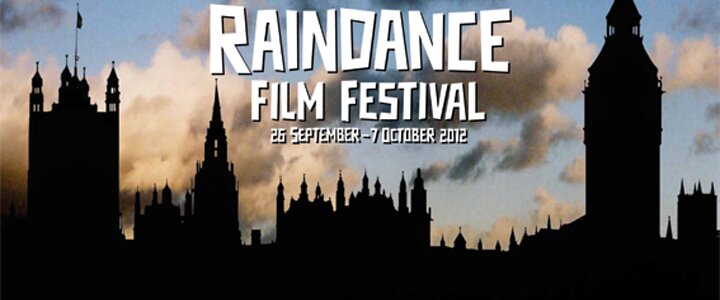 2011 was something of a golden year for British indie films. Tyrannosaur, Attack the Block, Tinker Tailor Soldier Spy - it was a breakout reminder for mainstream cinemagoers that even with the old recession going on, indie filmmaking is still going. And it really is - not just in the UK, but around the world. And that's why I love the Raindance Film Festival: it's a showcase for all that drive, enthusiasm and creativity.
Want to see the big hitters from Cannes? The London Film Festival is your home. Want to see a film starring a Eurovision Song Contest entrant or a futuristic adaptation of Shakespeare's The Tempest? Stroll down the road to the Apollo Piccadilly Circus between Wednesday 26th September and Sunday 7th October and get ready to see some exciting new talent. Plus Jeremy Irons, Derek Jacobi, Charles Dance, Malcolm McDowell, Chuck Palahniuk and, erm, Jennifer Lopez.
Never been to Raindance before? Not sure where to start? Try this list on for size. I've scoured the Raindance 2012 line-up like someone with nothing better to do on a Saturday morning and picked out the most promising parts of the extraordinarily diverse feature programme (expect a pick of the short films next week). 
These are the 20 films you should see at the Raindance Film Festival 2012.
Read more...
| | | |
| --- | --- | --- |
| To Rome with Love: Woody Allen postcards | | |
Written by Ivan Radford
Friday, 14 September 2012 08:01
Rome. Paris. London. Barcelona. Woody Allen's been globe-trotting for years now, settling in a new place every few years and sending back an annual dispatch from his latest tourist hotspot.
With To Rome with Love, it's even more evident: from the traditionally chocolate boxy shots of the major landmarks to the horrifically stereotyped Italian population, the whole thing feels like an awkward postcard. The kind of message from an old uncle who used to write really witty travel diaries but has since forgotten how many stamps to lick and stick on the front.
It's pretty good and still rather amusing, but you know somewhere in your drawer is a better missive. One with even more depressing comments about the futility of existence.
Want to recreate that Woody Allen buzz when you go on holiday? Try sending back one of these Woody Allen postcards...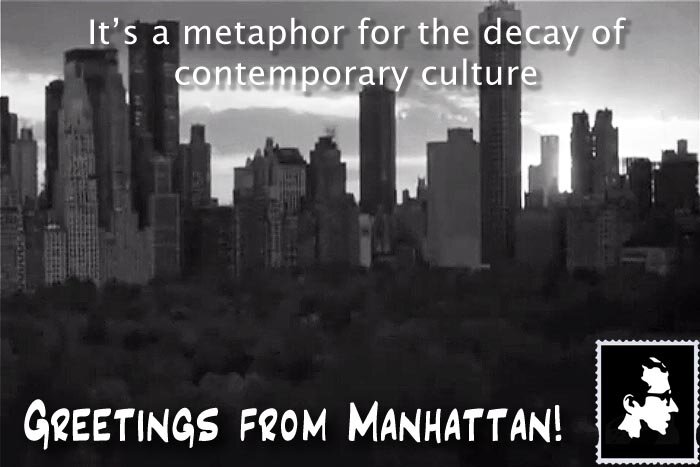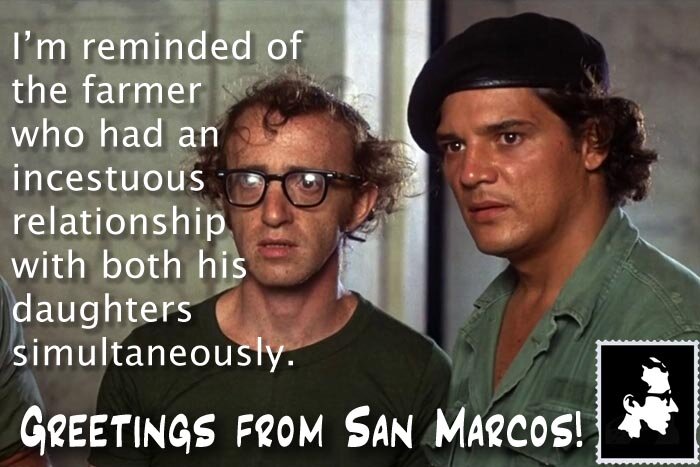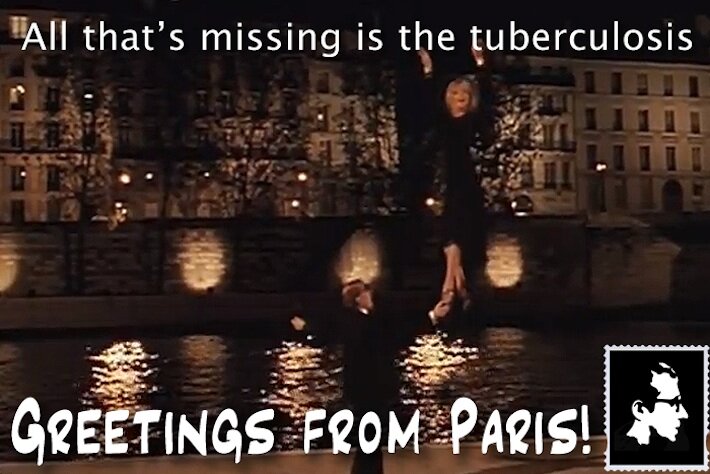 Read more...
| | | |
| --- | --- | --- |
| Frankenweenie clip teaches us all about lightning | | |
Written by Ivan Radford
Thursday, 13 September 2012 15:27
"Lightning is simply electricity.." begins Mr. Ryzkruski (Martin Landau). He's a substitute teacher. They're always a little weird. Then he goes on to explain lightning, using words like "land of opportunity", "electrons" and "man".
And in the class, their sits young Victor, happily plotting to reanimate his dead dog Sparky.
From its black and white cinematography to the tiny lines on Mr. Ryzkruski's tweed suit, Tim Burton's Frankenweenie looks utterly gorgeous. Don't believe me? Watch this new Frankenweenie clip:
Frankenweenie is out in UK cinemas on Wednesday 17th October - and opens the London Film Festival on the Wednesday before. I can't wait.
| | | |
| --- | --- | --- |
| Poster of the Week: Rust & Bone Quad | | |
Written by Ivan Radford
Tuesday, 11 September 2012 09:02
It's hard to know which French name gets me more excited: Jacques Audiard or Marion Cotillard. One of them director A Prophet and The Beat That My Heart Skipped. The other is Marion Cotillard.
But both of them are  as sexy as it gets on this Rust & Bone quad poster.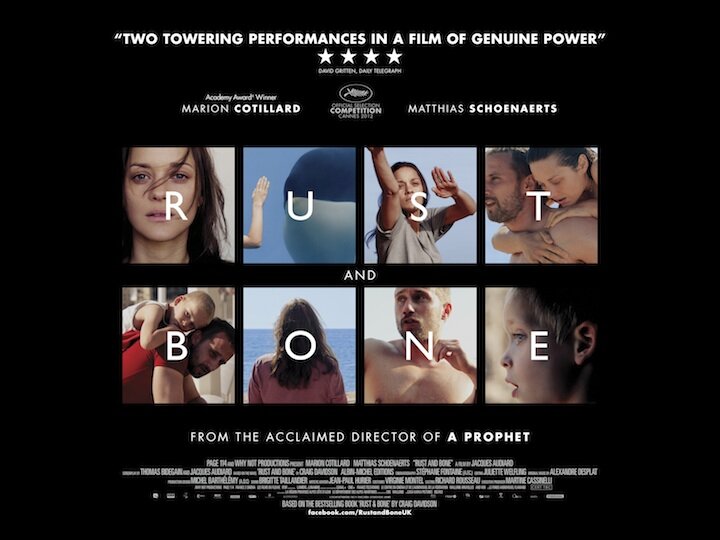 The film is out on Friday 2nd November - and will play at the London Film Festival before then. I'm already counting down to both. 
| | | |
| --- | --- | --- |
| COMPETITION: Win tickets to Paranorman [CLOSED] | | |
Written by Ivan Radford
Sunday, 09 September 2012 12:49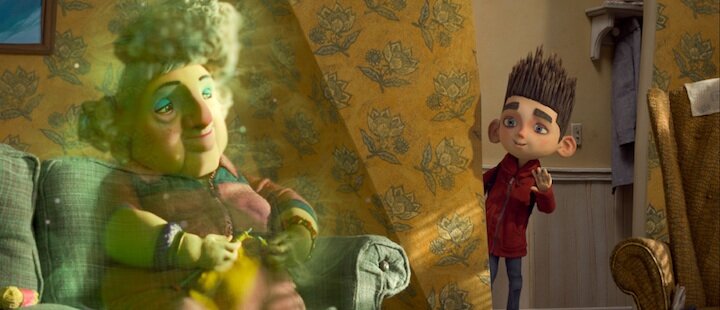 Do you like animated movies? Do you like dead people? Do you like seeing animated movies about dead people? Then good news, you twisted human being: you can win a pair of tickets to see a preview screening of Paranorman this Wednesday (12th September) plus by a Q&A with the directors! 
The preview of Universal's stop-motion comedy, about a lonely boy who talks to dead people, is at the BFI at 6.10pm and is almost sold out. The film will then be followed by a Q&A with British duo Chris Butler and Sam Fell. You could ask them anything you want. Like "Why did you make a film about a boy who can talk to dead people? Are you wrong in the head?" or "Is this all based on personal experiences?" or even "Did Bruce Willis torment you as a child?"
All you have to do to bag your own pair of tickets is answer this question:
If you could talk to any dead person, which dead person would it be and why? 
The best answer wins. 
Send you answers to  This e-mail address is being protected from spambots. You need JavaScript enabled to view it  by midday on Tuesday 11th September. Or tweet it to us @iFlicks. 
THIS COMPETITION HAS NOW CLOSED
For more information on the BFI Paranorman screening - or to buy tickets if you don't win - go here.
| | | |
| --- | --- | --- |
| Gremlins re-released in UK cinemas for Christmas 2012 | | |
Written by Ivan Radford
Friday, 07 September 2012 13:41
Astute followers of @iFlicks on Twitter will have seen that I reported this one two days ago after scouring a sexy press release, but now the lovely folks at Park Circus have caught up and officially announced that they are unleashing Gremlins upon cinemas once again on Friday 30th November on a brand spanking new digital print.
So put the date in your diaries folks: Gremlins. Re-release. Friday 30th November. Best. Christmas. Present. Ever.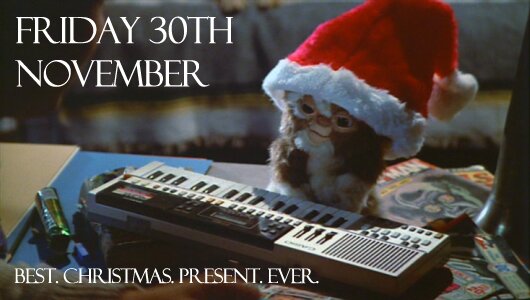 << Start < Prev 1

2

3 4 5 6 7 8 9 10 Next > End >>


Page 2 of 204