Star Ratings
| | |
| --- | --- |
| | Amazing |
| | Well good |
| | Fun |
| | Meh |
| | Rubbish |
| | | |
| --- | --- | --- |
| Film review: The Expendables 2 | | |
Written by Ivan Radford
Tuesday, 14 August 2012 15:05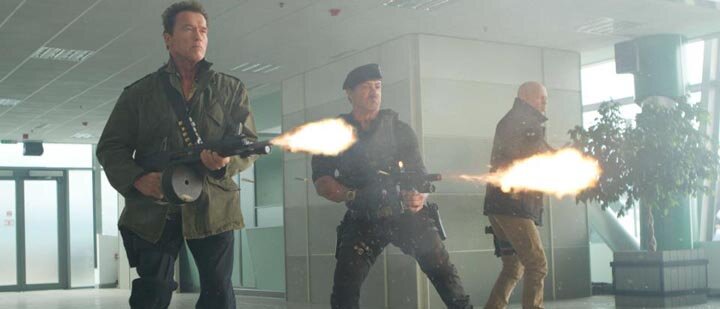 Director: Simon West
Cast: Sylvester Stallone, Jason Statham, Arnold Schwarzenegger, Bruce Willis, Dolph Lundgren, Terry Crews, Jean Claude van Damme
Certificate: 15
It is a fact that if you shoot someone in just the right place, their head will explode. After testing this theory in The Expendables, Sylvester Stallone is back to push it right over the brink of scientific credibility. How? With guns. Lots and lots of guns. There are people as well, of course. Famous people. People famous for holding guns. This time round, one of them is a woman.
Together, these gun-toting famous people - and woman - use their guns to kill men. Bad men. Men with guns. And they don't waste any time doing it. As soon as the screen switches on, Barney Ross (Stallone) and his expendable chums light it up with bullets, setting the tone for the rest of the film: if the first Expendables was big, dumb, loud and rubbish. This is bigger, louder, dumber and, erm, rubbisher.
How dumb, you say? To sum it up in six words: Dolph Lundgren riding a jet ski.
But back to the plot (ha), which thickens to something resembling tracing paper when new people join the team. Maggie (Nan Yu), an ass-kicking Chinese warrior, gives Stallone something to drool over. Billy the Kid (Liam Hemsworth) brings the emotion as a young rookie who delivers a sentimental monologue that reveals he has a wife waiting for him after he completes this one last mission – yeah, me neither.
But the only cast member you really need to worry about is the villain, who's called, brilliantly, Vilain. Played by Jean Claude Van Damme, he swaggers around in a leather trench coat and sunglasses (even underground) while babbling incoherently. It takes you 30 minutes to understand what exactly he wants (some leftover uranium in an old mine) – until then, it's anyone's guess what's going on.
The rest of the OAP cast are equally incomprehensible. It may be the sound mixing (or Empire Leicester Square's speaker system), but the first half an hour is just a bunch of gobbledygook. Jason Statham makes some noises. Stallone waves his arms around. Jet Li smiles. It's like watching a live-action remake of A Town Called Panic. With more guns.
When they do start talking clearly, they make even less sense. "Don't you feel sad about [CHARACTER'S NAME] who died?" Maggie asks Stallone, in one of their intimate exchanges. He frowns like a man. A manly man with man thoughts in his man brain. Then delivers this philosophical nugget: "We keep things light - until they have to go dark. Then we go pitch black. You understand?"
Maggie nods. Thank God someone does.
Other conversations don't even pretend to be about anything. Arnie and Bruce Willis turn up and exchange catchphrases for five minutes, all of which bear no relevance to anything happening in the film whatsoever. And, of course, Chuck Norris gets a laugh-out-loud anecdote about a cobra.
Let's face it, though: you don't watch The Expendables 2 expecting an impressive script. You hope for a bad one. And Stallone's sequel delivers, continuing to occupy that void between dreadful and amazing (dreadfazing – or terribrill, if you prefer). "Do you have anything without skulls on it?" asks Maggie, during another deep character moment. "No," replies Sly, before putting on a backpack without skulls on it.
But unlike the first outing, in which Sly took himself too seriously all the time, The Expendables 2 isn't afraid to lighten the mood – at least, the rest of the cast and crew aren't. With Sly's sombre hand off the helm, Con Air's Simon West steps in to blow shit up and boy, does he has fun while doing it, packing in blood, swearing and ridiculous one-liners. One sequence sees Jason Statham (called Lee Christmas, don't forget) stab people in the face while dressed as a priest. You can tell immediately what he's going to say afterwards.
The ensuing string of carnage, stupid dialogue and over-the-top stunts keeps the pace zipping along right until the even stupider, more over-the-top finale. And when the pace does let up, there's always Jean Claude Van Damme in his sunglasses. Or Dolph Lundgren riding a jet ski.
VERDICT
A sense of humour and even bigger guns makes The Expendables 2 constantly hilarious – and some of time, that's intentional.
Tags:
arnold schwarzenegger
con air
dolph lundgren
jason statham
jean claude van damme
jet li
nan yu
simon west
sylvester stallone
terry crews