| | | |
| --- | --- | --- |
| 20 films you should see at the 20th Raindance Film Festival (2012) | | |
Written by Ivan Radford
Saturday, 15 September 2012 08:49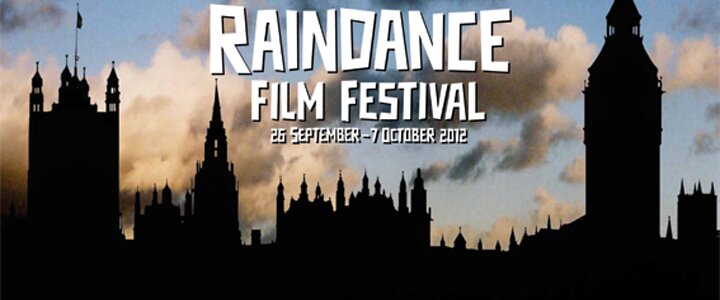 2011 was something of a golden year for British indie films. Tyrannosaur, Attack the Block, Tinker Tailor Soldier Spy - it was a breakout reminder for mainstream cinemagoers that even with the old recession going on, indie filmmaking is still going. And it really is - not just in the UK, but around the world. And that's why I loved Sundance London earlier this year and why I'm a big fan of the Raindance Film Festival: it's a showcase for all that drive, enthusiasm and creativity.
Want to see the big hitters from Cannes? The London Film Festival is your home. Want to see a film starring a Eurovision Song Contest entrant or a futuristic adaptation of Shakespeare's The Tempest? Stroll down the road to the Apollo Piccadilly Circus between Wednesday 26th September and Sunday 7th October and get ready to see some exciting new talent. Plus Jeremy Irons, Derek Jacobi, Charles Dance, Malcolm McDowell, Chuck Palahniuk and, erm, Jennifer Lopez.
Never been to Raindance before? Not sure where to start? Try this list on for size. I've scoured the Raindance 2012 line-up like someone with nothing better to do on a Saturday morning and picked out the most promising parts of the extraordinarily diverse feature programme (expect a pick of the short films next week). 
These are the 20 films you should see at the Raindance Film Festival 2012.
1. Here Comes the Devil (dir. Adrian Garcia Bogliano)
It's all too easy to recommend the Opening Film, but Raindance sure knows how to pick 'em. After last year's Another Earth, we head down Argentina way for Here Comes the Devil, a Picnic at Hanging Rock-style horror flick that plays on the suspense of remote locations and the inherent creepiness of children. It's directed by Adrian Garcia Bogliano - a man so scary they named him thrice.
I've not spotted a trailer for this yet – so here's an interview with Adrian instead. (Warning: It's in Spanish.)
2. 7 Boxes (dir. Juan Carlos Maneglia, Tana Schémbori)
This year's Closing Film sees a young teen from Paraguay seize the chance to make $100 by wheeling around 7 boxes around for the day. What's in the mysterious cases? Will he open them? And will the police ever catch up with him? This visceral 100-minute thriller has the potential to be just as exciting as Deal or No Deal. But with the added bonus of not starring Noel Edmunds.
3. The Practical Guide to Belgrade with Singing and Crying (dir. Bojan Vuletic)
If you've never been to Belgrade, it's a lovely place. The buildings are cool. The central fortress is stunning. The people are friendly. And Novak Djokovic owns a restaurant. So any film that explores the city instantly gets my vote – especially one that follows four overlapping stories that collide in comic, dark and dramatic ways. Guns. Sex. Shouting. Laughter. And that's before we even get to the singing.
4. Trashed (dir. Candida Brady)
We Buy It. We Bury It. We Burn It. But what happens to stuff once it's trashed? Director Candida Brady answers the question but her environmental documentary has a triple whammy of talent that makes it even more exciting: it's scored by Vangelis, presented by Jeremy Irons AND shot by Steve McQueen's go-to cinematographer Sean Bobbitt. Your eyes and ears have never had it so good.
5. Zero Killed (dir. Michal Kosakowski)
Michal Kosakowski's semi-documentary takes a unique approach to the dark side of human nature: it's a six-year journey travelling around the world to expose people's murder fantasies. Want to kill your boss? Kosakowski gets people to act it out for his camera. A disturbing, dangerously insightful idea for a project with a dry sense of humour.
6. Bad Hair Friday (dir. Andres Kõpper, Arun Tamm)
Stupid gangsters. Cars. Dead bodies. A low-budget black comedy about eight different storylines overlapping at the end of the week, Bad Hair Friday may well be the best thing to come out of Estonia since this year's Eurovision entry, Kuula (Listen). Which is just as well, because the singer Ott Lepland makes his acting debut here. Annoyingly, his hair's actually quite good.
7. Wild in the Streets (dir. Peter Baxter)
One Game. Two days. 3,000 players. No, not a FIFA tournament for avid PS3 owners. This is something far more serious: the annual Royal Shrovetide Football Game. It may sound like a made-up tournament, and it is. The goals are miles apart. Halves go on for 16 odd hours. But the Derbyshire village of Ashbourne continues this crazy sporting tournament regardless, a tradition that pre-dates both football and rugby. In September 2012, Peter Baxter's documentary may struggle to follow the Olympics or Paralympics, but if the sport is good enough to stop a whole village from eating pancakes every Shrove Tuesday, it must be flipping brilliant.
8. Strings (dir. Rob Savage)
A drama looking at the lives of four teens before they head off to university, Strings is one of those films about the emotional confusion of youth. "Not another," you cry. Ah, but this one was made for £3,000 by an 18 year old. Not a bad start to a directing career. And from the looks of it, it might not be a bad movie either.
9. Sado Tempest (dir. John Williams)
We've seen tons of interpretations of The Tempest over the years, but never a futuristic musical version about a rock star in Japan. Imprisoned guitarists, sadistic wardens, volcanic islands. This sci-fi Shakespeare flick promises to be something truly special. And not just because its director is called John Williams. As soon as I spy a trailer, I'll let you know.
10. The Beaver Trilogy (dir. Trent Harris)
Now this is a weird one. Pretend for a second that you're Trent Harris. Say you meet a guy in a car park. He does impressions of Elvis and Sylvester Stallone. Then he tells you he'll be dressing up as Olivia Newton-John later. What do you do? Film him? Hire Sean Penn to reenact the event in black and white? Hire Crispin Glover several years later to reenact it in colour all over again? The Beaver Trilogy does all three. Once on YouTube in its entirety, Harris' bizarre piece of cinema is not on DVD, making its retrospective screening at this year's Raindance a one-off rarity. Until, of course, Trent Harris recreates the Raindance screening in 10 years' time in 3D with Brian Blessed.
(For those wanting to see something more recent, Trent Harris' most recent film, Luna Mesa, is also screening at Raindance – and looks equally intriguing.)
11. Cinema Six (dir. Mark Potts, Cole Selix)
Anyone who's worked in a cinema knows full well that it sucks. A lot. But it's also ripe with comedy. And faster than an ex-Cineworld employee can say "I'm going to make a film about it", Mark Potts and Cole Selix have done just that. Pregnancy, break-ups, fear and trailers: it's all there nestled among the stale popcorn.
12. Consuming Spirits (dir. Chris Sullivan)
Stop-motion. Line drawings. Origami. Photos. Shadow puppets. And newspapers. All of them combine in this shifting, layered animation. It was made over almost 15 years – a production schedule that's almost as impressive as its creative visuals.
13. Despite the Gods (dir. Penny Vozniak)
Anyone who's seen a Jennifer Lynch film will know which side of her divisive fence they sit on. But Penny Vozniak's film (nominated for Raindance's Best Documentary award) may change your mind: she follows Jennifer around on the set of her new film, charting the challenges not just of producing a motion picture but looking after a 12 year old daughter, ignoring audience reactions to her previous films and living in the shadow of her famous father.
As Lynch herself puts it: "It's a film about a woman who turns into a snake. And I'm 40. And I'm single. Who knows how the fuck it will turn out?"
14. Give Me the Banjo (dir. Marc Fields)
Steve Martin. Everyone's favourite stand-up comedian, actor, writer and Grammy award-winning musician. Here, he puts on his bluegrass hat to head a documentary looking at the history of the banjo in America. Filled with contributions from legendary strummers, Give Me the Banjo is one for Martin devotees and blues fans alike. Me? I'm just hoping they include an interview with Kermit the Frog.
15. The Hidden Hand (dir. James Carman)
ALIENS. They're out there. And James Carman has got proof. Well no. He's got a series of testimonials from that special breed of folk who say they have had contact with extra-terrestrial life. Which is a far more interesting – and amusing – thing to sit there and watch. Not least because it includes comments from the former Canadian Defence Minister. And the kind of people who say things like "There is no such thing as UFOs - we've known for years what they are." 
16. How Do You Write a Joe Schermann Song (dir. Gary King) 
How do you write a Joe Schermann song? Joe Schermann doesn't know. If he did, he wouldn't be in this film, surrounded by a girlfriend he can't write for and another woman whom he wishes was his new leading lady. Big (off-)broadway numbers meet crowdfunded budgets in a crazy romantic musical that looks, for my money, like it could be the best film of the whole festival.
17. Portrait of a Zombie (dir. Bing Bailey)
Statistically speaking, it was inevitable that a zombie movie would appear somewhere at Raindance. But after an endless parade of found footage rehashes and blood-splattered comedies, Portrait of a Zombie is at least trying something a little different: a mockumenary. "People are always making fun of vegetarians. You're all for eating meat, except when you're the meat. It's not so fucking funny then, is it?" says one person. Looks good, says I.
18. Nyman with a Movie Camera (dir. Michael Nyman)
Michael Nyman needs no introduction. Neither does the Russian silent movie Man with a Movie Camera. Put them together and you get something else entirely: a shot-by-shot modern reworking of a landmark film, complete with new score. A post-modern movie - now more post-modern than ever.
19. Confine (dir. Tobias Tobbell)
Adding to the recent string of claustrocore (yeah, it's a word) films, Confine lives up to its name by setting the whole film inside a single apartment. Pippa (Daisy Lowe) lives there, a former model who wanders around with a walking stock. Enter Kayleigh, a burglar with a phone, a gun and a whole lot of confidence. But forget all that. I'm mostly excited about the other member of this tiny ensemble: Alfie Allen. Or as I call him, Theon Greyjoy from Game of Thrones.
Still waiting for a trailer for this one. Book tickets.
20. A Road Stained Crimson (dir. Tetsuhiko Nono)
A motorcycle repairman turns out to be a former professional hitman? A Road Stained Crimson looks to be a rather cool blend of stylish images, bizarre storytelling and thrilling music. Don't believe me? Watch the trailer.
5 other films worth a look
Contradictions galore in this tale of a cruel doctor. Social commentary or sick cruelty? Either way, bring a strong stomach.
Biology student turns prostitute to avoid debt in a grimy British thriller.
19 year old guitarist gets Lou Gehrig's disease. He's told he has five years to live. 22 years later, he's still composing music. A moving, inspiring true story.
Slave labour was abolished 200 years ago. Guess what? In Mexico today, it still exists.
Superbad gets a stoner makeover in this comedy, all shot in a single take.
The 20th Raindance Film Festival starts on Wednesday 26th September. And you can see ALL the films by getting a festival pass for just £50. Seriously. 105 features and 138 shorts all for £50. That's a minuscule £4.86 per film. Take that, Cannes.
In short, booking for the festival is already open. GO GIVE THEM ALL YOUR MONEY NOW.
What are you looking forward to at this year's Raindance Film Festival? Share your recommendations below!