| | | |
| --- | --- | --- |
| Top 12 films of 2012 | | |
Written by Ivan Radford
Monday, 31 December 2012 11:50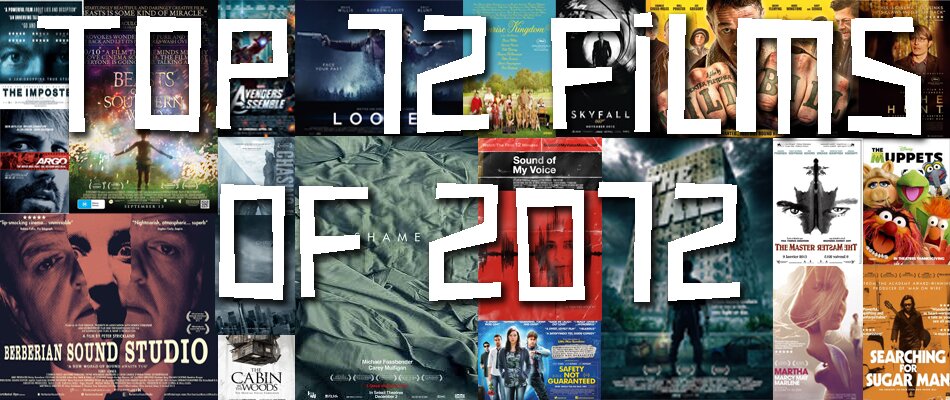 Here we go, then. Another one of them lists of really good films that I watched in the last 12 months that were marginally slightly better than all those other also really good films. Yep, 2012 has been a surprisingly kind year to cinema - both indie and mainstream alike. From the musical masterpiece How Do You Write a Joe Schermann Song? to the fantastically creepy Spanish horror Sleep Tight, I've seen some cracking stuff since December 2011. And those are just the movies that haven't been released in the UK.
Of course, those are the rules for these end of year thingamabobs: only films given a theatrical release between January and December 2012 count. And that still doesn't make it any easier. (I think) I saw a total of 200 films in the cinema this year. 136 theatrical releases, 33 at the London Film Festival, 23 at Raindance, 4 at the Brixton Ritzy's inaugural Argentine Film Festival and 4 at Sundance London.
Out of those, these are the top 12 films of 2012. Probably.
1. Martha Marcy May Marlene (Sean Durkin)

I've had a lot of time for cult films this year - literally. But more than stories about psychological manipulation and secluded communities, 2012 has been a year in which content and form have merged into several masterpieces. This was the first I saw, back at the London Film Festival last year. The fragmented editing, which eerily mirrors Elisabeth Olsen's messed up mind, blew me away then. It did it again in February, a release date that has seen most critics forget about it entirely. It's still crawling through my brain now.
Read our full Martha Marcy May Marlene review. 
2. The Imposter (Burt Layton)

Burt Layton's documentary took its central story - French adult pretends to be 16 year old American boy, gets away with it - and told it from the imposter's perspective. Frederic Bourdin's unreliable narration bleeds into every scene we see, blurring the line between recreation, fact and false recollection. The result is one of the most unpredictable, tense and hilariously gripping films of 2012, both fiction and non-fiction. 
Read out full review of The Imposter. 
3. Shame (Steve McQueen)

Steve McQueen has a knack at creating perfect little moments of cinema. Michael Fassbender jogging through the streets of Manhattan. Carey Mulligan singing New York, New York. This sex addiction drama has more narrative drive than McQueen's previous film, Hunger, but retains that unique, pristine stillness that makes us stare at sex full-on – and yet look right through it.
Read our review of Shame. 
4. The Hunt (Thomas Vinterberg)

"I said something foolish," a young girl admits, before her mum tells her to shush. Vinterberg's examination of a village's reaction to accusations of abuse is a slow-paced piece of torture; an excruciating look at how small-town paranoia can turn one man's life into shreds. Mads Mikkelsen's stoic victim deserves an Oscar nomination. 
Read our review of The Hunt. 
5. Berberian Sound Studio (Peter Strickland)

"I've never worked on a horror movie before," mumbles Toby Jones' timid sound engineer, who goes to Italy to produce effects for a 1970s horror film. In between the chopping of cabbages and squishing of carrots, the tiny Brit loses himself completely. This is a brilliant demonstration of how sound can warp our fragile little minds, and the best on-screen use of a vegetable since 2002's Mrs Caldicot's Cabbage War.
Read our Berberian Sound Studio review. 
6. The Cabin in the Woods (Joss Whedon)

Imagine a talking monkey riding a Nyan Cat next to Danger Mouse fighting a T-Rex on top of a dragon that fires LASERS FROM ITS EYES, while watching The Princess Bride AND eating bacon - narrated by Morgan Freeman. On Mars. (Inside a giant robot.) Joss Whedon's deconstruction of the horror genre is more awesome than that. 
Read our The Cabin in the Woods review.
7. Moonrise Kingdom (Wes Anderson)

If last year's Submarine borrowed from Rushmore, Moonrise Kingdom pays back the favour in dividends, mixing Wes Anderson's typically wry and downbeat humour with (possibly for the first time) a genuine emotional warmth. All that plus Alexandre Desplat's own Young Person's Guide to the Orchestra over the end credits? Adorable.
Read our Moonrise Kingdom review.
 
8. Avengers Assemble (Joss Whedon)

Marvel's string of superhero releases in last few years have amounted to little more than a massive advertising campaign for their climactic summer release this year. The fact that all of them (save Iron Man 2) have actually been good is amazing. The fact that Avengers Assemble not only met the hype but actually topped it is frankly absurd. This is feel-good blockbuster mayhem at its best.
Read our Avengers Assemble review. 
9. Safety Not Guaranteed (Colin Trevorrow)

Here at i-Flicks, we (well, I) love it when an indie film does something special with a low budget. Colin Trevorrow's witty, sweet and clever adventure doesn't just give good value for its bucks; it makes you forget about them entirely. This is a funny, moving and character-driven romance... that just happens to be about time travel. 
Read our Safety Not Guaranteed review.
10. Sound of My Voice (Zal Batmanglij)

Zal Batmanglij's cult drama (yep, another one) plays with its audience like a self-professed prophet hiding away in basements and claiming to be from the future. Terrorist? Visionary? Nutjob? The mind-boggling answer cements Britt Marling as one of the most exciting new acting faces around - and wows you completely. A lovely little piece that's become a firm favourite. If more people saw it in the cinema, I'm convinced it would be on a lot of Best of 2012 lists.
Read our Sound of My Voice review. 
11. Chasing Ice (Jeff Orlowski)

At this stage of the top 12, almost any of the below films could nab a spot. Climate change doc Chasing Ice may not have the best structure in the world, but wins out simply through sheer visuals alone. The stunning timelapse photography stunned my seven year old nephew away when he saw it on DVD with me. "I have never seen anything like it in my whole entire life," he wrote in his first ever film review. The staggering part? I had the exact same response.
Read our Chasing Ice review. 
12. Skyfall (Sam Mendes)

It's not the best Bond film of all time, as some people have claimed, but that's partly because it's not a Bond film: it's a film about Bond. 
Read our Skyfall review. 
Close contenders
Any of the below films could make up their own Top 12 Films of 2012 list, which either says a lot about the level of cinematic quality this year or my chronic indecision.
The Master
Paul Thomas Anderson's film isn't quite the masterpiece die-hard fans want, but it's an absorbing, at times flawless, study of two fascinating characters. Jonny Greenwood's music excels. 
Amour
I saw this heartbreaking (and heartwarming) look devotion just after my aunt passed away. It hit home. Hard. 
Review  
Untouchable
Cliched? Perhaps. Feel-good? Big time.  
Looper
Innovative, new, exciting. And that's just Nathan Johnson's film score. The rest of the film is equally idiosyncratic.
Review
Wild Bill
Dexter Fletcher proves that British cinema wasn't just at its best in 2011. 
The Muppets
Life's a happy song when there's someone by your side to sing along. Aww. 
Chronicle
It turns out that superhero movies can still be original, daring character dramas. And it wasn't a blockbuster that proved it.
Beasts of the Southern Wild
This sits right alongside Sound of My Voice, Chronicle and Martha Marcy May Marlene as one of the year's fantastic debut features. Magical realism eat your heart out.
Samsara
Forget stories and words: Ron Fricke's follow-up to Baraka does it all with just images and voices. Non-narrative, non-fiction, non-conventional. Amazing. 
The Dark Knight Rises
Christopher Nolan's final Batman flick isn't as well structured as the first two, but as far as franchise finales go, the payoff doesn't get more spectacular.
Review
Argo
Baffleck goes from decent director to Oscar contender with this ridiculously good mix of Hollywood love letter and tense espionage thriller. More tension and facial hair than the whole of the second series of Homeland.
The Raid: Redemption
Who needs plots and characters when you kill a room full of men with an exploding fridge?
Searching for Sugar Man 
Music nerds, documentary fans, anyone who likes good films - Malik Bendjelloul's wonderful look at unsung music legend Rodriguez pleases all three. And more. 
Magic Mike
Channing Tatum has got it going ON. In all departments. Ditto for Matthew McConaughey. This is funny, gripping, character-driven stuff. It's just a bonus that all the characters are hot naked men. 
Films I didn't manage to see but are reputedly "very decent"
Killer Joe
Holy Motors
Once Upon a Time in Anatolia
Cosmopolis 
What are your favourites of 2012?