Star Ratings
| | |
| --- | --- |
| | Amazing |
| | Well good |
| | Fun |
| | Meh |
| | Rubbish |
| | | |
| --- | --- | --- |
| Film review: Skyfall | | |
Written by Ivan Radford
Monday, 22 October 2012 12:38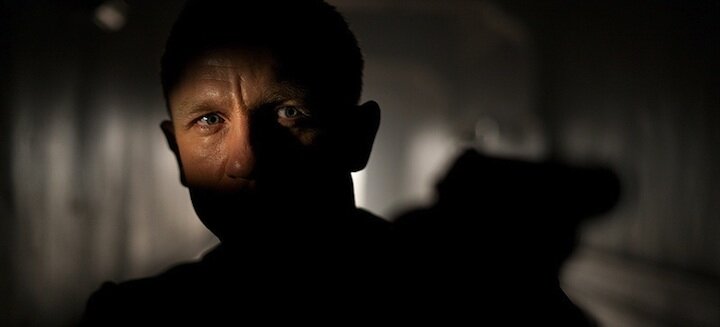 Director: Sam Mendes
Cast: Daniel Craig, Javier Bardem, Judi Dench, Naomie Harris, Ralph Fiennes
Certificate: 12A
Trailer
Skyfall has already been described by several excitable people as the best Bond movie of all time. It's not. But that's partly because it's not a Bond movie – it's a movie about Bond. And that's something very special indeed.
But Bond isn't the only one under the microscope: M (Dench) is too. Dogged by a decision she makes during the blistering opening set piece, she finds herself under attack from an old enemy with Ralph Fiennes snapping at her heels and no 007 to defend her.
An espionage thriller that explores the shady past of the head of MI6? Ever since Skyfall's synopsis was revealed, it sounded like a different direction for 007. But while most are comparing it to Christopher Nolan's Batman reboot, Sam Mendes' take on the franchise owes a far greater debt to Spooks.
John Logan's script, co-written with series stalwarts Neal Purvis and Robert Wade, feels like an smart spy flick that just happens to feature Daniel Craig. There's even a hint of that fan favourite theory that "007" is a moniker handed down between agents over the years. As for M, who has been a character in her own right since GoldenEye, Judi Dench's sweary and stubborn boss is every bit the female Harry Pearce, even finding the time to deploy some Tennyson among the treachery. A surprising amount of the action unfolds on UK soil, too, including one spectacular scene on the London Underground.
But Sam Mendes makes sure this is bigger and better than any BBC production. He brings the hushed intelligence of Spooks but regularly takes time out to blow up buildings and take out trains with exhilarating precision. He's helped no end by cinematographer Roger Deakins, who adds his own trademark attention to detail, along with the most striking addition to the Bond formula: the silhouette. For the first time in the franchise's history, 007's world literally becomes a place of shadows and reflections, a ghostly style echoed in Daniel Kleinman's haunting titles sequence. Skyfall may not be the best Bond film of all time, but it's certainly the most beautiful.
Despite all these changes, though, Skyfall is clearly Bond 23. Unlike Die Another Day's 20th birthday bash, 007's 50th anniversary is treated with just the right amount of wry humour: a final tableau sets up the series for the future, while familiar faces such as Q return with a wink. "What were you expecting?" snarks QILF Ben Whishaw after handing Craig a gun. "An exploding pen? We've don't do that anymore." Another gag involving the Aston Martin DB5 sees Craig hitting Connery levels of charisma.
And what to say of Craig's nemesis? Sporting a bleach-blond wig and a uniquely camp brand of menace, Javier Bardem is a classic Bond villain in the Sean Bean mould, never letting his physical deformity distract from a highly personal vendetta.
There are minor quibbles. Dialogue occasionally slips into clumsy mode ("I have new information!" chirps Harris to justify her appearance in Shanghai halfway through) and Adele's theme tune is harmlessly derivative. More troubling is Thomas Newman's score, which underscores the GoldenEye comparison by pulling an Eric Serra; as expected, Newman goes for an electronic-tinged soundtrack, shoehorning in the Bond theme at random moments to remind us what we're watching (let's not mention the part that sounds exactly like a Hans Zimmer knock-off, complete with BRRRRMMMMs).
Thankfully, that inconsistency never affects the rest of the production. Music aside, Skyfall is a perfect cinematic balancing act. It's a Bond movie and not a Bond movie. It's a blockbuster with a cast of 12 characters. It's a secret agent movie that copies Home Alone. It's an action film directed by Sam Mendes. Above all, though, it's bloody brilliant.

Tags:
ben whishaw
daniel craig
javier bardem
naomie harris
ralph fiennes
roger deakins
sam mendes
skyfall week