Star Ratings
| | |
| --- | --- |
| | Amazing |
| | Well good |
| | Fun |
| | Meh |
| | Rubbish |
| | | |
| --- | --- | --- |
| Sundance London Review: Safety Not Guaranteed | | |
Written by Ivan Radford
Saturday, 28 April 2012 21:58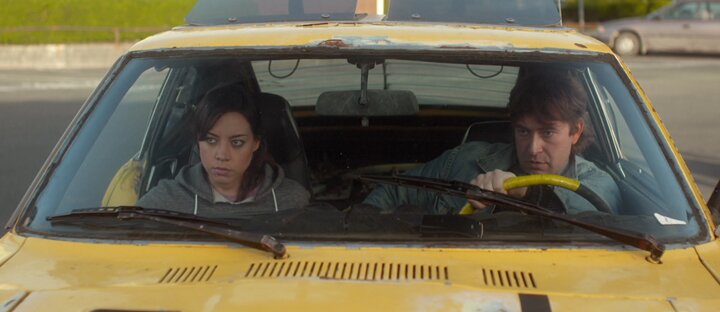 Director: Colin Trevorrow
Cast: Mark Duplass, Aubrey Plaza, Jake Johnson
Showtimes
"WANTED: Somebody to go back in time with me. This is not a joke. You'll get paid after we get back. Must bring your own weapons. Safety not guaranteed."
How would you react to that classified ad?
Journalist Jeff (Johnson) thinks it's a good source for a magazine article. Downtrodden journo intern Darius (Plaza) hopes it might be true. Equally exploited unpaid worker Arnau (Soni) thinks the guy is insane. When writer Derek Connolly saw the classified, he thought it would be a great idea for a movie. Director Colin Trevorrow agreed.
In a way, all of them are right.
And that's what makes Safety Not Guaranteed such a brilliant film. What could have been a shallow buddy comedy becomes something with far more depth. Yes, Arnau tries to chat up Darius, and Jeff spends their investigative road trip chasing a lead up an old girlfriend's skirt, but that's all forgotten when we meet Kenneth (Duplass).
The first time we see him, he's juggling tins of soup in a supermarket. He could be crazy. He might be a genius. He's certainly odd. But Darius dares to get close to him, winning over his trust. You know, by running through woods and learning how to use a handgun.
It's a sweet, unconventional relationship. He's middle-aged, she's barely out of college, but the age gap is never dwelled upon. Instead, Trevorrow teases out each outcast's motivation for going back in time, never answering the question that lingers in the background: how mentally unbalanced is he?
One adorable scene sees Duplass sing a song to her at a campfire while playing a zither. "You can only sing a song at a campfire these days if you're a Muppet," he admits. His dishevelled, natural presence is instantly disarming, at once both sad and potentially psychotic.
Plaza's equally vulnerable geek goes along with Ken's suspicions of being followed by government agents. "I like your no nonsense style," he ventures after one intense training session. "There's no sense in nonsense," she replies with a straight face. "Not when the heat's hot."
The laughs come naturally; Trevorrow is brave enough to let the talented ensemble improvise around Connolly's spot-on script, which nails the quiet character moments but isn't afraid to think big. Safety Not Guaranteed is an ambitious production that knows the limits of its budget and how to transcend them – the mark of a great independent movie.
The plot accelerates in the final third, driven by Ryan Miller's score, which expands from piano and guitar to full-on emotional orchestra, but each character goes with it, building up to a climax that doesn't leave anyone feeling cheated.
The result is a rounded, intelligent and hilarious sci-fi/romance/coming-of-age/adventure/comedy that just so happens to be about time travel.
Safety Not Guaranteed doesn't have a UK distributor yet. I like to think that in three years' time, it's already a cult classic and that someone travelled back from 2015 so we could all see it now and make sure it happens. So come on, Fox Searchlight, what are you waiting for?
Tags:
aubrey plaza
colin trevorrow
derek connolly
jake johnson
mark duplass
ryan miller
safety not guaranteed