Star Ratings
| | |
| --- | --- |
| | Amazing |
| | Well good |
| | Fun |
| | Meh |
| | Rubbish |
| | | |
| --- | --- | --- |
| Film review: Avengers Assemble | | |
Written by Ivan Radford
Friday, 20 April 2012 14:01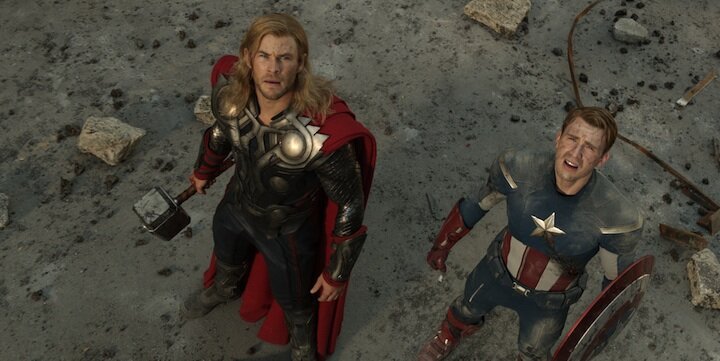 Director: Joss Whedon
Cast: Robert Downey Jr., Samuel L. Jackson, Chris Hemsworth, Chris Evans, Mark Ruffalo, Scarlett Johansson, Clark Gregg, Jeremy Renner, Tom Hiddleston
Certificate: 12A
Trailer
You could easily spend an Avengers Assemble review just quoting endless lines of dialogue. That's how good the script is. Yes, Marvel, the folks who brought us Iron Man 2, have just been praised for their astute screenwriting. Because Avengers Assemble is a superbly written film.
Throughout this colossal marketing campaign - and that's what The Avengers franchise has mostly been - Marvel have (Iron Man's bloated sequel aside) consistently beaten my expectations. And now expectations are actually high? They've gone and topped them again. Because rather than let producer Kevin Feige dictate the dialogue, the Marvel demi-god hired geek king, comic nerd, writer-extraordinaire and all-round love of my life Joss Whedon to make a movie. And holy purple shorts, he assembles the heck out of it.
It begins with the arrival of Loki (a sneering Hiddleston) from Asgard, backed by a shadowy, whispering enemy (their inaudible prologue is the only mistake in the whole film). He promptly brainwashes some good guys and steals a shiny square Maguffin called The Tesseract, which holds the power of the gods (and popped up in Captain America). Then he wipes out a bunch of civilians with his sexy, cuboid power.
"He's crazy," declares the Star-spangled man (Evans). "He's my brother!" yells Thor (Hemsworth). "He just killed 83 innocent civilians," comes the Captain's reply. Thor pauses. "He's adopted."
That's the problem when you assemble a team of superheroes: you get a group of super-egos instead. Alongside the Norse legend and the US propaganda, there's Tony Stark/Iron Man (Downey Jr.), Bruce Banner/The Incredible Hulk (Ruffalo), Black Widow (Johansson) and Hawkeye (Renner). Their collective power? Bickering like children. And The Avengers are really good at it.
That's perhaps the biggest surprise of the film: the number of jokes it contains. Never afraid to send themselves up, Whedon's troupe drop references to everything from costumes and catchphrases to Shakespeare and Lord of the Rings. It's funnier than most comedies released this year.
It benefits from a cast with a knack for wisecracks. Downey Jr.'s playboy gets the best lines, but Thor's butch delivery remains hilarious, Captain America's fish-out-of-water is nicely judged ("I understood that reference!" he exclaims when someone mentions Wizard of Oz), while Johansson almost steals the second act with an exchange with the snide, vengeful Loki (containing the best on-screen insult I've seen in years). And then there's Mark Ruffalo's Hulk - the third man to portray Bruce Banner, but perhaps the most memorable thanks to some smart soul-searching and a LOT of smashing.
Whedon is careful to make sure each character develops, pairing off Stark and Banner to talk emotions and letting Cap take charge during battle sequences. The result is an ensemble that slots together seamlessly. Even overlooked characters, such as Renner's Hawkeye and Clark Gregg's Agent Coulson, are made vital to the film's plot, while Samuel L. Jackson enjoys standing in the background staring at everyone with his eye.
There are minor quibbles - Can Hulk control his smash? What's with the title again? - but they're soon forgotten come the climax. After two acts of solid set pieces, Whedon pulls out all the stops for his finale, which is essentially a 45-minute war movie. Compared to Michael Bay's and Peter Berg's recent efforts, it's a reminder that explosions don't always have to be big and dumb. And can still come with one jaw-dropping tracking shot across the carnage.
Yes, you get the CGI, you get the city-levelling destruction and you get the ridonkulous stunts but you also get a plot, a sense of humour and - most importantly - a brain. It's at the opposite end of the spectrum but in a way, Avengers Assemble is this year's Inception. And much like Nolan's last blockbuster, The Dark Knight Rises will have to go a long way to beat it - because thanks to Marvel, Batman has got some serious competition this summer. And he's outnumbered six to one.
VERDICT
The best assembling I've seen since I made a really awesome Death Star out of Lego when I was a kid. And if you think otherwise, you're a total mewling quim.

For more on Marvel's Avengers Assemble, head this way to find out how to assemble your own Avengers cupcakes. 
Tags:
avengers assemble
chris hemsworth
clark gregg
comic book
hawkeye
hulk
iron man
jeremy renner
mark ruffalo