Star Ratings
| | |
| --- | --- |
| | Amazing |
| | Well good |
| | Fun |
| | Meh |
| | Rubbish |
| | | |
| --- | --- | --- |
| Film review: The Imposter | | |
Written by Ivan Radford
Monday, 20 August 2012 12:26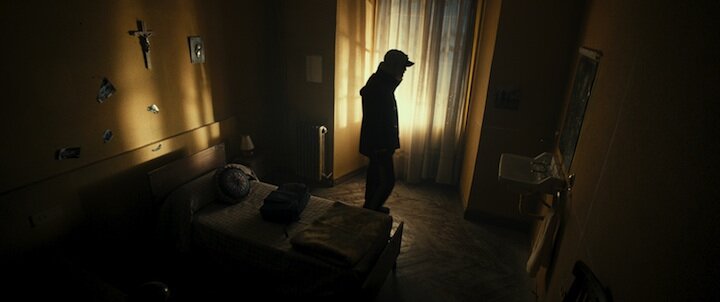 Director: Burt Layton
Cast: Frederic Bourdin, Charlie Parker
Certificate: PG
Imagine The Talented Mr. Ripley is real. Now imagine that Jude Law is a 16 year old teenage boy. Now imagine that Matt Damon steals Jude Law's identity. And that everyone in Jude Law's family believes him.
That's what The Imposter asks you to do every minute.
Nicholas Barclay lived in Texas. He went missing in 1994. He was 13 years old. He had blue eyes. Four years later, a telephone call came from a small town in Spain. A boy had been found: Nicholas Barclay.
But what we quickly learn is that this is actually Frederic Bourdin (aka The Chameleon), a fraudster who tricks officials into thinking he's the lost American kid. And then fools the family as well. He has brown eyes.
A French adult passing himself off as a US teen despite looking and sounding completely different? How did he do it? Are Nicholas' family aware of the deception? Will they believe anything just to be happy?
The Imposter teases out the facts slowly, introducing FBI agents, Spanish orphanages and American consuls to give their account of events. Then he wheels out a witness completely from left field: Charlie Parker, P.I. He sounds like a made-up character and he talks like a made-up character. He's closer to a Coen Brothers movie than real life. With his obsession with ears, he could have walked straight out of Fargo.
And that's where The Imposter works its magic. Burt, you see, is a crafty trickster himself. He throws everything in to make you doubt what you're watching: an unbelievable situation, larger-than-life people and, crucially, an unreliable narrator. That's right, our guide through Bourdin's mind-boggling deception? Frederic himself.
We relive each moment, with Frederic's insider knowledge playing like a bizarre behind-the-scenes commentary. "I had to put in their mind that I was a 13 year old… I made myself appear small and scared," he explains with a candid mix of honesty and pride.
Then we realise he's done this before. Several times. Is it just because he wants to belong in a family? "No one ever gave a damn about me…" he offers. Then smiles at the screen, a pantomime Keyser Soze, daring us to question everything he tells us. He's fascinating, charming. Who wouldn't believe what he says?
Layton's not done there, though. Apart from the odd bit of VHS footage, the director fills his film with re-enactments. Interviews with the younger witnesses are staged, locations are faked, and characters develop. It's like Crimewatch. If Crimewatch were a nail-biting Hollywood thriller.
Some may have a problem with the lack of authentic vox pops in the production – at what point does a documentary become a dramatisation? When does reality become fiction?
But Burt enjoys blurring the lines. Dialogue overlaps. Actions are repeated. Sound bleeds from one scene to the other. And once you've accepted what Frederic says as fact, up pops Charlie Parker to suggest an even stranger truth.
The result is an exciting cinematic experience that leaves you biting your arm off in anticipation. It's not often a documentary puts you right on the edge of your seat and Layton leaves you balancing there for 90 minutes before finally letting you go so you can rush to the internet and Google the heck out of what you've just seen.
VERDICT
WARNING: WATCHING THIS FILM MAY BLOW YOUR MIND. A documentary that's unafraid to leave the unbelievable as unbelievable, The Imposter is one of the best films of the year.

Tags:
burt layton
charlie parker
frederic bourdin
nicholas barclay
the imposter