Star Ratings
| | |
| --- | --- |
| | Amazing |
| | Well good |
| | Fun |
| | Meh |
| | Rubbish |
| | | |
| --- | --- | --- |
| Film Review: Wild Bill | | |
Written by Ivan Radford
Thursday, 22 March 2012 07:58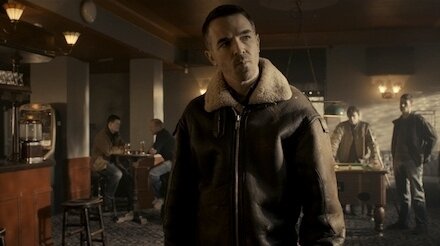 Director: Dexter Fletcher
Cast: Charlie Creed-Miles, Will Poulter, Liz White, Sammy Williams, Leo Gregory

Bill (Creed-Miles) has just got out of prison. Returning home to Stratford, he finds his old gang members grown up, his wife in Spain, and his kids home alone. Social services aren't too happy about that, so Bill is stuck there struggling to get back on the right side of society. His sons – and the local drug dealers – aren't happy about that either.
This is a heartfelt story of a guy trying to go straight, and the cast really know how to sell it. Bill's two boys are vulnerable but angry, with Will Poulter's independent youngster really standing out. "I didn't leave home. Home left me," he says, staring down the veterans around him with the impressive screen presence he showed in Son of Rambow.
Other familiar faces pop up too. Andy Serkis brings some strong menace to the underworld, Marc Warren's uncredited drunk is a suitably sad sight, and Jason Flemyng does a lot with a brief stint as a social worker. But for all the threatening thugs around town, Danny King's co-written script keeps things focused on Bill's domestic life. Small gestures like getting a takeaway (or ordering a prostitute) carry enormous emotional weight, and big moments, such as a moving rooftop exchange with Sammy Williams (Attack the Block's Probs), are beautifully underplayed. Credit should also go to Liz White and Jaime Winstone, whose convincing characters offer more than mere romantic interest, helping to soften Bill's gruff exterior.
Events all take place in the shadow of the 2012 Olympics. Sunset-tinted building sites and nighttime panoramas create a look and atmosphere that almost borders on the intensity of a Michael Mann film. And as Creed-Miles' likeable outsider stands off against the outlaws to find a place in his hometown, Dexter Fletcher's directorial debut takes on the personality of a highly mature Western. Once Upon a Time in Stratford? You wouldn't be far off.
A family-driven crime drama, this East London Western is mature, articulate and generally brilliant.

Tags:
andy serkis
charlie creed-miles
dexter fletcher
jason flemyng
leo gregory
liz white
marc warren
sammy williams
western
wild bill
will poulter