Star Ratings
| | |
| --- | --- |
| | Amazing |
| | Well good |
| | Fun |
| | Meh |
| | Rubbish |
| | | |
| --- | --- | --- |
| London Film Festival Review: Argo | | |
Written by Ivan Radford
Wednesday, 17 October 2012 21:48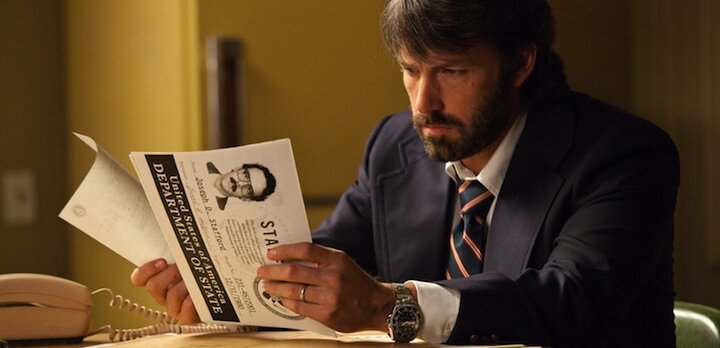 Director: Ben Affleck
Cast: Ben Affleck, Bryan Cranston, Alan Arkin, John Goodman
Argo trailer and clips
It's all in the beard. Ask anyone who watches Channel 4 on a Sunday night and they'll tell you that's the secret to a good espionage story. Ben Affleck has clearly been taking notes. For Argo, he grows a massive carpet for his chin, a decision that leaves him looking like a young Hans Gruber (all part of the period detail) and guarantees suspense – the nail-biting, arm-gnawing, seat-squirming kind.
1979. The Iran hostage crisis has left six Americans running for their lives from the seized US Embassy. The CIA's plan to get them back out of the country? Make a movie.
It's the kind of stupid thing you'd expect Hollywood be made up, but Argo's source story is rock solid. Using his L.A. contacts, "exfiltration" expert Tony Mendez (Affleck) sets up a fake production company to scout for locations in Tehran. Producer Lester Siegel (Arkin) and make-up legend John Chambers (Goodman) help to build up the pretence, but where can they find a suitable script? Up pops Argo, a sub-Star Wars space opera with a Middle East feel. "We'll have to buy the rights," says Siegel. "Why?" asks Mendez. "You're worried about the Ayatollah?" Siegel replies. "You should try the WGA."
Argo's bizarre subject matter lets Affleck switch between gritty action and glitzy Hollywood satire – a balance that is guaranteed to bag a Best Picture Oscar nomination next year. But what's impressive is that the director and screenwriter Chris Terrio pull it off, using Arkin and Goodman's downbeat snipes to add in humour without ever undercutting the movie's other half.
That careful attention to detail continues all the way through the film, flawlessly recreating the warm 70s vibe right down to the McDonalds wrappers on the tables. (During the end credits, Affleck scrolls through a series of black-and-white photos of the people and events alongside stills from the movie. You can't spot the difference.)
The cast is uniformly superb too, and not just in terms of appearance. The two-hour runtime may appear long, but it gives the ensemble time to invest their escape with a real sense of a danger. Scott McNairy's fugitive – pretending to be a cameraman – gets a chance to shine, while across the Atlantic, Bryan Cranston's dogged agent steals the CIA's show.
It all comes together in a set piece at the airport, a flawless 20-minute burst of showbiz phone calls and security checks that simply doesn't let up – people who rely on breathing to live may want to leave the auditorium at this point.
An espionage blockbuster that works as historical drama, political thriller and cinematic love letter, Argo is a tightly-woven rug that Affleck can display with pride. It's a glowing tribute to his increasingly confident talents behind the camera - and a showcase for one hell of a beard. Make no mistake: Argo has enough facial hair and tension to rival Homeland. By the end of it, you'll be twitching in your seat like Claire Danes. 
Tags:
alan arkin
argo
ben affleck
bryan cranston
chris terrio
hans gruber
john goodman
scoot mcnairy