Star Ratings
| | |
| --- | --- |
| | Amazing |
| | Well good |
| | Fun |
| | Meh |
| | Rubbish |
| | | |
| --- | --- | --- |
| LFF Review: Martha Marcy May Marlene | | |
Written by Ivan Radford
Saturday, 22 October 2011 07:50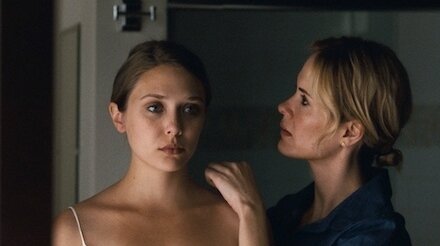 Director: Sean Durkin
Cast: Elizabeth Olsen, John Hawkes, Hugh Dancy, Sarah Paulson
Certificate: 15

A young woman crosses a road in the middle of the woods – and in doing so, escapes from a cult that has taken over the past two years of her life. A teary phone call later, and she's safe in her estranged sister's (Paulson) house with her new brother-in-law, Ted (Dancy). She then proceeds to swim naked, walk in on them having sex and lecture her sister about smoking. And lots of other really odd stuff.
Why is Martha (Olsen) acting so strangely? She won't say, but writer/director Sean Durkin doesn't rush to show us what happened.
Deftly intercutting her old commune life with her new family home, Durkin disorients us with flashbacks that echo her present day actions. Jumping into a lake, stirring a glass of water, lying in bed – anything can trigger a fragment of memory. "How far away are we?" Martha asks her sister. "From what?" she responds. "From yesterday."
It's easy to see how Martha – dubbed Marcy May by the cult – could fall under the spell of the charismatic cult. The leader, Patrick (the excellent John Hawkes), is nice and smiley, strumming away at guitars and talking about trust. Then, he invites the new girl to a special private evening, with just him and the concrete floor. "I don't remember much of it," whispers Martha afterwards to one of the others. "That's a good thing. That's part of the cleansing," comes the cheerful reply.
The lingering menace grows the longer Martha stays away from the farm - a testament to the film's hypnotic pace and intricate soundtrack. Curled up in her room, she thinks she can hear the cult members in the forest outside. Are we, like her, just hearing things? While you suspect that Martha's sister could do a little more to help uncover the truth, the non-linear unravelling of her mental state is compelling to watch. DoP Jody Lee Lipes frames the shots tightly with an easygoing eye for natural beauty, while Durkin gradually zooms in on Olsen over the 100 minutes. She slowly crumbles - an utterly beguiling performance in a chilling and absorbing film.
"Fear is the best emotion," says John Hawkes' subtle manipulator at one point. "It gives you full awareness of everything." Marthy Marcy May Marlene is packed full of fear. And you'll notice every detail.

Tags:
elizabeth olsen
john hawkes
sarah paulson