| | | |
| --- | --- | --- |
| Christmas Playlist: A Starry Night | | |
Written by Ivan Radford
Sunday, 11 December 2011 06:52

Actors. Singing. If you've heard Bruce Willis doing Under the Boardwalk, you know it's not always a good combination.
But these days, people don't seem to care. Rihanna's jumping all over Peter Berg's Battleship, William Shatner's sleeping with the Common People and Madonna's directing Andrea Riseborough in films. Even Ryan Gosling has a band called Dead Man's Bones.
Unsurprisingly, a lot of these actor/singer types have done their fair share of festive tracks. Zooey Deschanel's She & Him has released a whole album full of them. So, as a flimsy excuse to listen to Zooey's lovely larynx for 55 minutes, our Advent Calendar continues with a Christmas playlist of screen stars and starlets. 
For a seasonal mix of Scarlett Johansson's I'll Be Home for Christmas and Phantom Planet's Carol of the Bells...
(Note: Requires Spotify)
| | | |
| --- | --- | --- |
| How to Be Santa | | |
Written by Ivan Radford
Saturday, 10 December 2011 13:08
Everyone knows that Santa doesn't exist. (Spoiler alert.)
But if you're a parent desperately trying to your child's foolish sense of deluded hope alive for another 12 months, how the hell do you trick a kid into thinking that Father Christmas has been and gone on December 24th? 
Don't fret, cruel deceitful parents! We've rounded up everything you could possibly need to learn about being Saint Nick from festive films to create a seasonal movie guide. And who knows? If Santa does actually turn out to be real one day, it might be useful when you're applying for a vacancy up at the North Pole.
Either way, without further ado, here's how to be Santa Claus:

For more infographicky goodness, take a look at some of our other How To guides, including the indispensible Jurassic Park Survival Guide, How to Be a Ghost-Buster, How to Stop the End of the World, How to Break Out of Prison - and a diagram of Christian Bale Punching People.
| | | |
| --- | --- | --- |
| All I Want for Christmas Is... Buried: The Board Game! | | |
Written by Ivan Radford
Friday, 09 December 2011 06:24
Stuck for something to play this Christmas? Bored of Scrabble and Trivial Pursuit? Can't afford Ticket to Ride or Settlers of Catan?
Then you should buy Buried: The Board Game!
Nothing brings a family together like trying to be the last person to kill Ryan Reynolds. From the makers of Drive Scalextric, Buried: The Board Game comes with an exclusive Ryan Reynolds action figure, an official replica coffin and all the items necessary to keep your victim alive underground. It's a family-friendly test of skill, daring and strategic deployment of torches/lighters/snakes/mobile phones. There's even a timer to see who keeps him Buried for longest!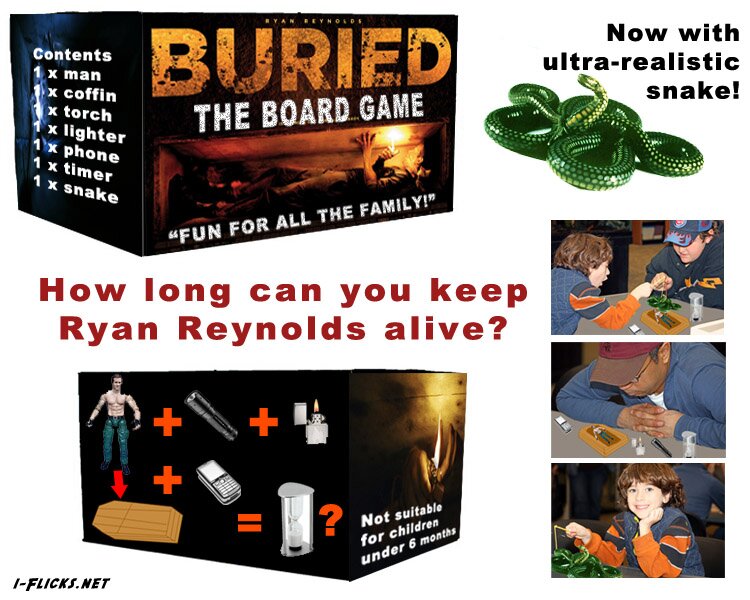 Order now, and the first 500 copies come with a limited edition, ultra-realistic snake.
Buried: The Board Game. Because everyone loves killing Ryan Reynolds.
For more Christmas gift ideas, keep opening the i-Flicks Advent Calendar.
(People seen enjoying Buried: The Board Game can all be found at Skokie Public Library.)
| | | |
| --- | --- | --- |
| 5 Things We Learned from Watching the Dragon Tattoo Press Conference | | |
Written by Ivan Radford
Friday, 09 December 2011 06:08

Yes, after yesterday's epic trailer, there's ANOTHER video of The Girl with the Dragon Tattoo. This time, it's a video of the Dragon Tattoo press conference in Stockholm.
And once again, it's amazing that I'm still excited about seeing more of the film - even after watching a whole 8 minutes of the ruddy thing.
Talking to media folks in Sweden, David Fincher, Rooney Mara and Stellan Skarsgard spoke about the making of Fincher's Dragon Tattoo adaptation. Here are 5 things we learned from the Dragon Tattoo press conference:
1. Rooney Mara Is a Coat Hanger 
"My casting rules are simple," says Fincher. "You're looking for someone to hang a character on." 
2. Lisbeth Salander Is the Next Tony Hawks 
"I was thrown into it quite fast," Rooney Mara explains of her sudden casting as the novel's hacker heroine. "There was a lot of physical work... The motorcycle training. The skateboarding. The kickboxing." Skateboarding? If we get to see her pull a 50-50 grind and a heel-flip on the Stockholm streets, I am so there. (I'm also now hoping for a Tony Hawks-style video game franchise.) 
3. David Fincher Does 40 Takes of Each Shot
Stellan Skarsgard explains how the shoot lasted a whole year and why it felt like it went on forever. "When I met David, he said "This is not going to be fun." He went "I do 40 takes of each set up..." But when you work with David, you feel that you try to get further in each take." 40 takes of Swedish bum rape? That's pretty hardcore workmanship.
4. Sweden Is Exotic
"For me, it was in this exotic place..." says Fincher. All that Swedish bum rape has probably gone to his head.
5. There's a Bit of Lisbeth in All of Us
"That feeling of being marginalised or held back by people in a position of power," comments Mara, "people can relate to that." I certainly can. Well, that's my excuse for my tattoo of The Moomins, anyway.
Read on to watch the full video of the Dragon Tattoo press conference.
Read more...
| | | |
| --- | --- | --- |
| Review: A Very Harold & Kumar 3D Christmas | | |
Written by Ivan Radford
Thursday, 08 December 2011 13:58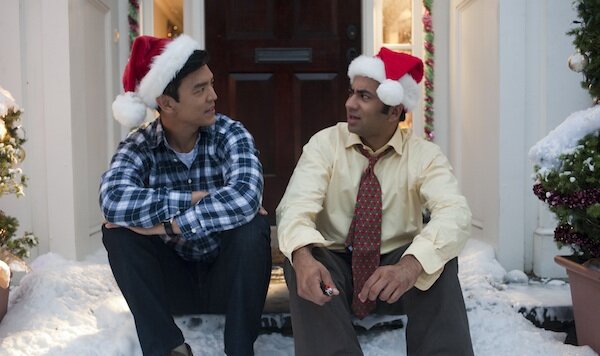 Director: Todd Strauss-Schulson
Cast: John Cho, Kal Penn, Neil Patrick Harris
Certificate: 18
Trailer
Back in 2004, I saw Lost in Translation with a friend who was high. He came out afterwards: "Whoah! That was like everything was in 3D!" I promptly made a snide comment (let's pretend it was something witty and clever). 
Seven years later, Todd Strauss-Schulson has recreated that movie-going sensation with A Very Harold & Kumar 3D Christmas. It's not big, it's not clever, but for my red-eyed mate who gawked at a purportedly three-dimensional Bill Murray way before anyone had heard of Avatar, it's perfect. 
Read more...
| | | |
| --- | --- | --- |
| Watch the 8 Minute Trailer for David Fincher's Dragon Tattoo | | |
Written by Ivan Radford
Thursday, 08 December 2011 07:25
Watch this 8 minute trailer for David Fincher's The Girl with the Dragon Tattoo.
And now marvel at the fact that you can't wait to see the rest of the 157 minutes.
For more on David Fincher's Dragon Tattoo, head this way to see the trailer - and for all the pretty new Dragon Tattoo stills.
You can now head this way to read our The Girl with the Dragon Tattoo review
| | | |
| --- | --- | --- |
| Review: Another Earth | | |
Written by Ivan Radford
Wednesday, 07 December 2011 10:34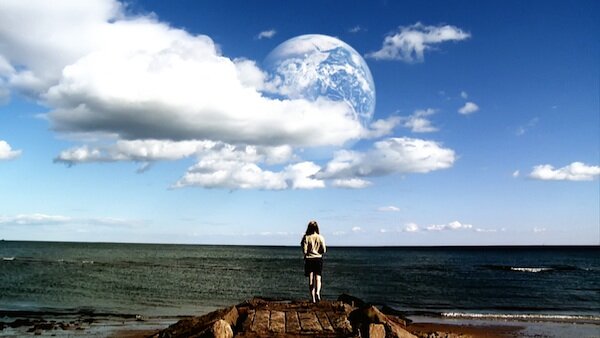 Director: Mike Cahill
Cast: Brit Marling, William Maphother
Certificate: 15
Trailer
Sci-fi movies have frequently made a fuss about the collision between our planet and other worlds. A chance for Bruce Willis to blow a rogue asteroid up, or a sad story about Kirsten Dunst taking her clothes off. But Mike Cahill's low-budget Another Earth is something else.
As MIT student Rhoda (Marling) prepares for a bright astrological future, Earth 2 appears in the sky – an exact replica of our home.
Distracted by the duplicate rock on the horizon, she drives into another car. The collision kills the family in the other vehicle, except for the father, John (Mapother). What follows is a quiet tale of guilt as she tries to atone for the accident.
Read more...
| | | |
| --- | --- | --- |
| Christmas Reading List: Shame | | |
Written by Ivan Radford
Tuesday, 06 December 2011 07:03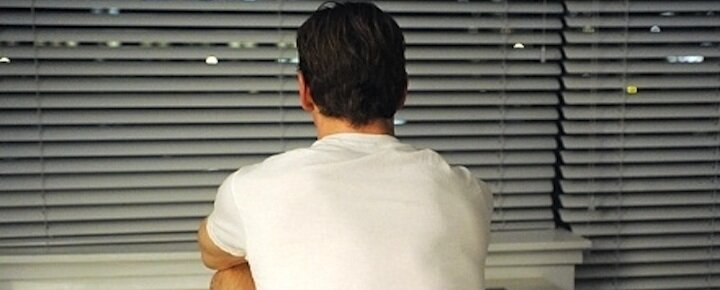 There's nothing like curling up with a good read during the cold winter months. Something sad. Something unforgettable. Something about sex addiction.
Which is why Shame's script makes the top of the Christmas reading list in our Advent Calendar.  
But while the chance to read Steve McQueen and Abi Morgan's description of Michael Fassbender's sex face has obvious appeal, Shame's screenplay is a fascinating read because of McQueen's visual style. He's scarily good at creating perfect moments on screen, but how much of that is in the script?
Take Michael Fassbender's breathtaking run through the New York streets, in one long, graceful tracking shot. How do you get to that from a few sentences on a page? 
Thanks to Fox Searchlight's lovely awards campaign site, you can now take a peek at the Shame script. A great resource for those wanting to vote for McQueen and Morgan's work (they jolly well better), as well as folks trying to learn the lyrics of New York, New York, but also a curious insight into the creation of a staggering slice of cinema.
What more could you want from a quiet read after Christmas dinner?
You can find the script here.
| | | |
| --- | --- | --- |
| Competition: Win Tickets to See New York City Ballet's The Nutcracker | | |
Written by Ivan Radford
Monday, 05 December 2011 12:52

It's day five of our Advent Calendar and we have a special seasonal competition: a chance to win tickets to see the New York City Ballet perform The Nutcracker.
No, we're not flying you to New York (I can barely afford the bus fare to get out of Essex). But do you remember last week, when I was going on about how digital projection opens up exciting new possibilities for cinema? Well, the New York City Ballet obviously agree, because their production of The Nutcracker is being recorded live from the Lincoln Center for the Performing Arts and beamed via magical satellitey things (called satellites) to your local cinema on Thursday 22nd December (with some extra screenings running to Tuesday 27th December).
In total, this version of Tchaikovsky's legendary ballet is being broadcast to 38 cinemas around the UK (including London's Westfield). It features 70 ballet dancers, 62 orchestra players, 50 children and a giant 40-foot Christmas tree. The cheapest seats in America, for Fourth Ring A (hee hee, it sounds naughty), cost $89 a pop. And we're giving away a pair of tickets to any UK screening of your choice for free.
In short, you have LITERALLY NO EXCUSE not to go.
All you have to do to win two tickets to see The Nutcracker is answer the following question...
Read more...
| | | |
| --- | --- | --- |
| Tyrannosaur Tops BIFA 2011 Awards Winners | | |
Written by Ivan Radford
Sunday, 04 December 2011 23:01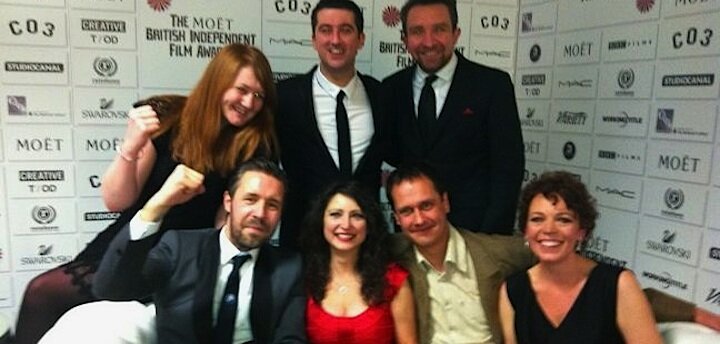 Tyrannosaur stomped all over the competition at tonight's BIFA awards. The British Independent Film Awards, which were streamed live on the internet, saw Paddy Considine's superb film pick up three awards, including Best Debut Director, Best Actress (Olivia Colman) and Best British Independent Film. All of them were well deserved - as you can see from their lovely happy faces (image via @PaulPopplewell).  
Fellow lead nominee Shame picked up Best Actor for Michael Fassbender, while Carey Mulligan was pipped to the Best Supporting Actress post by Coriolanus' Vanessa Redgrave. The other pleasant surprise was Michael Smiley winning Best Supporting Actor for Kill List - an announcement met by cheers from the audience, much like Weekend's two wins for Best Production and Most Promising Newcomer, which went to the wonderful Tom Cullen. 
Whoops also went out to Chris O'Dowd's drunken hosting. He started the evening off lightly sloshed, then quickly escalated to off his tits. And got funnier as he went along. Until the end, when he could barely speak in words, let alone sentences.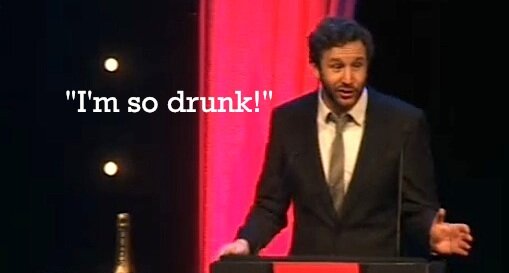 BIFA's Top 5 Drunk Chris O'Dowd Quotes 
1. "Mike Leigh's comedic abortion farce Vera Drake..."

2. "Vanessa Redgrave, you sexy owl."

3. "Moet! It's pronounced 'Mo-et'! As in 'pirouette'! And 'who gives a shit'!

4. (Looking at himself on the screen) "There he is!" (Then, later) "I'm so drunk!"

5. "Women want to be him, men want to sleep with him... Daniel Craig!" 
Other highlights of the evening included Ralph Fiennes picking up the Richard Harris award for outstanding contribution to British film, which he accepted while the in-house BIFA band played the theme from The Avengers, after being introduced by the hilarious Tom Hollander: "I thought I would be tossed aside like the unwanted exfoliant from a gift bag... in Voldemort, I have found my truest friend.")
Massive credit should also go to Richard Ayaode for winning Best Screenplay for Submarine, the Oscar-snubbed Senna claiming Best Documentary, and also to Maria Djurkovic for taking home Best Production Design for Tinker Tailor Soldier Spy. All the right films got a mention somewhere - even Lynne Ramsay bagged Best Director for We Need to Talk About Kevin. Oh, and Kenneth Branagh popped up to collect The Variety Award.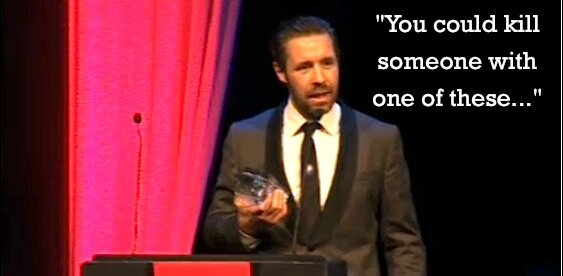 And that's BIFA 2011. The whole thing was a brilliant success for three reasons. Firstly, it was a celebration of a ridiculously impressive year for British indie productions (look at just how many are heavyweights at bigger ceremonies). Secondly, it was proof that awards can be streamed online - and streamed well. This evening has done wonders for the profile of BIFA, which will only keep getting bigger from now on. And finally, it introduced the internet to drunk Chris O'Dowd. Which we've all wanted to see for a long time.
Read on for the full list of winners - and then head over here to read our five-star Tyrannosaur review and our interview with Paddy Considine. (Also, follow @AuntieNubbins on Twitter because he dutifully screen-capped the whole thing and I stole a couple of his images.)
Read more...
| | | |
| --- | --- | --- |
| Christmas Playlist: The Girl with the Dragon Tattoo | | |
Written by Ivan Radford
Sunday, 04 December 2011 08:54

It's cold outside, it's dark by 5pm and you need something to shove on the stereo to keep the family warm. 
This isn't it.
These are the rather excellent tracks from The Girl with the Dragon Tattoo - everyone's favourite Boxing Day treat for 2011 - that have been released as a free sampler by Trent Reznor and Atticus Ross (much like the five track free EP for Social Network). You can read more about the pre-ordering of the soundtrack and the ridiculous number of other versions planned to hit the digital shelves over at Wired.
Anyway, back to these seven tracks. They're chilling, upsetting and have chimes in them. So in a way, they're the best Christmas music you could choose for your living room. Presuming you're a twisted parent with a penchant for traumatising small children. 
What better, then, for our first Christmas playlist in our Advent Calendar? (The others are less disturbing - I promise.) Think Let the Right One In meets The Social Network. Think serious Oscar contender against Alberto Iglesias' two superb scores. Then stop thinking and listen to the damned thing. 
Oh, and a special mention for track number 4, Oraculum, for its constantly wrong-footing 5/4-6/4 alternating time signature - 11 beats in a bar? Suck on that, Dave Brubeck. 
| | | |
| --- | --- | --- |
| Decorate Your Own Movie Christmas Tree | | |
Written by Ivan Radford
Saturday, 03 December 2011 06:07
After the excitement of yesterday's Drive Scalextric present, sometimes all you want to do is sit down for a rest and gaze lovingly at your Christmas tree.
But wait, what's that? George Osborne stole your Christmas tree and melted it down to feed his swans? Don't cancel December just yet: we've got a free, virtual Christmas tree for you to decorate right here. 
For more exciting Flash stuff, keep opening the i-Flicks Advent Calendar. Or try our Scream: Video Game. Or go see The Shiznit's Moonraker Bond game - it has Roger Moore's face in it. 
<< Start < Prev 1 2 3 4

5

6 7 8 9 10 Next > End >>


Page 5 of 148