Star Ratings
| | |
| --- | --- |
| | Amazing |
| | Well good |
| | Fun |
| | Meh |
| | Rubbish |
| | | |
| --- | --- | --- |
| Review: The Artist | | |
Written by Ivan Radford
Wednesday, 28 December 2011 12:49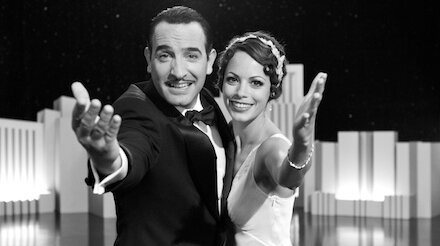 Director: Michel Hazanavicius
Cast: Jean Dujardin, Bérénice Bejo, James Cromwell, John Goodman, Malcolm McDowell, Uggy the Dog
Certificate: PG
Release Date: Friday 30th December
Trailer
After a year of rapes, killings, break-ups and Michael Bay movies, sometimes you just want to watch a film that's happy. And wonderful. And black-and-white. And silent. Perhaps something that involves tap dancing. Or moustaches. The Artist is all of these. And it has a dog.
That's what everyone says about The Artist. But really, a black and white film in 2011? That's just silly. We've had colour cinema since before Star Wars – could they not afford it? 
People call The Artist "a tribute" to silent cinema. Now there's a daft concept if ever I heard one. Silent? Cinema? Cinema that's silent? Would want you want to pay tribute to that? The director (Michael Haza-whatever-his-name-is) rarely uses those cards with words on to tell you what's happening, so what are you meant to do when people are talking? Rely on their natural body language? 
From what I could gather in between naps, Valentin (some French dude called Jean Dujardin) is an actor whose career is coming to an end, while this woman, Peppy (Berenice Bojo), is getting famous because no-one wants to watch silent films anymore. Well, no surprise there. Silent films are as dull as watching paint dry on Ed Milliband.
There's some romance going on between the two of them, but I could only tell that because they have chemistry and they kiss and stuff. Oh, and they dance together too.
I mean, really. Dancing? Who wants to see tap dancing in the cinema? Does Michael Bay have tap dancing? No. People say these performers can communicate their feelings and make you laugh with a simple gesture, like classic movie stars. But nowadays we have people like Adam Sandler to entertain us; no-one watches those old actors anymore. I don't want to be impressed by bold lighting, charming acting and clever production design. And if I want dancing, I can see people with real talent on The X Factor.
And don't get me started on that flipping dog. A dog? In a film? Why would I pay to see a dog – a dog called Uggy, no less – tap dance and be really cute? There are loads of dogs in the street. I could get one of them to tap dance too if I had a big enough stick.
The really stupid thing about The Artist is that there's one scene that does actually have sound in it. Others describe the sequence as a witty, post-modern nightmare, but it was more like a dream come true. Why didn't they just make the rest of it with sound as well? Do they think we can emotionally connect with a story just by watching a load of black-and-white people jump around for two hours? That's not what cinema is about.
I've read everywhere else that The Artist is great because they don't make films like this anymore. It's true, they don't. The Artist is cheerful and it's happy. That's not what people want from a film. It's true, it does stand out from modern cinema because nothing else is like it - nothing else is this rubbish.
"The Artist is a feel-good treat, pure and simple. You'll swoon, you'll sigh, you'll want to tap dance," one review claims. What it should say is: "The Artist. Definitely the most boring film of 2011." Although I quite liked the music. And the lead actor has nice eyebrows.
So yeah, The Artist. When it comes out on Friday, don't go and see it – unless you disagree with everything I just wrote. (Apart from the bit about the music. And the eyebrows.)
Here's our five-star review of The Artist from the London Film Festival.
What did you think of the film?
( 2 Votes )
Tags:
bérénice bejo
james cromwell
jean dujardin
john goodman
ludovic bource
malcolm mcdowell
michel hazanavicius
michel hazavanicius
the artist