| | | |
| --- | --- | --- |
| A Few Further Thoughts on 35mm | | |
Written by Ivan Radford
Wednesday, 30 November 2011 07:18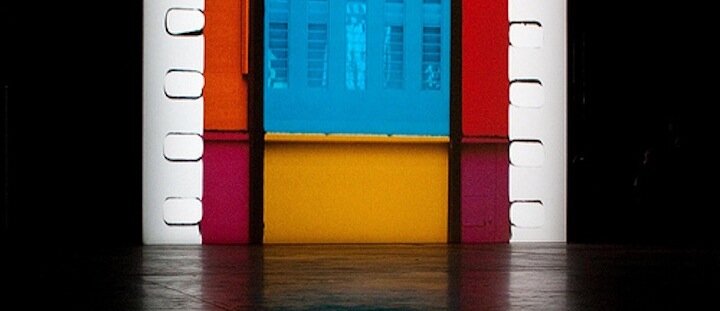 (Tacita Dean's FILM - image via Poppet with a Camera) 
I wrote a blog post for Guardian Film yesterday about the demise of 35mm as digital takes over the majority of the world's cinema screens. As always, a few things get cut out, either by me or by the astute editors, so I wanted to post a few further thoughts on here.
First off, I'm not anti-35mm. It's a beautiful medium and one that's served cinema well since The Lumière brothers. It degrades over time and is inconsistent in picture quality, but that mostly just adds to its flawed, poetic charm. Indeed, the very fact that it's being taken over by digital so rapidly adds a massive dollop of nostalgia to the analogue format.
A quick visit to Tate Modern to Tacita Dean's FILM will remind you of the brilliant possibilities open to 35mm, using just a pair of scissors or some paint to produce hand-crafted effects that still amaze.  
And yet, there's that inconsistency.
I spoke to the owner of The Electric cinema in Birmingham, Tom Lawes, last week. For him, film print is less stable than digital, with a higher risk of mechanical or human error. He had an interesting anecdote that I removed from my article for space reasons:
"We ended up with four prints of Roman Polanski's The Ghost last year because each time they sent it to us, it was green. It was the same shot, the same film, but you could see how much a 35mm print could vary. It was ridiculous."
Then, of course, there's the quality improvement that digital offers. It looks too clean, you could argue, and you're probably right (cue flashbacks to Michael Mann's solid Public Enemies, which had a weirdly anachronistic use of high-contrast digital to capture an era of celluloid-tinted history). But it's still an improvement. 
One thing that convinced me on that front, aside from gawping at digital prints of films such as Sunshine a few years ago? Roger Deakins talking about the Arri Alexa earlier this year - again, cut from yesterday's piece for space reasons.
"It's the first camera I've worked with that I've felt gives me something I can't get on film. Whether I'll shoot on film again, I don't know… [Shooting on Digital] gives me a lot more options. It's got more latitude, it's got better color rendition. It's faster. I can immediately see what I'm recording. I can time that image on set with a color-calibrated monitor," the old-school cinematography legend told SlashFilm.
But while I'm pro-digital, the way the upgrade has happened is lamentable. The loss of 35mm is a sad, but inevitable step forward (insert vinyl vs CD comparison here). For me, the real tragedy is the end of 35mm projection. Not just the film itself, but the skill and art of showing it properly. After speaking to friends who have been projectionists, as well as working in a London multiplex, it's sad to see people lose their jobs and cinemagoers suffer from poor projection. Even a rubbish film deserves to be screened at the correct aspect ratio.
Stand in a multiplex on a busy Friday night and listen carefully. Every now and then an alarm goes off. It's not a fire alarm; it's too quiet. It's the sound of screens warning the projectionist that something needs to be sorted. It bleeps a lot.
But while projectionists are left running around hitting buttons, changing lightbulbs in the toilets and not monitoring screens, the introduction of digital is still a good thing for cinema in general. In Australia at the moment, at The Astor Theatre, a 4K print of Dr. Strangelove is being shown (I'm massively jealous of anyone watching it) and that digital transfer rescued negatives that had worn away to the point of being destroyed 40 years ago. You can resent new media all you like, but the restoration of what is arguably Kubrick's best film is an awesome use of digital technology.
On top of that, distribution and production are cheaper. And I'm not talking about cutting costs. Corporations and large chains will continue to do that wherever possible and bump off projectionists regardless, but smaller cinemas (like The Electric) and independent filmmakers do benefit from digital. As for the new possibilities for cinemas to hook up to sports events and theatres or host live satellite Q+As, that's genuine innovation for film as a whole - more so than 3D could ever be.
So there you have it. My full stance on 35mm. I'm pro-digital, anti-3D and angry about the demise of projection. And I'm very pro-The Electric in Birmingham.
And after two blog posts about this, I promise I will never write another word about it again. Honest.
Tags:
35mm
digital
the last projectionist