| | | |
| --- | --- | --- |
| Tyrannosaur Tops BIFA 2011 Awards Winners | | |
Written by Ivan Radford
Sunday, 04 December 2011 23:01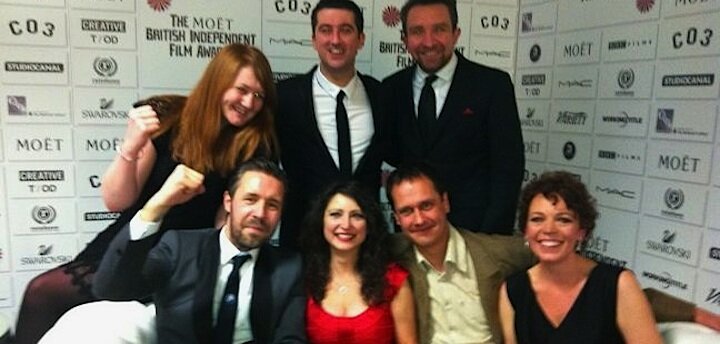 Tyrannosaur stomped all over the competition at tonight's BIFA awards. The British Independent Film Awards, which were streamed live on the internet, saw Paddy Considine's superb film pick up three awards, including Best Debut Director, Best Actress (Olivia Colman) and Best British Independent Film. All of them were well deserved - as you can see from their lovely happy faces (image via @PaulPopplewell).  
Fellow lead nominee Shame picked up Best Actor for Michael Fassbender, while Carey Mulligan was pipped to the Best Supporting Actress post by Coriolanus' Vanessa Redgrave. The other pleasant surprise was Michael Smiley winning Best Supporting Actor for Kill List - an announcement met by cheers from the audience, much like Weekend's two wins for Best Production and Most Promising Newcomer, which went to the wonderful Tom Cullen. 
Whoops also went out to Chris O'Dowd's drunken hosting. He started the evening off lightly sloshed, then quickly escalated to off his tits. And got funnier as he went along. Until the end, when he could barely speak in words, let alone sentences.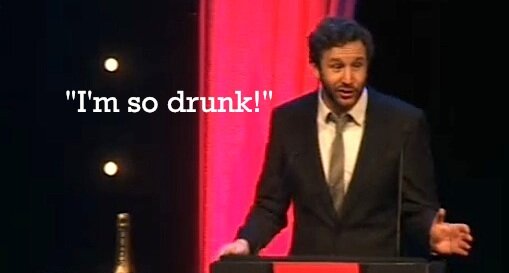 BIFA's Top 5 Drunk Chris O'Dowd Quotes 
1. "Mike Leigh's comedic abortion farce Vera Drake..."

2. "Vanessa Redgrave, you sexy owl."

3. "Moet! It's pronounced 'Mo-et'! As in 'pirouette'! And 'who gives a shit'!

4. (Looking at himself on the screen) "There he is!" (Then, later) "I'm so drunk!"

5. "Women want to be him, men want to sleep with him... Daniel Craig!" 
Other highlights of the evening included Ralph Fiennes picking up the Richard Harris award for outstanding contribution to British film, which he accepted while the in-house BIFA band played the theme from The Avengers, after being introduced by the hilarious Tom Hollander: "I thought I would be tossed aside like the unwanted exfoliant from a gift bag... in Voldemort, I have found my truest friend.")
Massive credit should also go to Richard Ayaode for winning Best Screenplay for Submarine, the Oscar-snubbed Senna claiming Best Documentary, and also to Maria Djurkovic for taking home Best Production Design for Tinker Tailor Soldier Spy. All the right films got a mention somewhere - even Lynne Ramsay bagged Best Director for We Need to Talk About Kevin. Oh, and Kenneth Branagh popped up to collect The Variety Award.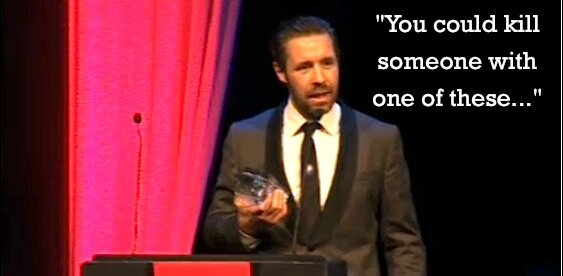 And that's BIFA 2011. The whole thing was a brilliant success for three reasons. Firstly, it was a celebration of a ridiculously impressive year for British indie productions (look at just how many are heavyweights at bigger ceremonies). Secondly, it was proof that awards can be streamed online - and streamed well. This evening has done wonders for the profile of BIFA, which will only keep getting bigger from now on. And finally, it introduced the internet to drunk Chris O'Dowd. Which we've all wanted to see for a long time.
Read on for the full list of winners - and then head over here to read our five-star Tyrannosaur review and our interview with Paddy Considine. (Also, follow @AuntieNubbins on Twitter because he dutifully screen-capped the whole thing and I stole a couple of his images.)
BEST BRITISH INDEPENDENT FILM
Sponsored by Moët & Chandon
SENNA
SHAME
TINKER TAILOR SOLDIER SPY
TYRANNOSAUR
WE NEED TO TALK ABOUT KEVIN
BEST DIRECTOR
Sponsored by The Creative Partnership
Ben Wheatley – KILL LIST
Steve McQueen – SHAME
Tomas Alfredson – TINKER TAILOR SOLDIER SPY
Paddy Considine – TYRANNOSAUR
Lynne Ramsay – WE NEED TO TALK ABOUT KEVIN
THE DOUGLAS HICKOX AWARD [BEST DEBUT DIRECTOR]
Sponsored by 3 Mills Studios
Joe Cornish – ATTACK THE BLOCK
Ralph Fiennes – CORIOLANUS
John Michael McDonagh – THE GUARD
Richard Ayoade – SUBMARINE
Paddy Considine – TYRANNOSAUR
BEST SCREENPLAY
Sponsored by BBC Films
John Michael McDonagh – THE GUARD
Ben Wheatley, Amy Jump – KILL LIST
Abi Morgan, Steve McQueen – SHAME
Richard Ayoade – SUBMARINE
Lynne Ramsay, Rory Kinnear – WE NEED TO TALK ABOUT KEVIN
BEST ACTRESS
Sponsored by M.A.C
Rebecca Hall – THE AWAKENING
Mia Wasikowska – JANE EYRE
MyAnna Buring – KILL LIST
Olivia Colman – TYRANNOSAUR
Tilda Swinton – WE NEED TO TALK ABOUT KEVIN
BEST ACTOR
Brendan Gleeson – THE GUARD
Neil Maskell – KILL LIST
Michael Fassbender – SHAME
Gary Oldman – TINKER TAILOR SOLDIER SPY
Peter Mullan – TYRANNOSAUR
BEST SUPPORTING ACTRESS
Felicity Jones – ALBATROSS
Vanessa Redgrave – CORIOLANUS
Carey Mulligan – SHAME
Sally Hawkins – SUBMARINE
Kathy Burke – TINKER TAILOR SOLDIER SPY
BEST SUPPORTING ACTOR
Michael Smiley – KILL LIST
Tom Hardy – TINKER TAILOR SOLDIER SPY
Benedict Cumberbatch – TINKER TAILOR SOLDIER SPY
Eddie Marsan – TYRANNOSAUR
Ezra Miller – WE NEED TO TALK ABOUT KEVIN
MOST PROMISING NEWCOMER
Sponsored by STUDIOCANAL
Jessica Brown Findlay – ALBATROSS
John Boyega – ATTACK THE BLOCK
Craig Roberts – SUBMARINE
Yasmin Paige – SUBMARINE
Tom Cullen – WEEKEND
BEST ACHIEVEMENT IN PRODUCTION
Sponsored by Deluxe142
KILL LIST
TYRANNOSAUR
WEEKEND
WILD BILL
YOU INSTEAD
BEST TECHNICAL ACHIEVEMENT
Chris King, Gregers Sall – Editing – SENNA
Sean Bobbitt – Cinematography – SHAME
Joe Walker – Editing – SHAME
Maria Djurkovic – Production Design – TINKER TAILOR SOLDIER SPY
Seamus McGarvey – Cinematography – WE NEED TO TALK ABOUT KEVIN
BEST DOCUMENTARY
HELL AND BACK AGAIN
LIFE IN A DAY
PROJECT NIM
SENNA
TT3D: CLOSER TO THE EDGE
BEST BRITISH SHORT
0507
CHALK
LOVE AT FIRST SIGHT
RITE
ROUGH SKIN
BEST FOREIGN INDEPENDENT FILM
ANIMAL KINGDOM
DRIVE
PINA
A SEPARATION
THE SKIN I LIVE IN
THE RAINDANCE AWARD
Sponsored by Exile Media
ACTS OF GODFREY
BLACK POND
HOLLOW
LEAVING BAGHDAD
A THOUSAND KISSES DEEP
Tags:
bifa
coriolanus
kill list
lynne ramsay
michael smiley
olivia colman
paddy considine
ralph fiennes
richard ayaode
senna