Star Ratings
| | |
| --- | --- |
| | Amazing |
| | Well good |
| | Fun |
| | Meh |
| | Rubbish |
| | | |
| --- | --- | --- |
| Review: We Have a Pope | | |
Written by Ivan Radford
Thursday, 01 December 2011 11:43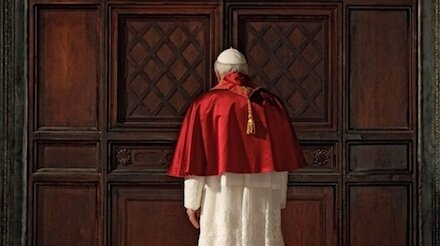 Director: Nanni Moretti
Cast: Nanni Moretti, Francesco Piccolo, Michel Piccoli
Certificate: 15
Thanks to mass media coverage (and Angels & Demons) we all know how a new Pope is elected. (Hint: Ewan McGregor doesn't turn up and jump out of a helicopter.) First, the conclave begins, cutting cardinals off from the world while they vote for a successor. Then, the burning of the ballot papers to mark the successful ordaining of his new Holiness. Then, everyone plays volleyball. In slow-motion.
At least, that's what happens in Nanni Moretti's version of events. Journalists line the walls of the Vatican treating it like a celebrity event. Cardinals try to cheat off other people's ballots, praying not to be chosen. And once Michel Piccoli's Pope has been elected, he walks up to the balcony of St Peter's ready to give a blessing to the crowds outside, then sits down and has a nervous breakdown.
An absurdist religious satire, We Have a Pope is the kind of film you could imagine Luis Buñuel making if he were still going strong today. The Pope running panicked through the ancient corridors bawling his eyes out? Why not? It's not half as silly as when a psychoanalyst (Moretti himself) is brought in to cure His Holiness. "Can I talk about sex?" "No." "Unfulfilled desires?" "Definitely not." Trapped within the walls of the city until the Pope is cured, the professor comes up with a way to keep himself entertained: he arranges a sports tournament.
At times a serious study of one man's wavering faith, Piccoli's conflicted cardinal is a sympathetic figure. He's a sad, lost man, who gives the film a much-needed emotional resonance. Eventually, he escapes into the city, shambling around on buses and strolling through the streets like a hobo. He's clearly not coming back for a while. So the Vatican do the obvious thing: they get someone to walk up and down his apartment, occasionally rustling the curtains and pretending to eat his Papal food.
It's oddly believable. Moretti's gradual farce crafts a natural descent into madness that mocks the Church in a hilariously provocative way. In his efforts to draw out the humour to its extremity, Moretti drops the ball in the second half and the film starts to drag, but for the majority of its runtime - and at the punchy ending - We Have a Pope is a shrewdly observed slice of silliness that speaks volumes about the chaos of organised religion. Plus it has the best game of Vatican volleyball you'll ever see.

Tags:
francesco piccolo
michel piccoli
nanni moretti
we have a pope