Star Ratings
| | |
| --- | --- |
| | Amazing |
| | Well good |
| | Fun |
| | Meh |
| | Rubbish |
| | | |
| --- | --- | --- |
| Review: Goon | | |
Written by Ivan Radford
Wednesday, 04 January 2012 07:26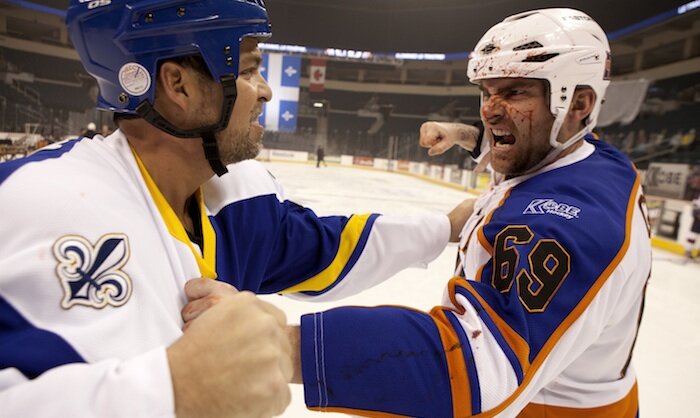 Director: Michael Dowse
Cast: Sean William Scott, Liev Schreiber, Alison Pill, Jay Baruchel
Certificate: 15
Trailer
Dum dum dum do-da do-da, dum dum dum do-da do-da, dum dum dum do-da, dum dum dum do-da DO-DA.
The tune, of course, from popular Belgium-Holland dance group 2 Unlimited's hit single, Get Ready for This. Or, as it's better known, the theme music for SNES game NHL 96 – widely regarded (by me) to be the most realistic presentation of ice hockey ever. EVER.
But now, Nintendo have some competition in the form of Goon. Written by Jay Baruchel and Evan Goldberg, it's a sports comedy about Doug Glatt (Wiliam Scott), a nice-but-dim youngster with a talent for lamping people round the head. Naturally, he becomes an ice hockey player.
Encouraged by his fast-talking best friend (Baruchel), Glatt builds up a bit of a reputation among the fans. In a sport that celebrates that noble history of people punching each other on a slippery surface while carrying big sticks, Glatt punches people on a slippery surface while carrying a big stick like no other – except, perhaps, for seasoned slapper Ross "The Boss" Rhea (Schreiber).
Teaching his team about actual teamwork, Glatt whacks, whallops and bleeds his way to the play-offs, where Rhea's right hook is waiting. If you can't guess where this is going by now, you might as well hit yourself with a hockey stick and call it quits.
No, Michael Dowse's sports movie won't win points for clever plotting, but it scores repeatedly for everything else. From its slow-mo opening shot of a blood-splattered tooth dropping onto the ice (accompanied by loud classical music), Goon somehow manages to be both ludicrously serious and seriously ludicrous. The gore is wonderfully overplayed, but the amusing violence has a gut-wrenching accuracy to it – one given an extra kick by Liev Schreiber's intimidating rival.
In between the great puck action, solid scripting and Dowse's nippy visuals, plaudits should go to Sean William Scott who transforms himself to give a surprisingly sensitive performance. What could have been a gross-out swear-fest (see Baruchel's best friend) is turned by Scott into a sweet story of an outcast come good. Scenes with his dysfunctional, intelligent family are touching and believable, as is his naïve loyalty to his (exceptionally hairy) teammates. His unwavering cuteness even manages to woo unsuspecting Eva (Pill).
Compare this to Scott's more familiar roles in American Pie, Evolution and Dude, Where's My Car? and this is almost award-worthy stuff. Even if he does spend the whole film wearing a shirt with "69" on the back – yes, for exactly those reasons.
Is it the new Slap Shot? Perhaps not, but Goon is certainly subtler than you'd expect. As for The Mighty Ducks, they wouldn't stand a chance in a fistfight. In fact, all Goon needs is little bit of Dutch-Belgian Eurodance backing and it could even rival NHL 96 on the SNES. And ice hockey praise doesn't come higher than that. Speaking of which, I'm off to pummel some pixels with my controller pad.
VERDICT
A heart-warming blend of blood, ice and puny brains, Goon is a thugtastic treat at the start of awards season.

What did you think of the film?
( 4 Votes )
Tags:
alison pill
goon
liev schreiber
michael dowse
sean william scott
slap shot
the mighty ducks