| | | |
| --- | --- | --- |
| All I Want for Christmas Is... Buried: The Board Game! | | |
Written by Ivan Radford
Friday, 09 December 2011 06:24
Stuck for something to play this Christmas? Bored of Scrabble and Trivial Pursuit? Can't afford Ticket to Ride or Settlers of Catan?
Then you should buy Buried: The Board Game!
Nothing brings a family together like trying to be the last person to kill Ryan Reynolds. From the makers of Drive Scalextric, Buried: The Board Game comes with an exclusive Ryan Reynolds action figure, an official replica coffin and all the items necessary to keep your victim alive underground. It's a family-friendly test of skill, daring and strategic deployment of torches/lighters/snakes/mobile phones. There's even a timer to see who keeps him Buried for longest!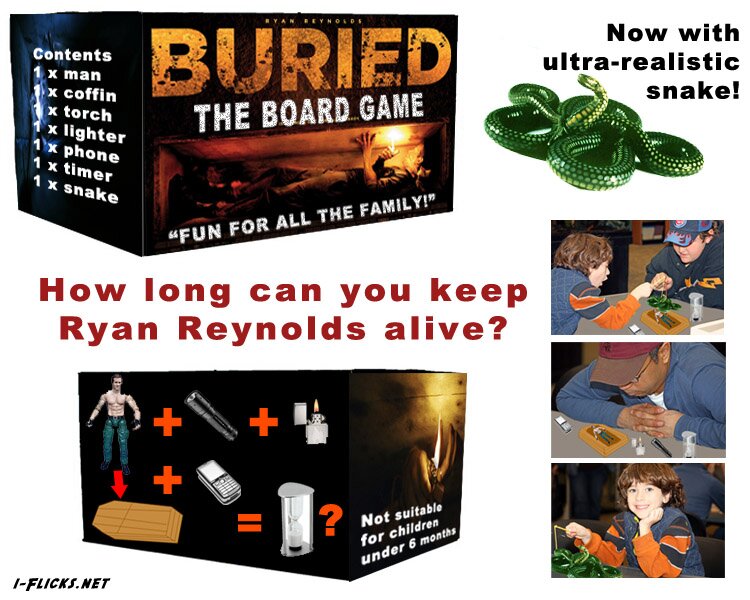 Order now, and the first 500 copies come with a limited edition, ultra-realistic snake.
Buried: The Board Game. Because everyone loves killing Ryan Reynolds.
For more Christmas gift ideas, keep opening the i-Flicks Advent Calendar.
(People seen enjoying Buried: The Board Game can all be found at Skokie Public Library.)
Tags:
buried
christmas gift ideas
ryan reynolds