i-flicks.net
| | | |
| --- | --- | --- |
| 6 Scandalous Rumours Revealed at the Anonymous Press Conference | | |
Written by Selina Pearson
Tuesday, 25 October 2011 10:59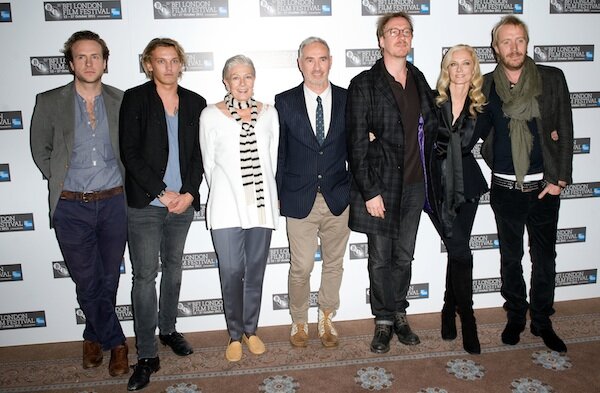 Anonymous: a film is so ridiculous that it would be hard to take anything around it seriously.
Despite this, the Stratford crowd have gone crazy in advance of Roland Emmerich's Shakespeare-couldn't-actually-write drama, covering up the statue of old Bill and crossing out the Bard's name on pubs.
But unbeknownst to them, at the 55th BFI London Film Festival, there were far more shocking secrets being unearthed in screen 8 of the Vue West End.
Here are six scandalous rumours revealed at the Anonymous press conference:
Add a comment
Read more...
| | | |
| --- | --- | --- |
| LFF Review: The Deep Blue Sea | | |

Written by Ivan Radford

  
Thursday, 27 October 2011 16:45

Director: Terence Davies
Cast: Rachael Weisz, Tom Hiddleston, Simon Russell Beale
Showtimes

Writer-director Terence Davies takes on Terence Rattigan's play of love, obsession and infidelity for the London Film Festival's Closing Gala. It opens in post-war London with Hester Collyer (Weisz) failing to commit suicide - we're all familiar with the hassles of using a coin-operated gas meter. At this point, Davies inflicts upon the audience a dire montage of Hester's relationship with childish ex-RAF pilot Freddie Page (Hiddleston). All scored with Samuel Barber's Concerto for Violin.

Add a comment
Read more...

 

| | | |
| --- | --- | --- |
| Sundance London Review: Safety Not Guaranteed | | |

Written by Ivan Radford

  
Saturday, 28 April 2012 21:58

Director: Colin Trevorrow
Cast: Mark Duplass, Aubrey Plaza, Jake Johnson
Showtimes

"WANTED: Somebody to go back in time with me. This is not a joke. You'll get paid after we get back. Must bring your own weapons. Safety not guaranteed."




How would you react to that classified ad?




Journalist Jeff (Johnson) thinks it's a good source for a magazine article. Downtrodden journo intern Darius (Plaza) hopes it might be true. Equally exploited unpaid worker Arnau (Soni) thinks the guy is insane. When writer Derek Connolly saw the classified, he thought it would be a great idea for a movie. Director Colin Trevorrow agreed.




In a way, all of them are right.

Add a comment
Read more...

 

| | | |
| --- | --- | --- |
| Woody at the BFI: Crimes and Misdemeanors and Melinda and Melinda | | |

Written by Ivan Radford

  
Tuesday, 24 January 2012 08:56

 

"Let me tell you a story and you tell me, is it material for a comedy or a tragedy?"




The starting point for Melinda and Melinda is the opening for every Woody Allen movie. As a director who finds comedy in the depressing and futile meaningless of life, Allen's best work features comedy that stems from serious drama. Hannah and Her Sisters. The Purple Rose of Cairo. Husbands and Wives. Manhattan.




That duality is something that Allen openly confronts in binary titles. Crimes and Misdemeanors. Melinda and Melinda. Even Love and Death highlights the contrast between the silliness of farce and the philosophy of Chekhov. It's when the director steps away from this balance that he starts to falter - see the Bergman-inspired Interiors, or the melodramatic Match Point, which expands one half of Crimes and Misdemeanours into a full feature-length narrative.




And so, as the BFI Woody Allen season continues, here are some thoughts on two of Woody's most explicitly binary movies.

Add a comment
Read more...

 

| | | |
| --- | --- | --- |
| Soundtrack review: Hitchcock's The Lodger (Nitin Sawhney) | | |

Written by Ivan Radford

  
Friday, 20 July 2012 14:31

Anyone who's seen North by Northwest is aware that Alfred Hitchcock knew when to keep schtum. Some of the director's most iconic scenes unfolded without music or dialogue. But a score can add so many things to an image; it's no coincidence that Hitch produced his best work with Bernard Herrmann.




What happens, then, to Hitch's early silents? Well, thanks to the BFI, they're all getting restored with spiffing new soundtracks from the likes of Neil Brand and Soweto Kinch. And The Lodger: A Story of the London Fog possibly has the best of the lot.




DJ, composer, musician, producer and general all-round musical genius Nitin Sawhney is behind the score for this 1929 thriller – and he's come up with a sound that blends classic Hitch with modern tricks. (Head this way to read my interview with Nitin Sawhney for Little White Lies.)




The opening numbers are full of Herrmann, from the inquisitive oboe and oom-pah brass to the driving arpeggios in the lower sections of the orchestra. But halfway through the introduction, a swathe of strings sweeps in, carrying the momentum forward with an almost Indian vibe – a splash of Sawhney's personality to spice up the old-school style.

Add a comment
Read more...

 
<< Start < Prev 1

2

3 4 5 6 7 8 9 10 Next > End >>


Page 2 of 445