| | | |
| --- | --- | --- |
| LFF interview: 6 things I learned from the Great Expectations press conference | | |
Written by Ivan Radford
Sunday, 21 October 2012 18:35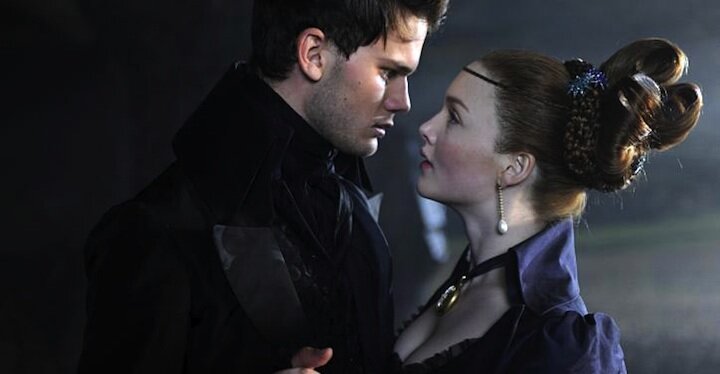 Mike Newell's Great Expectations. The phrase itself doesn't conjure up images of bold departures from tradition or magical surprises. As Newell puts it, Great Expectations is "a very ploughed field". But while version of Charles Dickens' seminal text is perfectly sound (if nothing more), there were more surprises to be found at the press conference for the film.
With Jeremy Irvine, Holliday Grainger, Robbie Coltrane, Mike Newell and David Nicholls in attendance, interesting factoids and anecdotes spilled out every few minutes.
Here are the six things I learned from the Great Expectations press conference...
Dickens invented cinema
Dickens invented cinema, according to Eisenstein. Asked about the author's suitability to the screen, David Nicholls lit up and started churning out words. "D.W. Griffith took parallel action and montage from Dickens. Eisenstein said he invented cinema! His prose starts small and zooms our, or goes from big and zooms in, he chapters are full of cross-dissolves…"
Mike Newell soon joined in too: "You read that chase sequence with Pip in the boat and it's just like a storyboard!"
David Nicholls cries when he reads Great Expectations
It's easy to say Dickens is your favourite author, but in screenwriter David Nicholls' case, he really seems to mean it. "Dicks has always been my favourite author and Great Expectations is my favourite of his books, Bleak House close behind. I read it when I was 13 and it's been my favourite ever since. It's a very emotional book, the best coming-of-age book about that period where we want to escape our childhood. People have a strong idea of what "Dickensian" is, they know he's a great comedy writer, but he's much warmer, more complex than people realise."
And once he had started, he just kept gushing: "I cry every time I read Great Expectations and I've read it 25 or 30 times!"
There are some people who actually haven't read Great Expectations
One of the best arguments for adapting books for new audiences is that introduces people to the book if they haven't read it – and while David Nicholls may be weeping in the corner of the room, another of the film's stars hadn't actually read the book before joining the production.
Jeremy Irvine spent a week alone in a room with Raiph Fiennes
"I spent a week of just me and Raiph Fiennes in a room," said star Jeremy Irvine. "I learned more from that than from years of acting school!"
What exactly he did during his alone time with Mr. Fieness, he didn't say. Although he did admit that he asked to have a photo taken with Helena Bonham Carter right after she had burned to death:
"I had a great drama teacher at school and the one day they were able to come on set, they got to see me set fire to Miss Havisham! Afterwards, I was like: 'Excuse me, Helena, can I get a photo taken with you?' I'm so glad I did – it's a wicked photo!"
Helena Bonham Carter is a right swot
You'd think Helena Bonham Carter was born to play Miss Havisham, but she swotted up good and proper before filming, according to Holliday Grainger. "The first time she came in, she had a ton of notes. I thought: 'This is Helena Bonham Carter, why is she putting in all this work?!'"
But the work didn't stop there: "She varied it every take!" added Holliday Grainger. "She was sad, then completely crazy! It was good, because it gives you something to play with. In a Dickens novel, when the characters are so complex, each individual actor's job is to bring across their character, but you need to know where the others are coming from so you can build your own back-story to it. It adds a stronger chemistry between the acors as well."
Newell adds something on the interpretation of Miss Havisham's young ward/victim, Estella: "She's usually cold. Cold, then cold, then cold, then hot. But here, she's cold, she's hot, she's hot, she's hot, she's cold."
Of course, he may have just been trying to help someone in the audience find a lost pen on the floor.
Great Expectations is out in UK cinemas on Friday 30th November. Head this way for our review of Mike Newell's Great Expectations.