i-flicks.net
| | | |
| --- | --- | --- |
| Raindance Review: Seamonsters | | |
Written by Ivan Radford
Saturday, 08 October 2011 17:10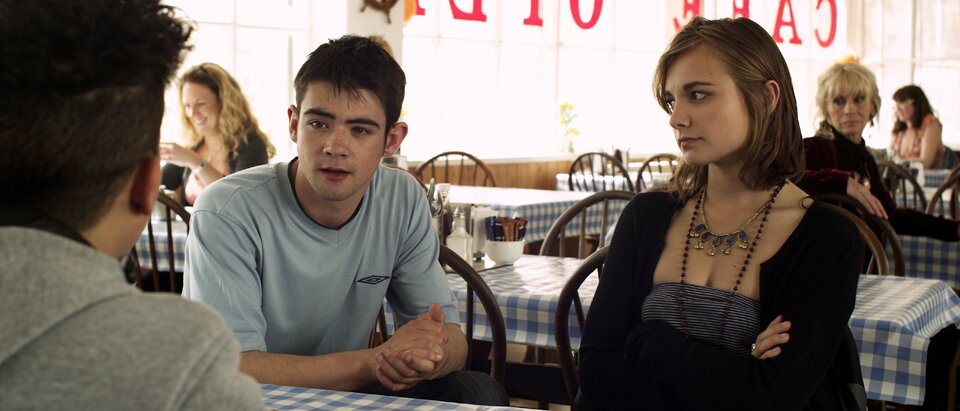 "I wanna meet someone different. With half a brain." "Around here?" That's what Kieran tells best friend Sam in Julian Kerridge's tale of teenage drama. Growing up in a dead-end beach town, Sam wants to do something with his life, while Kieran is happy to drink all day, ignore his girlfriend Moony, and visit Pirate Land, the naff local theme park.
Then in walks Lori and changes everything. Clever, kooky and philosophical, she's not the Albanian pikey that Kieran thinks, and Sam is blown away. It's a typical Manic Pixie Dream Girl scenario, as Lori introduces Sam to art galleries, spontaneous running through parks and other such quirky activities, and Seamonsters perfectly captures the fantastical world of new romance with nicely-lensed landscapes and heady music.
Add a comment
Read more...
| | | |
| --- | --- | --- |
| 5 Dangerous Notions We Discovered at the A Dangerous Method Press Conference | | |

Written by Selina Pearson

  
Tuesday, 25 October 2011 08:34

Michael Fassbender spanking Keira Knightley? It doesn't get more dangerous than that. But put Viggo Mortensen into the mix and you've got one risky (and, indeed, risqué) threesome. It goes without saying that it takes a truly crazy person to make a film about all of them.




Enter David Cronenberg, the madman who gave us The Fly and eXistenZ, as well as Eastern Promises and A History of Violence, a.k.a. them two films in which Viggo Mortensen takes his clothes off.




But how did it feel to take another man's clothes off instead? And where does Vincent Cassell fit in? And what on earth does the writer of the original play, Christopher Hampton, think of it all?




We hung upside down on the ceiling of the Odeon West End holding a dictaphone above a pool of sharks to bring you the life-threatening answers. Here are five dangerous notions we discovered at the A Dangerous Method LFF press conference:

Add a comment
Read more...

 

| | | |
| --- | --- | --- |
| DVD Review: [REC] 3 Genesis | | |

Written by Ivan Radford

  
Monday, 03 September 2012 15:50

We've all sat through those annoying home video wedding DVDs. The cheesy music. The cheap, crappy menus. The promise of thousands of boring photos of annoying relatives. But now you can buy one from a high street store. Why should you bother? Because this is no ordinary wedding ...




REC 3: Genesis is released on DVD today. The Spanish sequel/prequel, which runs in parallel with the first film, sees Paco Plaza break up with previous co-director Jaume Balaguero and go solo. But as anyone who saw the film at Frightfest 2012 or read our REC 3 review will know, that's not the only thing that Plaza divorces.




After 20 minutes of handheld footage of Clara and Koldo's wedding, during which a tipsy uncle goes from drunk to full-on zombie, Plaza drops the camera on the floor and switches to standard third person. It's a jarring move – one that you'll love or hate. What follows is 60 madcap minutes of silly jokes and lots of splattering blood. It's awkwardly forced, but suitably trashy stuff: even if you're not convinced by REC's definitively non-REC style, the sight of a gore-covered bride wielding a chainsaw is hard not to enjoy.




A must for REC fans? Perhaps not. And yet definitely. You see, while most reviews have spent the time discussing whether they found it funny or scary, lots have missed a crucial part of the REC 3 package: its DVD release. Going straight from cinemas last Friday to home video today, the REC 3's home entertainment package is a must-have. Why? Because you get a whole new movie.

Add a comment
Read more...

 

| | | |
| --- | --- | --- |
| Woody at the BFI: Husbands and Wives and The Purple Rose of Cairo | | |

Written by Ivan Radford

  
Sunday, 22 January 2012 15:44

 

"I just met a wonderful new man. He's fictional but you can't have everything."




There's something about the surreal tone of Woody Allen, that intelligent silliness, that often reminds me of Monty Python. But unlike Python, Woody's neurotic humour stems from the inherently bleak, futile crappiness of human existence. And, of course, most of the grief (as well as the good bits) come from relationships.




Indeed, for the most part, it isn't a Woody Allen film if two married couples aren't both having affairs - usually with each other. So, to continue this blog-along series with the BFI Woody Allen season, here are some thoughts on two films with particularly tempestuous relationships.

Add a comment
Read more...

 

| | | |
| --- | --- | --- |
| Skyfall Week: BlogalongaBond: Quantum of Solace (2008) | | |

Written by Ivan Radford

  
Thursday, 25 October 2012 20:20

BlogalongaBond. One Bond film a month until Skyfall comes out tomorrow. (OH MY GOD SKYFALL IS OUT TOMORROW! AT LONG LAST. ALL THAT ROGER MOORE WAS WORTH IT.)




It wasn't without excitement that I went into Quantum of Solace. After Martin Campbell's brilliant Casino Royale, Bond's return was a cinematic event worth salivating over. Even the choice of Marc Forster seemed promising - an arthouse director helming a blockbuster? What a grand idea!




But while Daniel Craig's craggy, emotional 007 remained a captivating hero - more a landmine than a lead actor - everything else was kind of, well, dull. There are good bits, let's be clear on that. The environmentally-aware Bond villain (an amusingly whiney Mathieu Amalric) and double-crossing CIA plans are proper shades of grey stuff, but while the set-up is promising, Quantum forgets to add a plot. Was it the writers' strike that left them without the time to finish writing the film? Whatever the reason, the end result was a Bond movie with 25% of a script and 75% white noise. So they did what any blockbuster would and filled it with action.




That wouldn't be a problem if it was good action. But it isn't. Like Yakult, there are good types of action and bad types of action - and this is the bad type. The kind you wouldn't want anywhere near your body, just in case it blew up sideways and chopped your face off.




And that really is how you feel for most of the runtime. The opening begins with a glorious tracking shot over an Italian lake, carefully intercut with shots of Bond's Aston Martin. But once that shot is finished, the footage is over-edited to shreds. With the exception of one crosscutting night at the opera, the set pieces are so kinetic that you can't tell what's happening; a tin of tuna could direct a better action sequence. At least it would be stationary. At one point during that opening car chase, it looks like Bond drives off a cliff and explodes to death. When Bond finally stops and says it's time to get out to his shaken and stirred passenger, he's not the only one ready to leave.




It wasn't without excitement that I went into Quantum of Solace. It was with confusion that I left.




So what went wrong? Two things: Matt Chesse and Richard Pearson. How did the editors screw up so badly? They probably read this informative pamphlet I found in my DVD box...

Add a comment
Read more...

 
<< Start < Prev 1 2 3 4 5

6

7 8 9 10 Next > End >>


Page 6 of 446