| | | |
| --- | --- | --- |
| 6 Scandalous Rumours Revealed at the Anonymous Press Conference | | |
Written by Selina Pearson
Tuesday, 25 October 2011 10:59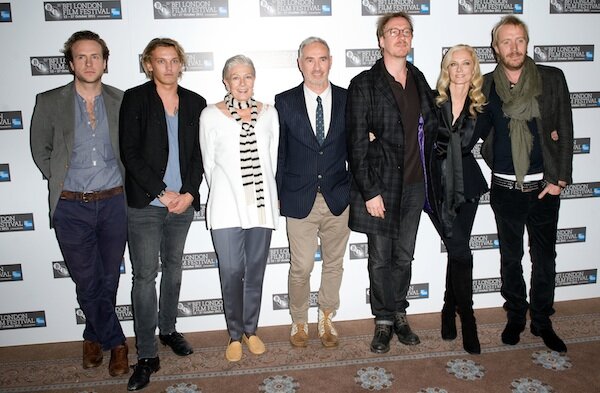 Anonymous: a film is so ridiculous that it would be hard to take anything around it seriously.
Despite this, the Stratford crowd have gone crazy in advance of Roland Emmerich's Shakespeare-couldn't-actually-write drama, covering up the statue of old Bill and crossing out the Bard's name on pubs.
But unbeknownst to them, at the 55th BFI London Film Festival, there were far more shocking secrets being unearthed in screen 8 of the Vue West End.
Here are six scandalous rumours revealed at the Anonymous press conference:
Rafe Spall agreed to play Shakespeare under false pretences
Spall went through a barrage of auditions to get the part. "I then found out that maybe it wasn't going to go my way," explains Spall. So he wrote a letter to Emmerich begging: "Come on, Roland, give me the film." And finally, he did. "I tried really hard" the actor adds. "The script made sense. I'd never play the real Shakespeare, only the Fakespeare..."
Rhys Ifans is a gentleman and a scholar
On playing Edward De Vere, the "real" Shakespeare, Ifans says he's "not over it yet". But casting Rhys Ifans as "The Soul of the Age" is an unusual and unexpected departure from stuff like Notting Hill. "Roland asked me which character I responded to, and much to everyone's surprise it was the genius aristocrat".
David Thewlis had no idea what he was doing
On being cast, Thewlis reveals he "didn't research at all" for his role. "I didn't really know much about what the film was about. I still haven't seen it. And I didn't read it. I thought it was about computer hacking. I'm bit disappointed." he finishes, smiling.
Emmerich likes destroying things
The crazed German really does have deductive tendencies. He blew up the White House during Indepence Day ("I was very frustrated about American politics at that time"), and he sharer similar issues with the Brits: "I was very frustrated by the English literary establishment, who they think they own Shakespeare, undeservedly in a way because I think all people own Shakespeare and because of that I wanted to stir up the pot a little." At least he doesn't go around blowing up our landmarks. Although he does burn down The Globe. The swine.
Rhys Ifans challenges Lady Gaga
In preparing for the role of Edward De Vere, Roland told Rhys "just think Karl Largerfeld", but Rhys had his own ideas: "I said if I do Karl Lagerfeld, am I allowed to bring in a bit of David Bowie to it too? I think collectively, we've put Lady Gaga to shame."
David Thewlis attempts to start crazy rumours about himself
Thewlis doesn't much care who wrote Shakespeare's plays - "I relish the idea of being involved in something that could kick up this amount of fuss" - but he finds the idea fun more than anything else, and makes some amusing comparisons - imagine "Prince Edward was the author of the ken loach films, or Princesses Beatrice and Eugenie were really the Coen brothers." It's all gotten a bit silly: "I think the film should be enjoyed and we shouldn't get too serious about what it all means."
Head this way to read our Anonymous review. 
Tags:
anonymous lff
anonymous lff review
anonymous review
anonymous review lff
rafe spall
vanessa redgrave