Star Ratings
| | |
| --- | --- |
| | Amazing |
| | Well good |
| | Fun |
| | Meh |
| | Rubbish |
| | | |
| --- | --- | --- |
| Soundtrack review: Hitchcock's The Lodger (Nitin Sawhney) | | |
Written by Ivan Radford
Friday, 20 July 2012 14:31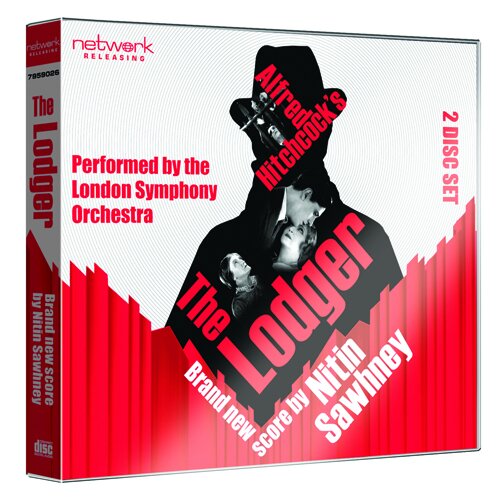 Anyone who's seen North by Northwest is aware that Alfred Hitchcock knew when to keep schtum. Some of the director's most iconic scenes unfolded without music or dialogue. But a score can add so many things to an image; it's no coincidence that Hitch produced his best work with Bernard Herrmann.
What happens, then, to Hitch's early silents? Well, thanks to the BFI, they're all getting restored with spiffing new soundtracks from the likes of Neil Brand and Soweto Kinch. And The Lodger: A Story of the London Fog possibly has the best of the lot.
DJ, composer, musician, producer and general all-round musical genius Nitin Sawhney is behind the score for this 1929 thriller – and he's come up with a sound that blends classic Hitch with modern tricks. (Head this way to read my interview with Nitin Sawhney for Little White Lies.)
The opening numbers are full of Herrmann, from the inquisitive oboe and oom-pah brass to the driving arpeggios in the lower sections of the orchestra. But halfway through the introduction, a swathe of strings sweeps in, carrying the momentum forward with an almost Indian vibe – a splash of Sawhney's personality to spice up the old-school style.
Growing up with Herrmann as a hero, Nitin seems to pay tribute to the composer, playful riffing upon the old trademarks: Psycho's sharp violins stab into The Lodger Theme, North by Northwest pops up in The Press, while dissonant chords hover between bars, channelling the movie's sinister vibe.
But there's more at work here than simple homage. The Lodger pushes and prods Bernard's legacy, evolving as it goes to reach its own voice. Call it a post-modern take on Herrmann. Post-Herrmodern, if you will.
Nitin carefully orchestrates his pieces, smartly picking out instruments to voice Hitch's characters. The Lodger, a figure of suspicion and charm, is represented by the oboe and bassoon.
Is the strange house guest a murderer? Isn't he? As Ivor Novello's titular tenant paces up and down in his room, Sawhney matches the ambiguity with a winding theme that never ends on a happy note: instead, the rising and falling phrases repeatedly land one note below a natural resolution, an alternating two-note motif that wrong-foots your eardrums, undermining any sense of certainty.
Daisy's flirtatious dancing girl, meanwhile, becomes a cool clarinet, sashaying along with a sexy swing that Herrmann never dared to go near during his Hitch years. Beginning to court The Lodger, our heroine's as clouded by doubt as by love, a combination that leads to Nitin's most striking composition: a song.
"Blue eyes as cold as ice, Cut through me like a knife, All memories linger here, Inside our fear" she sings in a duet.
Accompanied by natural harmonies and gentle drums, Daisy's arias (there's more than one) are completely out of step with the rest of the score – but they blend in perfectly. Is it the offbeat pizzicato strings in the background? The touches of oboe? The shifting melody sung by the vocalist that underlines her confusion?
Either way, it feels like a natural expression of Daisy's psychological conflict. At other times, we're treated to her happiness, as in the sardonically-named The Big Love Theme, a piece almost exclusively the territory of piano and flute (no tricksy brass or bassoon here), which proves Nitin as capable of swooning romance as the best of them.
It's The Lodger's flexible, post-Herrmodern sound that allows the score to jump between these instrumentals and the vocals seamlessly - something Sawhney takes to heartbreaking extremes with a track late on (unnamed due to spoilers), a song that leaves Daisy singing the same word, over and over, echoing into silence.
This is the moment, you sense, where we hear the most of Nitin – when we hear nothing at all.
No wonder he and Hitchcock are such a good match.

The world premiere of the newly restored The Lodger, with a live score performed by Nitin Sawhney and the London Symphony Orchestra, will take place at The Barbican on Saturday 21st July.
The Lodger soundtrack is released on CD on Monday 23rd July, RRP £14.99.
For more on Hitchcock, I geeked out over the director's use of sound as part of a series on the Genius of Hitchcock for Little White Lies here.
Tags:
alfred hitchcock
bernard herrmann
herrmann
hitchcock
nitin sawhney
soundtrack review
the lodger