i-flicks.net
| | | |
| --- | --- | --- |
| Red Carpet: Don't Worry About Me | | |
Written by Selina Pearson
Saturday, 24 October 2009 23:55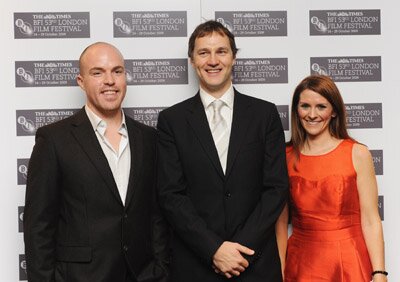 Saturday night at the London Film Festival saw the first screening of Don't Worry About Me, the new film directed by David Morrissey. Morrissey is much better known for his acting, notably Blackpool, the BBC's State of Play and The Deal, where he played Gordon Brown opposite Michael Sheen's Tony Blair. I was fortunate enough to not only get a ticket for it, but also to get a nice big patch of red carpet; i-Flicks was the only print and online publication on the red carpet. All the more Morrissey for me.
Add a comment
Read more...
| | | |
| --- | --- | --- |
| Raindance: Symbol | | |

Written by Ivan Radford

  
Saturday, 02 October 2010 08:10

Director: Hitoshi Matsumoto
Cast: Hitoshi Matsumoto, David Quintero, Luis Accinelli
Premiere: Saturday 2nd October

 

One of the best things about the Raindance Film Festival is the range of low-budget projects on show. Some are gritty and British. Others are weird and Japanese and involve men waking up in white rooms wearing yellow polka dot pyjamas. Symbol falls into the latter category.

Add a comment
Read more...

 

| | | |
| --- | --- | --- |
| Press Conference: 127 Hours | | |

Written by Ivan Radford

  
Thursday, 28 October 2010 14:56

There's nothing like getting your arm stuck under a boulder to get you in the mood. Especially when you have to hack it off with a blunt multi-tool that came free with a flashlight.


It's not your usual tale to bring to the screen, but Aaron Ralston's life story inspired director Danny Boyle to adapt his book, Between a Rock and a Hard Place. Danny sits down with James Franco and writer Simon Beaufoy to talk about rocks, real life and chopping your arm off.


Read on to hear what they had to say about 127 Hours.

Add a comment
Read more...

 

| | | |
| --- | --- | --- |
| LFF: Somewhere | | |

Written by Ivan Radford

  
Wednesday, 27 October 2010 19:06

Director: Sofia Coppola
Cast: Stephen Dorff, Elle Fanning
Showtimes

Johnny (Dorff) is living the life of a Hollywood actor at full speed. But in between the booze, the parties and the endless sex, he's running on empty. He spends his ageing existence driving round and round in circles going nowhere. Literally. At least five times. Then Cleo (Fanning) enters his cluttered hotel room and things start to change gear.

Add a comment
Read more...

 

| | | |
| --- | --- | --- |
| Raindance Review: Holy Rollers | | |

Written by Ivan Radford

  
Saturday, 08 October 2011 16:25

"You gotta be super smart to count cards." "Maybe we should tell that to Rain Man, because he practically bankrupted a casino, and he was a retard." That's The Hangover's take on using maths to beat casinos at their own blackjack tables - but it turns out it's not just retards who can count cards. Christians can do it too. And a team of them do it every week in America, making hundreds of thousands of dollars by cheating the cheaters. They're called The Church Team. Does it contradict their religious beliefs? Oh no, says the team's founder, Ben. After all, it's not illegal. It's just... frowned upon.




So begins Bryan Storkel's fascinating look at the world of organised religious non-gambling. Ben's decision to start the scheme, which sees a group of players hit the tables, keep track of how cards have been played, and (more often than not) get kicked out by security, is an odd step, but he sees it as completely logical. It's a job for the team members, a way to make money in a short space of time so they can spend more time focusing on church. Oh, and most of them are pastors, by the way.

Add a comment
Read more...

 
<< Start < Prev 1 2 3 4 5 6 7

8

9 10 Next > End >>


Page 8 of 446