i-flicks.net
| | | |
| --- | --- | --- |
| BlogalongaBond: Casino Royale (2006) | | |
Written by Ivan Radford
Sunday, 30 September 2012 21:06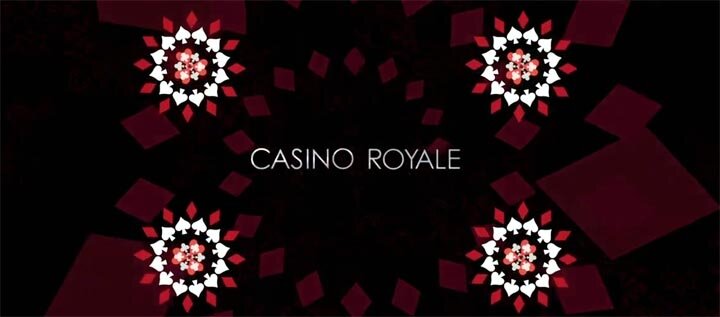 BlogalongaBond. One Bond film each month until Skyfall in October.
Finally. Casino Royale. Following the mountain of butt-nubbins that was Die Another Day, Daniel Craig's arrival was a shot of pure 007 joy – like getting a blowjob from Sophie Marceau after a one-night stand with Jaws.
Martin Campbell returned to the helm to do what he did best: reboot the franchise to fit its era. Brosnan's 90s baptism by Russians smartly played up the irony while allowing for some revenge. Craig's noughties cocktail kept the cold-blooded part – a cornerstone of Ian Fleming's character – and added in a dash of On Her Majesty's Secret Service's sorrow.
But it was more than that: as well as nailing Bond's character, Casino Royale knew when to blow things up and when to sit things out. Gone are the CGI surfboards and ice palaces; in their place, clever exchanges of dialogue and games of cards. After an explosive first half (and some bold opening credits), it really does feel like we're back in Dr. No territory. Casino Royale didn't out-Bourne Jason Bourne by punching people in the face. It did it by staying quiet for the middle act and letting Craig's dormant landmine take centre stage.
And then there's Eva Green - EVA GREEN – whose independent streak and sexy smarts made her the first, and arguably best, Bond girl of the series. She's the perfect companion for Mads Mikkelsen's quiet, calculating Bond villain, both of them adding realism rather than camp humour to proceedings.
Held together by David Arnold's absolutely stonking score, Casino Royale doesn't so much slap Die Another Day around the face as strap Pierce Brosnan to a chair and whip his cheesy balls with a rope while yelling: "Will you yield?" It's a cathartic release for everybody.
Still, Casino Royale's not the first time United Artists/MGM have tried to reboot Bond. OHMSS removed the polish of Diamonds Are Forever. For Your Eyes Only scaled back Moonraker. GoldenEye resurrected 007's misogynistic dinosaur. The boldest restart, though, occurred in 1992, way before Martin Campbell entered the frame. And its legacy – nay, its example – lives on to this day.
I am talking, of course, about James Bond Jr.
Add a comment
Read more...
| | | |
| --- | --- | --- |
| Raindance Interview: Johnny Daukes (Wonder) | | |

Written by Ivan Radford

  
Monday, 08 October 2012 12:44

Interviews with directors and actors can often be 15-minute, in-and-out, strictly controlled things. You get your slot, you're chivvied along, you're shipped out for the next set of identical questions.




So it's always great when you have an interview that turns into a long, rambling conversation. I've had a lot of those recently – both over the phone (21 Jump Street) and in person (How Do You Write a Joe Schermann Song?) – but the latest was a chat with Johnny Daukes, the director and Elliott Smith-esque songwriter behind Wonder, a short which screened at the Raindance Film Festival last week.




The film, which is 26 minutes long, accompanies a short EP, which is out today in iTunes. Both are excellent, so I jumped at the chance to talk to him. Partly because he has a lovely voice (he is, I discovered, the voice of Nutri-Grain Breakfast Bars) and because we had a fun chinwag last year, when Acts of Godfrey premiered at Raindance.




The result? Another sprawling chat that covered everything from The Beatles and the critical response to Acts of Godfrey to Monsters vs Aliens, Special K and his new film with Tom Wilkinson.

Add a comment
Read more...

 

| | | |
| --- | --- | --- |
| London Film Festival Review: Silver Linings Playbook (Surprise Film) | | |

Written by Ivan Radford

  
Sunday, 21 October 2012 14:07

Director: David O'Russell
Cast: Bradley Cooper, Jennifer Lawrence, Robert de Niro, Jacki Weaver

It's rather ironic that after much rumour and speculation, this year's surprise film was as predictable as they come. The story of a man trying to get back with his wife after a stint in a mental institute, David O'Russell's film follows all the usual Hollywood conventions. The surprise? It's fantastic.

Add a comment
Read more...

 

| | | |
| --- | --- | --- |
| 5 things I learned at the Quartet press conference | | |

Written by Ivan Radford

  
Saturday, 20 October 2012 13:45

Quartet, a film about a home full of retired musicians putting on a show, is a landmark film. Not just because it continues the elderly-themed trend in modern cinema, or sees Billy Connolly swear like a sex-obsessed young person again, but because it's the first time Dustin Hoffman has directed a film.




Hoffman sat down with Maggie Smith, Tom Courtenay, Sheridan Smith, Pauline Collins and Billy Connolly to talk about keeping his OAP ensemble in tune.




Here are five things I learned at the Quartet press conference…

Add a comment
Read more...

 

| | | |
| --- | --- | --- |
| Film review: Smashed | | |

Written by Ivan Radford

  
Wednesday, 12 December 2012 07:47
 

Director: James Ponsoldt
Cast: Mary Elizabeth Winstead, Aaron Paul, Nick Offerman, Megan Mullally
Certificate: 15
Trailer

RE: The worst teacher I have ever encountered




Dear Principal Barnes,




I'm writing once again to voice my concern about one of your teachers, Kate.




First, she vomited in front of her class, which (as you know) my daughter and I both found repulsive. Then, she told my daughter she was pregnant, which led to several conversations about babies – not the kind of dinner conversation one likes to have with a seven-year-old girl.




But now, despite my previous letters of warning, it turns out that she lied about her baby and that she was really just an alcoholic. In the light of these horrifying revelations, I have no choice but to demand her resignation.




 

Add a comment
Read more...

 
<< Start < Prev 1 2 3 4 5 6 7 8 9

10

Next > End >>


Page 10 of 446