i-flicks.net
| | | |
| --- | --- | --- |
| Rust and Bone Interview: Marion Cotillard (BFI Screen Talk) | | |
Written by Ivan Radford
Friday, 02 November 2012 08:04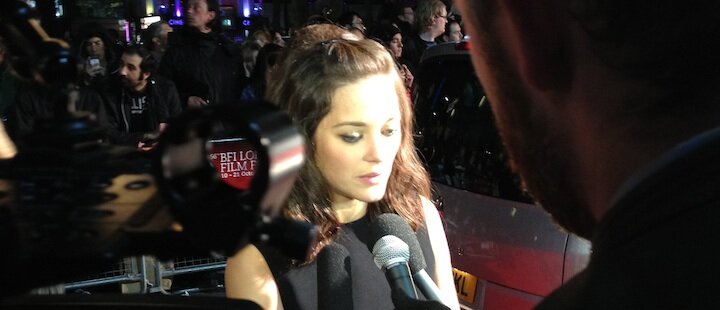 MarryMe Cotillard is amazing. That's a fact. Just like robots are cool and Yorkies are not for girls. But some people out there don't share my fanatical adoration of MarryMe. Some of them don't even pronounce her name right. They call her "Marion" Cotillard instead.
Well, good news, fellow Cotillardians: MarryMe is back in cinemas this week in Jacques Audiard's rather uplifting anti-romance Rust and Bone. It premiered in the UK at the London Film Festival last month and, after tolerating thousands of people screaming her name incorrectly on the Rust and Bone red carpet, MarryMe took part in a Screen Talk at the BFI.
Effectively a two-hour Marion Cotillard interview, the Q and A session reminded me once again how utterly adorable she is.
Here are 10 reasons why...
Add a comment
Read more...
| | | |
| --- | --- | --- |
| Movie Cupcakes: The Hobbit (and Lord of the Rings - sort of) | | |

Written by Ivan Radford

  
Saturday, 15 December 2012 15:28

This year marks a return to the Christmas traditions of old. The Christmas traditions that said we could skip all the Eastenders repeats on BBC One and go and live in Middle-Earth for four hours - and then, after coming out for a toilet break, run straight back in for another four hours. But with The Hobbit, Peter Jackson's more determined than ever to extend our stay, to the point where six chapters of a tiny kids book now go on for two hours and 40 minutes.




So, you're stuck in Middle-Earth, surrounded by bits and bobs from The Lord of the Rings Appendices, and you've run out of things to eat. Do you eat your cinema ticket? Chew your own leg off? How about nibbling on Gandalf's hat? Or swallowing the ring and cutting out another 6 hours of padding?




Well, now you can do two of those - not the leg - with our own Hobbit cupcakes. Continuing our string of Christmas movie-themed cakes, these Tolkien treats will make sure you and your company of greedy dwarves need never go hungry again.

Add a comment
Read more...

 

| | | |
| --- | --- | --- |
| Best Christmas movies on UK TV (2012) | | |

Written by Ivan Radford

  
Monday, 17 December 2012 15:41

What movies are on TV this Christmas? We go through the 2012 festive Radio Times and pick out the best films and film-related dramas that are showing over the holiday period so you don't have to.




Did you know BBC 2 are having a mini-Hitchcock season on Friday 28th December following The Girl's premiere on Boxing Day? Spotted Channel 4's screening of The Girl with Dragon Tattoo trilogy from Boxing Day onwards? When's The Snowman sequel on again? And do you have a chance to see the original first?




And, most importantly of all, when's Die Hard and The Muppet Christmas Carol on?




Here's a rundown of our Christmas TV highlights.

Add a comment
Read more...

 

| | | |
| --- | --- | --- |
| Film review: Chasing Ice (by my 7 year old nephew) | | |

Written by Ivan Radford

  
Thursday, 13 December 2012 08:44

If you're unfortunate enough to follow me on Twitter, you'll be all too aware that I have a nephew. A lightsaber-wielding, slow-mo-fighting, insult-trading bundle of awesome. (I take credit for at least one of those attributes.)




But just in case you thought he was made up so I could have something to tweet about on weekends, here's proof that he's actually real: he's written a film review.




Yes, when I sat down to watch Chasing Ice again in preparation for my interview with director Jeff Orlowski (for Little White Lies), my seven year old sidekick decided to see it with me, despite never having watched a documentary before in his life, let alone one about climate change. He sat there for 30 minutes (until his mum took him home) in near silence with his mouth open. I did exactly the same thing.

Add a comment
Read more...

 

| | | |
| --- | --- | --- |
| LFF: The White Ribbon | | |

Written by Ameen Hojabr

  
Wednesday, 21 October 2009 13:47

Director: Michael Haneke
Cast: Christian Friedel, Rainer Bock, Ulrich Tukur, Marisa Growaldt
Certificate: 15

A small protestant village, one that serves a Baron, with farming controlled by a devout sense of pietism and education. Everything seems to be in its right place with a well ordained layer of purpose and productivity. The community celebrates with good harvest and chooses the church as its moral compass. Religion and education are the foundations of this world, and all seems well in this black and white vision. At its very opening, though, is a clue to the disorder that will come.

Add a comment
Read more...

 
<< Start < Prev 1 2 3 4 5 6

7

8 9 10 Next > End >>


Page 7 of 446