| | | |
| --- | --- | --- |
| Red Carpet: Don't Worry About Me | | |
Written by Selina Pearson
Saturday, 24 October 2009 23:55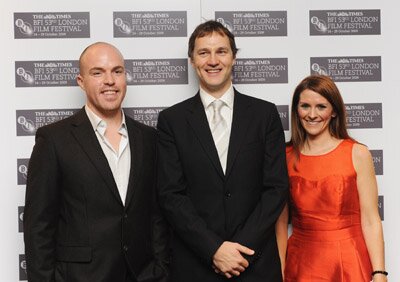 Saturday night at the London Film Festival saw the first screening of Don't Worry About Me, the new film directed by David Morrissey. Morrissey is much better known for his acting, notably Blackpool, the BBC's State of Play and The Deal, where he played Gordon Brown opposite Michael Sheen's Tony Blair. I was fortunate enough to not only get a ticket for it, but also to get a nice big patch of red carpet; i-Flicks was the only print and online publication on the red carpet. All the more Morrissey for me.


The film was based on a stage play written by James Brough and Helen Elizabeth. How did that play come about? "It started life in Edinburgh when we were there in 2004 with two different plays, one of which James had written again, and he had the idea of the concept but wanted to give me something to do in my own accent. That's when we had the idea of setting it in Liverpool."

 


Brough adds: "In the play we did that year, we had a scene together as actors and a lot of the feedback was that that scene worked really, really well and so we decided to work together. We had some ideas, I had the idea for David, and Helen wanted a really good character to showcase herself."


On screen Liverpool looks great. But how did dealt with portraying that on stage? "We described it all. There was a lot of dialogue. The play was written in verse, in rhyming couplets. And all the verse was delivered to the audience, which some people loved and some people hated. But we thought it worked, and that was one of our favourite bits about it, but we would just describe everything, we were describing the city, describing the view. Everything that he was seeing, which was all new to him, this Londoner. We described all the characters as well, all the peripheral people which we've now been able to bring to life."


James expanded on the differences between the film and play: "In the film, there's a scene on the beach with the Anthony Gormely statues. In the play, we used the Field of the British Isles, with all the little clay men - we used the audience as the little clay men. But there were no other characters in the play, just us."


As this is David Morrissey's first feature film, this is presumably a huge leap him for him. "It's a feature film debut for me as a director; I have done two TV films both lasting two hours, so I am used to telling a story over this time scale. But it is different on a feature film because with TV you have a lot of support, you're doing it for a broadcaster, lots of executive producers. This was just me really, me and my friends, so this has been quite a learning curv


Gordon Brown probably has the pick of the projects. Why did he choose this particular one? "I was looking for a project set in Liverpool, that was the important thing for me. I was also looking for a project I could do at a price; I didn't have a lot of money. I went to see this play and it was about two people. I'd seen a couple of films that I'd enjoyed, which concerned just two people walking around a city: Before Sunset and Before Sunrise, so I felt that I could do it. The budget was a lot less than those films. And I just wanted to go to work and the story is based around two very strong characters, and I thought that was great."


So what were the differences between the play and the film? "The big difference was that the play was in rhyming couplets. And also I felt you can get inside a character's head much more immediately on film. Mood is different. Scale is different. And for me they are essentially they are same characters but the journey I take them on is a much bigger one in the film. It's a bigger scale. It's a universal story of how we will tell strangers our innermost secrets rather than our best friends. And how we can hold on to things that mean that we can't move forward in our lives, when actually we just have to let them go. And it is a film about a woman letting her past go and not dominate her lif


Fortunately, this project hasn't put Morrissey off making more films: "I'm hoping to do a film in the summer next year. Again, it's about money really. If I can raise the money I'll do it, but it's looking good at the moment."

 

Check out the clothes they were wearing on the carpet over here.