Star Ratings
| | |
| --- | --- |
| | Amazing |
| | Well good |
| | Fun |
| | Meh |
| | Rubbish |
| | | |
| --- | --- | --- |
| Raindance: Symbol | | |
Written by Ivan Radford
Saturday, 02 October 2010 08:10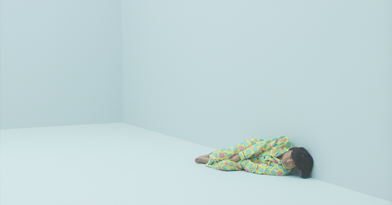 Director: Hitoshi Matsumoto
Cast: Hitoshi Matsumoto, David Quintero, Luis Accinelli
Premiere: Saturday 2nd October
One of the best things about the Raindance Film Festival is the range of low-budget projects on show. Some are gritty and British. Others are weird and Japanese and involve men waking up in white rooms wearing yellow polka dot pyjamas. Symbol falls into the latter category.

Finding himself in a bright empty chamber, the trapped man soon discovers a bump on the wall. He presses it, causing a choir of heavenly angels to appear from the paintwork. The cherubs melt back into the masonry, leaving their members proudly on display.

This is where it gets really weird. Every time the man flicks a penis (insert heavenly squeal of pleasure), a part of the wall opens, throwing out a random object. Deck chairs, graphic novels, sashimi, a running black man - everything you need to survive in a horrible gallery of genitals. Except for Soy Sauce. And maybe a way out.

Hitoshi Matsumoto's performance as the bemused prisoner is as charismatic as they come. Shouting at the walls and swinging on ropes with an eager truckload of ham, he lives up to his career as a comedian. Behind the camera, too, Hitoshi succeeds, keeping the visual side of things interesting and varied (although the comic book skits soon start to wear thin).

The confusing part - dongs aside - comes from a second storyline set in Mexico. Costumed wrestler Escargot Man (failed hero of the town's local children) is getting ready to leave the family home and head to his latest match. Complete with nuns, colourful masks and Spanish-speaking actors, Matusmoto tries to link the two parts together with a transcendent revelation come the climax.

But while the connection between the willies and the universe makes for a stunning montage, Hitoshi could have lost the Mexican sub-plot altogether and kept things more fascinating. As it is, Symbol is a funny and compelling piece of Japanese cinema, but that intrigue essentially boils down to one long willy flicking marathon. Which doesn't always grab you.
Symbol is showing on Saturday 2nd October at 9pm and Monday 4th October at 2.45pm. Tickets are available from the official Raindance Film Festival website.