Star Ratings
| | |
| --- | --- |
| | Amazing |
| | Well good |
| | Fun |
| | Meh |
| | Rubbish |
| | | |
| --- | --- | --- |
| Raindance Review: Holy Rollers | | |
Written by Ivan Radford
Saturday, 08 October 2011 16:25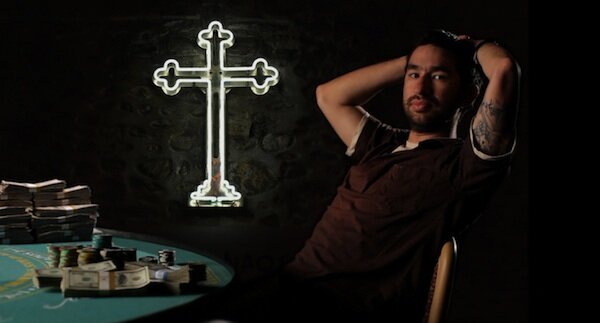 "You gotta be super smart to count cards." "Maybe we should tell that to Rain Man, because he practically bankrupted a casino, and he was a retard." That's The Hangover's take on using maths to beat casinos at their own blackjack tables - but it turns out it's not just retards who can count cards. Christians can do it too. And a team of them do it every week in America, making hundreds of thousands of dollars by cheating the cheaters. They're called The Church Team. Does it contradict their religious beliefs? Oh no, says the team's founder, Ben. After all, it's not illegal. It's just... frowned upon.
So begins Bryan Storkel's fascinating look at the world of organised religious non-gambling. Ben's decision to start the scheme, which sees a group of players hit the tables, keep track of how cards have been played, and (more often than not) get kicked out by security, is an odd step, but he sees it as completely logical. It's a job for the team members, a way to make money in a short space of time so they can spend more time focusing on church. Oh, and most of them are pastors, by the way.
Naturally, people question their behaviour all the time. Parents disown them ("I'd rather you dealt cocaine!" says one shocked mother), congregations judge them, and they resent having to explain it to everyone more than once. But Storkel smartly raises the argument without picking a side. The result is a portrait of a bizarre lifestyle that provokes as much as it entertains.
Some anecdotes are amusing ("I like counting cards for two reasons: 1. It's self-employed, and 2. It's blackjack!") while hidden camera sequences in casinos have a thrilling tension as the documentary deconstructs the myths portrayed by gambling movies. "We never take people we catch into a back room," says one casino bodyguard, later shown to be lying his face off.
The highs and lows of gambling give events a natural story arc, as some team members drop out due to doubts and others affirm that maths and order are created by God so they are able to win at cards. Then, a non-Christian joins the team halfway through, prompting suspicions of theft. How is it that the team is losing money? It is a sign from God? What kind of wig should Ben wear next to disguise himself from the casino CCTV? 
It all adds to the central moral debate that allows Storkel to juxtapose the drama and comedy of this absurd real life tale. And he really knows how to tell a tale. Everything is underpinned by the movie's superb presentation, introducing characters at the table, cutting away to Hollywood clips, and liberally using split screen to keep things dynamic - the opening credits alone have enough flair to mask the budget of the whole film.
It's stylish, flashy stuff, but unlike Vegas, this documentary has a depth that doesn't leave you feeling cheated. Holy Rollers? Good God, it's awesome.

Tags:
bryan storkel
holy rollers
the hangover