Star Ratings
| | |
| --- | --- |
| | Amazing |
| | Well good |
| | Fun |
| | Meh |
| | Rubbish |
| | | |
| --- | --- | --- |
| Sundance London Review: Chasing Ice | | |
Written by Ivan Radford
Sunday, 29 April 2012 11:56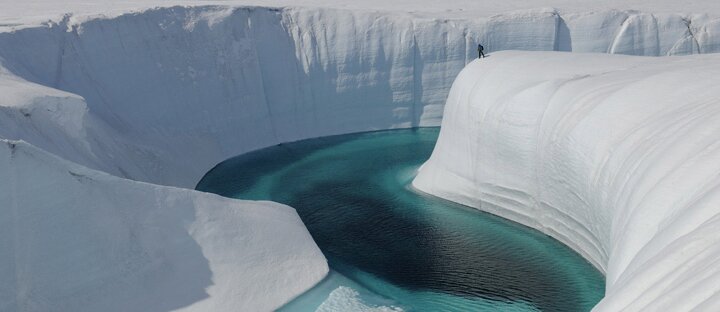 Director: Jeff Orlowski
Cast: James Balog
Screenings
 Trailer
In under 80 minutes, Jeff Orlowski's documentary Chasing Ice manages to capture something that disaster movies have been trying to for years: the colossal, beautiful and horrifying destruction of our planet. It makes The Day After Tomorrow look like Trumpton.
Using still photography and staggering video footage, he follows the gradual annihilation of glaciers around the globe due to climate change. The results are jaw-dropping, easily eclipsing any amount of Hollywood CGI. If Roland Emmerich saw it, he would probably pee his pants.
(Update: This film is so good that now even my nephew has been inspired to write a review of it. To see my writing outclassed by a seven year old, click here.)
For James Balog, it's a life's work. A National Geographic photographer, Balog decided to show the world conclusive proof that climate change is happening. So he launched the Extreme Ice Survey, an epic project that placed 30 cameras over three continents to take photos of glaciers every 30 minutes. Combining them into astonishing time-lapse videos, we see sheets of ice crumble and melt over five years in a matter of seconds, highlighting the alarming rate at which our carbon emissions are heating up the planet.
It's almost impossible to comprehend the scale of what's on screen: the tip of one glacier is the size of Manhattan, but three times as high. It soon cracks and drifts into the ocean, worn away by the melting currents of icy water underneath. The people operating the cameras are as stunned as we are.
And Balog is still going today. Not content with what he has so far, he repeatedly has surgery on his knee so he can go back to visit the cameras in their hostile terrains. Orlowski's powerful documentary is as much a tribute to James' dedication as it is a response to the millions of people who still claim global warming is made-up, left-wing nonsense. Contributions from his family only add to the determined man-made destruction that Balog's knackered knee comes to represent.
Earlier this year, The Island President portrayed the looming threat of rising water levels against the sunny paradise of The Maldives. Chasing Ice's brutal, shifting landscapes are even more affecting – the end credits alone, accompanied by Scarlett Johansson singing a a song by J. Ralph, Before My Time, will practically move you to tears.
I remember reading an article once arguing that the phrase "climate change" is too soft and that "climate dislocation" would be harder to ignore. "People don't need facts or statistics. They need something visual to understand," reasons Balog. Chasing Ice gives it to them. And it's devastating.

Tags:
chasing ice
climate change
james balog
jeff orlowski