Star Ratings
| | |
| --- | --- |
| | Amazing |
| | Well good |
| | Fun |
| | Meh |
| | Rubbish |
| | | |
| --- | --- | --- |
| Woody at the BFI: Everyone Says I Love You and Sweet and Lowdown | | |
Written by Ivan Radford
Saturday, 21 January 2012 08:07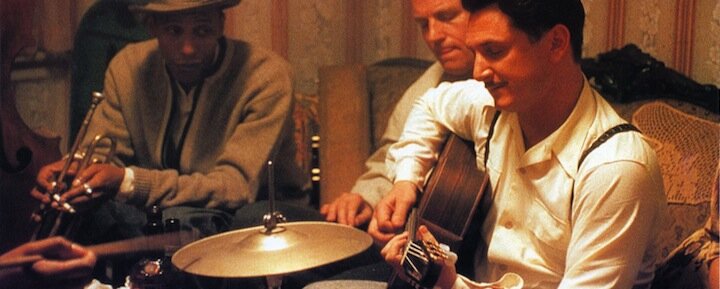 If you've seen the opening credits for a Woody Allen film, you'll have noticed two things: the Windsor font and the music.
So, as the BFI Woody Allen season ventures into the 1990s, we look at two of the director's most musical numbers: Everyone Says I Love You and Sweet and Lowdown.
Everyone Says I Love You (1996)
Once more with feeling! Do you remember that Buffy the Vampire Slayer episode? The one with Anthony Stewart Head singing? Well, this 1996 musical by Woody Allen is a lot like that. But with fewer vampires.
Amassing a fascinating cast - including Natalie Portman, Alan Alda (of course) and Tim Roth - Allen gets them to run around New York, Paris and Venice pretending to be upper-class fools in love. There's young Edward Norton and Drew Barrymore, jaded writer Woody Allen who just got dumped, and a massive supporting cast stemming from his first marriage with Goldie Hawn.
But forget about the politics, the wealth, the complexities of the relationships. Everyone Says I Love You is about one thing: that feeling you get when you burst into song. From cadavers coming to life in a funeral home ("Enjoy Yourself It's Later Than You Think") to Norton's suitor serenading Barrymore in the street ("Just You, Just Me"), people pipe up into jazz standards all over the shop.
It's properly charming stuff. Not because the cast can sing - they can't (Drew Barrymore is apparently so terrible that she was dubbed) - but precisely because they sound like normal people. It's a potentially-suicidal decision for a director to make but by heck, it pays off.
The jokes sometimes fall flat and the interweaving romance plot is hardly original, but there's one sequence that is absolutely jaw-dropping: reuniting on the banks of the Seine, Woody Allen and Goldie Hawn share a sweet duet in the wee small hours of the morning. It's a nostalgic, wistful moment shot through with the kind of fizz and emotion that defines real romance - and genuine, old-school movie magic.
By the end of the number, when Goldie starts walking on air, you'll swear it's the kind of thing that happens every day.

Sweet and Lowdown (1998)
Sean Penn shaking his head, swaying back and forth in a chair with a pencil moustache. That's the central premise of Sweet and Lowdown, for better and for worse.
Playing jazz musician Emmet Ray, a 1930s guitarist second only to his idol Django Reinhardt, Penn is a treat to watch. Taught to play by Howard Alden (who also performs the solos for the soundtrack), he dances up and down the instrument with the kind of verve you only see in a really immersed musician.
That in itself is a feat to behold - and then there's the sublime Samantha Morton, who falls in love with Emmet without saying a word. As mute as she is cute, Samantha steals the show with ambiguous expressions and engaging eyebrows that rival those of Teller (from Penn and Teller). Even a steaming hot Uma Thurman can't rival Morton's silent charisma.
Allen's period faux-biopic doesn't seem to have a direction, though, rambling onwards in an unfocussed haze. But Allen hits sweet spots throughout the 95 minutes; this 1998 tribute to improvisation feels as free and loose as Eddie's guitar playing. He twangs, plucks and shags with a selfish disregard for others - like the magical effect of Goldie Hawn's singing, Penn's performance is so spot-on that it's hard to believe that Emmet Ray never existed.

For more on the Woody Allen BFI season - and to book tickets - check out the official site.
Tags:
alan alda
drew barrymore
edward norton
everyone says i love you
goldie hawn
jazz
julia roberts
natalie portman
samantha morton
sean penn
sweet and lowdown