| | | |
| --- | --- | --- |
| Best Christmas movies on UK TV (2012) | | |
Written by Ivan Radford
Monday, 17 December 2012 15:41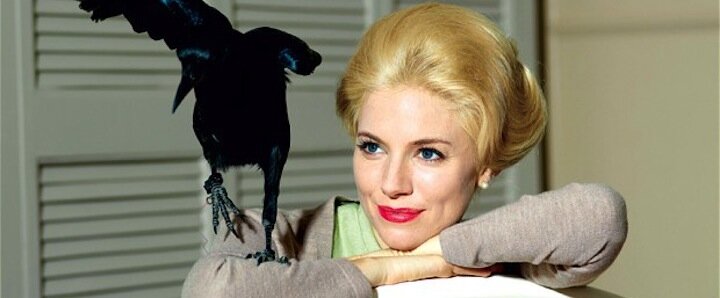 What movies are on TV this Christmas? We go through the 2012 festive Radio Times and pick out the best films and film-related dramas that are showing over the holiday period so you don't have to.
Did you know BBC 2 are having a mini-Hitchcock season on Friday 28th December following The Girl's premiere on Boxing Day? Spotted Channel 4's screening of The Girl with Dragon Tattoo trilogy from Boxing Day onwards? When's The Snowman sequel on again? And do you have a chance to see the original first?
And, most importantly of all, when's Die Hard and The Muppet Christmas Carol on?
Here's a rundown of our Christmas TV highlights.
Saturday 22nd December
Arena: Screen Goddesses (9pm BBC4)
Garbo. Dietrich. Hayworth. Monroe. Who better to spend Christmas with?
Die Hard 2 (10.30pm Channel 4)
Driving home for Christmas. With planes. And terrorists. And naked William Sadler.
DON'T WATCH...
Four Christmases (9pm Channel 4)
Four too many.
STAY UP LATE FOR...
Rare Exports (1am Channel 4)
Santa Claus is buried in Finland and eats children. Fact.  The Killing meets Tim Burton in one of the best Christmas films in recent years.
Sunday 23rd December
Cool Runnings (2.55pm BBC 1)

Can't afford the Olympics on DVD? This has got you covered.

Twins (4.05pm ITV 1)

Thank you for the cookies. I look forward to tossing them. 

Spartacus (4.10pm ITV4)

If you're not around on New Year's  Historical Epic Day, get an early dose with this classic.

The Snowman (6.25pm Channel 4)

Warm up for the inevitably pants sequel, showing tomorrow evening.

Cleopatra (7pm BBC 4)

Remember Elizabeth Taylor as she was: not played by Lindsay Lohan.

Bad Santa  (9pm Channel 5)

Your slice of Christmas cheer for the day. With added booze and hookers.

DON'T WATCH...

It's a Very Merry Muppet Christmas Movie (2.55pm Channel 5)

No it isn't.

STAY UP LATE FOR...


In Bruges (11pm Channel 4)


"They're shooting midgets!" It doesn't get more Christmassy than that.

 
Christmas Eve
The Nightmare Before Christmas  (9.10am BBC 2)
Scare your kids to death with this fantastic stop-motion musical...
The Muppet Christmas Carol  (11am Channel 4)
... then cheer them up with one of the greatest Christmas movies ever made. "A blue, furry Charles Dickens who hangs out with a rat?" If you only see two films on TV this Christmas, this is a flawless double-bill.
The Santa Clause (12.25pm BBC 1) 
If your kids are desperate for some cheesy Tim Allen, let them see this - it's quite harmless really. But be warned. It can be a gateway drug to commercial mediocrity.
Prince Caspian (2pm BBC 1)
Ben Barnes' sword is something the whole family can enjoy. Especially the girls.
Home Alone 2 (2.50pm Channel 4)
If you only see one Christmas film today (and you're not around for The Muppets), then any chance to see Home Alone 1 or 2 is a must. Fun for sadists of all ages. And a great chance to teach children how to spell "schadenfreude".
Nativity! (3.55pm BBC 2)
If you've only seen the posters for the dire sequel, try this original outing. It's really quite sweet. And the songs are scarily catchy. All together now: "Things are really cooooool in Nazareth..."
The Lady and the Tramp (5.05pm BBC1)
Awwwww. This is rarely on TV. You're already on the couch anyway, so you might as well watch it.
The Snowman and the Snowdog (8pm Channel 4)
Raymond Briiggs has given his blessing for this sequel, so it could be brilliant. Or it could be like watching someone pee all over your children until it turns yellow. And then gets thrown in your face.
DON'T WATCH...
The Polar Express (2.40pm Watch) 
The soundtrack is fantastic. The film? Not so much.
STAY UP FOR...
Attack the Block (9pm Film 4)
Too much madness to fit into one pithy sentence.
Christmas Day
Aladdin (9.25am ITV1) 
A whole NEWWWWWW world! Because everyone likes to be woken up early on Christmas Day by young children doing Disney karaoke.
On the Town (12 noon BBC2)
Gene Kelly. Followed by...
Singin' in the Rain (1.35pm BBC 2)
... more Gene Kelly!
Tangled (3.10pm ITV1)
This modern Disney fairytale has a genuine female character at its heart. The best thing about it? Her horse doesn't talk.
The Fellowship of the Ring (5.40pm Channel 4)
If you want a non-padded excursion through Middle-earth, Channel 4 are doing what they always do during the holidays and showing all three over a few days. If your kids have turned 8 or 9 this year, why not introduce them to Tolkien? It's cheaper - and better - than The Hobbit.
Jurassic Park (6.35pm ITV2)
Best. Christmas. Present. Ever.
DON'T WATCH...
Scoop (11.15pm BBC HD)
Seriously. It's painful to watch - especially for Woody Allen fans.
GET UP EARLY FOR...
Horton Hears a Who (8.20am Channel 4)
This delightful animation proves Dr. Seuss can work on the big screen.
Boxing Day
Miracle on 34th Street (3.20pm Film4)
Not the Richard Attenborough remake: the property original.
Rebecca (10.30am BBC 2)
Before The Girl tonight, get in the mood with the first of BBC 2's Hitchcock offerings. It's a corker of a starting point.
Enchanted (3.20pm BBC 1)
Amy Adams = pure happiness.
How to Train your Dragon (5pm BBC 1)
Free Willy. WITH DRAGONS. Seriously.
The Two Towers (6.55pm Channel 4)
Channel 4's lazy schedule stuffing continues...
The Girl (9pm BBC 2)
This dark little drama paints a surprisingly nasty version of The Master of Suspense. Take it with a pinch of salt and this is an interesting and well-made film. Plus Toby Jones' accent is way more convincing than Anthony Hopkins'.
Atonement (11.15pm ITV1)
The movie that Life of Pi wants to be.
DON'T WATCH...
Alice in Wonderland (6.50pm BBC1)
I just did a little vomit in my mouth.
STAY UP LATE FOR...
The Girl with the Dragon Tattoo (10.30pm Channel 4)
Still not seen Lisbeth Salander on the screen? Be wowed by Noomi Rapace for the next three nights as Channel 4 continue to make some great movie choices.
Thursday 27th December
Monsters vs Aliens (3.25pm BBC 1)
This is way funnier than it has any right to be.
Titanic (5.15pm More4)
Do a little festive cry. Go on. It's fine. Nobody's watching.
The Girl Who Played with Fire (10.30pm Channel 4) 
Things take a turn towards TV movie territory here, but Noomi is as magnetic as ever.
The Birds (11pm ITV3)
The perfect way to follow up The Girl yesterday; see Tippi Hedren's terror first-hand.
DON'T WATCH...
The Holiday (10.45pm ITV1)
When people find the houses in a film more interesting than the characters, you know there's a problem.
STAY UP LATE FOR...
Sunset Boulevard (3.50am Channel 4) 
Stone cold classic.
Friday 28th December
The Lady Vanishes (11.05am BBC 2)
BBC 2 proves just how awesome it would be to have The Hitchcock Channel available all year round today.
The 39 Steps (12.40pm BBC 2)
MORE HITCHCOCK.
Notorious (2.05pm BBC2)
Your final dose of Hitchcock today is a blistering noir romance that proves Hitchcock could do female characters with sympathy, depth - and no voyeurism or rape.
The Girl Who Kicked the Hornet's Nest (12.45am Channel 4)
An unsatisfying finish to what could have been a brilliant Scandinavian series.
DON'T WATCH...
Sherlock Holmes 2 (8pm Sky)
1. It's not very good. 2. It's on Sky.
STAY UP LATE FOR...
Gremlins (10.15pm ITV1)
ITV do the sensible thing by not showing it after midnight.
Saturday 29th December

The Return of the King (7.20pm Channel 4)
Because it's not Christmas until the eagles have turned up in your living room and made three hours of your life redundant.
Climbed Every Mountain: The Story Behind The Sound of Music (8.15pm BBC 2)
After The Girl and Arena: Screen Goddesses, complete your behind-the-scenes festive drama with the true story of Maria von Trapp.
Love Actually (9.30pm ITV1)
Don't worry. Everyone else secretly likes it too.
DON'T WATCH...
Garfield (10.25am Channel 4)
WHY BILL, WHY?
STAY UP LATE FOR...
Wuthering Heights (11.10pm Channel 4)
Raw, beautiful, intimate, immediate - Andrea Arnold breathes a whole new life into Bronte's tale. Mostly using wind. Cold, howling, horrible wind. This is stunning stuff.
Sunday 30th December
Edward Scissorhands (2.55pm Channel 4)
Why does it snow at Christmas? The answer is heartbreaking.
Arrietty (4.55pm Film4)
Studio Ghibli take another piece of Western literature and work wonders with it.
The Incredibles (9pm BBC3)
Why Pixar's best film is on so late is beyond me, but at least it means the young'uns won't be talking over Michael Giacchino's superb John Barry-esque score.
DON'T WATCH...
Dr Dolittle (7.45am Channel 4)
STAY UP LATE FOR...
Moon (10pm BBC2)  
Property British sci-fi with barely any budget. Sam Rockwell is incredible.
New Year's Eve

Muppet Treasure Island  (9am BBC1)
The only Muppet film that comes close to beating The Muppet Christmas Carol. (The Muppet Movie is third.)
The Sound of Music (3.10pm BBC1)
After Climbed Every Mountain, enjoy Maria's story all over again. This time with singing children.
Prince of Persia; The Sands of Time (8.30pm BBC1)
Lower your expectations and this is surprisingly fun stuff. Honestly. It really is.
DON'T WATCH...
Son of the Mask (12noon Channel 4)
He was probably adopted.
New Year's Day

Mary Poppins (1.45pm BBC1)

Whenever Mary Poppins is on TV, you have to watch it. That's the law.

Pride and Prejudice (1.25pm ITV1)

Proof that Keira Knightley can act. And that Matthew MacFayden is hot.

Lawrence of Arabia (5.35pm Yesterday)

Missed the cinema re-release? Curl up with Peter O'Toole on the couch. Those blue eyes......


The Dam Busters  (5.40pm Channel 4)

All the fun of a war movie - and a bit with a dog.

DON'T WATCH...

Up (6.10pm BBC1)

Unless you want to see a perfect opening get shoehorned into a painfully conventional narrative structure. A tragic missed opportunity.

 

What are you looking forward to on the small screen over Christmas?

 

For more festive blog posts, check our movie advent calendar.