| | | |
| --- | --- | --- |
| Rust and Bone Interview: Marion Cotillard (BFI Screen Talk) | | |
Written by Ivan Radford
Friday, 02 November 2012 08:04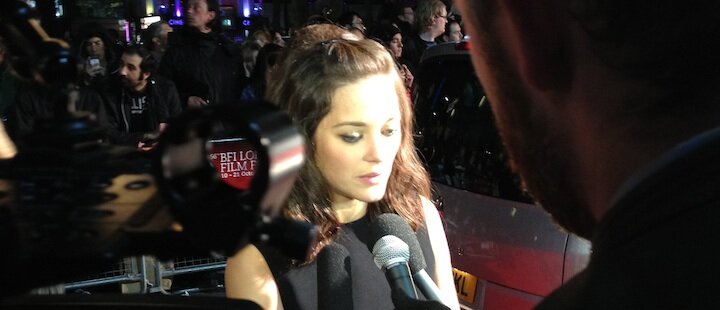 MarryMe Cotillard is amazing. That's a fact. Just like robots are cool and Yorkies are not for girls. But some people out there don't share my fanatical adoration of MarryMe. Some of them don't even pronounce her name right. They call her "Marion" Cotillard instead.
Well, good news, fellow Cotillardians: MarryMe is back in cinemas this week in Jacques Audiard's rather uplifting anti-romance Rust and Bone. It premiered in the UK at the London Film Festival last month and, after tolerating thousands of people screaming her name incorrectly on the Rust and Bone red carpet, MarryMe took part in a Screen Talk at the BFI.
Effectively a two-hour Marion Cotillard interview, the Q and A session reminded me once again how utterly adorable she is.
Here are 10 reasons why...
Marion loves Jacques Audiard – and has only just realised it
"Jacques Audiard is a volcano of poetry and love!" she declared enthusiastically. Then paused and caught her breath. "I don't know where that came from..."
Marion loves animals
"I didn't know much about whales so I had to learn about orcas," she admitted about the preparation for playing a whale trainer. "I wasn't a very good swimmer so I had to learn to swim too!"
But MarryMe is a strong environmental campaigner and isn't exactly a Free Willy fan (one of several reasons why our relationship would never work). "I attended an orca show and I was physically and emotionally shaken. And this trainer was smiling and like 'Did you like it?' but I couldn't say yes! I said: 'No, I hated it. It's horrible for me to be here.' But we became very good friends... I can't stand Marineland, but the people who work there do love the animals."
"It was unbearable for the first day because I can't understand how we take this giant animals and put them in a swimming pool. It's part of the human craziness I just don't accept."

Marion is like a female Robert de Niro. Sort of.
She has her own approach to acting that sounds exhausting and in-depth – but even once she's gotten into character, she doesn't go full Daniel Day Lewis. You can still have a conversation with her and declare your undying love. Or, you know, whatever.
Playing someone who loses her legs was obviously a challenge. "I started to watch videos of people without legs and how they moved but then figured I didn't need it. If she'd been without legs for all of her life that would work but this just happened to her and I wanted to experience it like that." It's convincing to watch. The weird part is that she even convinced herself: "When you're into a character - this is weird to explain - but you believe you have no legs…"
Tim Burton saved Marion's career
Rewind 10 years and Marion Cotillard was close to walking away from acting for several years. The guy who stopped her? Tim Burton. That's right. The director of Big Fish is responsible for giving the world MarryMe Cotillard.
"I was frustrated," she said of that point in her life. "I wanted to work with the directors who inspired me to be an actress."
But then Big Fish came along.
"I was in a place where because I was frustrated I wanted the passion to give me joy, so I did something totally different. Rather than wait for the phone to ring, I called my agent and said I would quit acting - not forever but I needed to shift my energy."
But her agent convinced her to try for one more role. "I met Tim. I sent a videotape and a month and a half later, I got the role in Big Fish."
Edith Piaf was inside Marion Cotillard
A few years later and MarryMe was winning an Oscar for playing Edith Piaf in La Vie En Rose. But the way speaks about it sounds far more disturbing. It turns out Edith Piaf was inside her. Like Voldemort in Professor Quirrel when he had two heads or something.
"I choose a way of working that wasn't rehearsing, trying to experience the way she moved before the shooting, but I was filming other movies, so when I started to prepare I watched footage of her. I listened to her every day. It was instinctive but with work to nourish that instinct.... It wasn't factual. It was more spiritual. It was feeding myself with everything she was."
Several mouthfuls later and her stomach was unsettled. As yours would be too if you were, like, a cannibal or something. "It was risky - a week before I freaked out! What if I wasn't ready? The first few days I was scared I would be very bad. Then this voice came out and I surprised myself. On the fourth day, we shot a scene when she was older, but day after day I realised that someone was there - someone who wasn't me..."
MarryMe is modest
An Oscar-winning, people-eating, Voldemort-sharing, whale-saving French actress who can act in English? It doesn't really get much better than that. Unless she could fly. But MarryMe's modest about the whole thing.
"I'm still surprised that American directors choose me for their movies!" she laughs. Then flew off out of the cinema.
She doesn't care about the press
Flying out of a cinema tends to bring the press running, but to her credit she's not bothered about it at all.
"Paparazzi isn't important because we do an amazing job that we love compared to that experience of working with people like Michael Mann. Maybe there's a respect that's different in France, but fame is something that's not connected to what you do or what you give people."
She was starstruck… by Woody Allen
"It's one of my life-long ambitions to meet Woody Allen before he dies – or I die. When MarryMe met him for Midnight in Paris, she was so starstruck she could barely act."
"I was so impressed by Woody that I couldn't get out of myself! I freaked out every day and was convinced that I was shit! It took me the whole movie to relax… and by then it was over."
Marion likes to work with small directors
Marion likes to work with small directors. I don't mean very tiny people, although that would explain Woody Allen, but she spoke strongly about the negatives of large studio films.
"I was offered a big role on a big studio film but he knew nothing about acting. I tried to talk about character but he just went in about costumes and beautiful pictures. I felt no soul. And I've been in movies like that where I had and that environment and I was terrible!"
Of course, The Dark Knight Rises and Inception were an exception to that rule.
"Then I realised that the person I do this for is the director," she added. "He needs to want to tell a story. Like Christopher Nolan. He's so involved in directing and his characters and script and he's very close to his team, so it feels like a small character piece but, you know, it's Batman!"

Marion Cotillard would love to work with Will Ferrell
Fact. Marion Cotillard loves Will Ferrell and wants to work with him. Speaking about what she wants to do next, she confessed:
"I want to take the risk of comedy. I LOVE Will Ferrell! At a Funny or Die studio meeting, they invited him in. The door opened, Will walked in, and I don't know what happened… I just jumped on him! If Will Ferrell offered me a role, I would do it!"
And the funnyman love doesn't stop there: "Jonah Hill too," she admitted. "He's my second crush."
So when you see a Will Ferrell film with Marion Cotillard in it, don't be surprised. Especially when she turns up on screen with an Edith Piaf Voldemort force and flies out of the building.
Rust and Bone is out in cinemas today and is rather fantastic. Head this way to read our Rust and Bone review.