Star Ratings
| | |
| --- | --- |
| | Amazing |
| | Well good |
| | Fun |
| | Meh |
| | Rubbish |
| | | |
| --- | --- | --- |
| FrightFest Review: REC 3 Genesis | | |
Written by Ivan Radford
Friday, 24 August 2012 20:08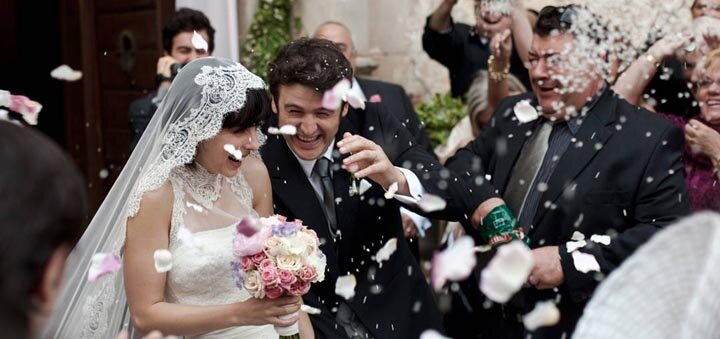 Director: Paco Plaza
Cast: Leticia Dolera, Diego Martin
Certificate: 15
Handheld cameras. Scary zombies. Wetting your pants. Take everything you expect from a REC film and roll it into one big ball. Now throw that ball away. Because REC 3: Genesis is not really a REC film at all. Disappointing news for you, perhaps, but good news for your pants.
Splitting up with co-creator Jaume Balagueró for the first time, Paco Plaza sets off on his own here, aiming to take the series in a new direction. It's different, yes - but not always in a good way. 
At first, everything appears normal. Clara (Dolera) and Kolko (Martin) are getting married. They've hired some outside help to film the event (Borja Glez. Santaolalla) and one of their relatives is clutching a cheap camcorder. "Cinéma vérité!" the pro reminds his pad-wan every few minutes as the picture swings about all over the place. Then you realise something: it's supposed to be funny.
A horror comedy? Things start off amusingly enough, with Clara's uncle spewing up blood in the bushes. He says he's been bitten by a dog (*PATIENT ZERO ALERT*) but no one believes him. "He's just drunk," they laugh, moving the camera away. A few minutes later and the wedding guests begin dropping like flies. Flies that get back up again and try to bite your face off. But while the bloody descent into marital chaos is a good idea for a sequel, the jokes eventually stop working and start to feel forced.
The turning point is when the characters do the one thing REC films have never done before: put the camera down. Switching from a character's POV to a third-person narrator, Plaza deserves points for being brave, but leaves us with no one to latch on to. That's not a problem for most horror franchises, but it's weird for a REC entry. After the dark humour and terrifying jumps of the Aliens-style REC 2, you start to wonder: who's holding the camera now?
Three films on handheld would be too much, you might argue. But after Chronicle's creativity with portable lenses, it's a shame not to see Plaza trying to push the boundaries himself. Especially when his imagination is still there on the screen: the sight of Leticia Dolera's manic bride, eyes bulging, wielding a bloody chainsaw is an undeniable pleasure, while the director clearly enjoys exploring the mythology of his hellish virus. And, of course, spraying fake blood everywhere.
Whether you dig the shifting style or not, though, for a comedy horror, REC 3 is sadly lacking a bit of both. The relationship between the newlyweds gives events a surprisingly sweet heart, but while you cheer them on through the frantic carnage, you never really share their fear.
What you're left with is 80 minutes of enjoyably messy zombie-slaying, but not much else. And these days, that's not always enough. Juan of the Dead, Cockneys vs Zombies, Cabin in the Woods. REC's handheld style may have spawned tired imitations, but its newly-chosen genre is equally full. And a lot of them get the laughs, if not the scares, bang-on.
An uneven marriage, then. But for better or worse, I'm now even more intrigued to see what Jaume Balagueró will do with REC 4. 
Tags:
diego martin
frightfest
jaume balagueró
leticia dolera
paco plaza
rec 3