Star Ratings
| | |
| --- | --- |
| | Amazing |
| | Well good |
| | Fun |
| | Meh |
| | Rubbish |
| | | |
| --- | --- | --- |
| DVD Review: [REC] 3 Genesis | | |
Written by Ivan Radford
Monday, 03 September 2012 15:50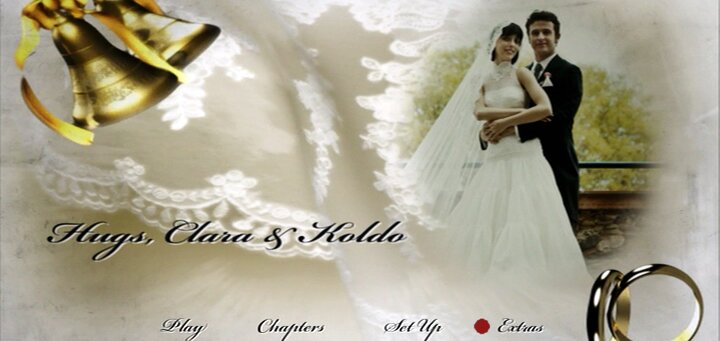 We've all sat through those annoying home video wedding DVDs. The cheesy music. The cheap, crappy menus. The promise of thousands of boring photos of annoying relatives. But now you can buy one from a high street store. Why should you bother? Because this is no ordinary wedding ...
REC 3: Genesis is released on DVD today. The Spanish sequel/prequel, which runs in parallel with the first film, sees Paco Plaza break up with previous co-director Jaume Balaguero and go solo. But as anyone who saw the film at Frightfest 2012 or read our REC 3 review will know, that's not the only thing that Plaza divorces.
After 20 minutes of handheld footage of Clara and Koldo's wedding, during which a tipsy uncle goes from drunk to full-on zombie, Plaza drops the camera on the floor and switches to standard third person. It's a jarring move – one that you'll love or hate. What follows is 60 madcap minutes of silly jokes and lots of splattering blood. It's awkwardly forced, but suitably trashy stuff: even if you're not convinced by REC's definitively non-REC style, the sight of a gore-covered bride wielding a chainsaw is hard not to enjoy.
A must for REC fans? Perhaps not. And yet definitely. You see, while most reviews have spent the time discussing whether they found it funny or scary, lots have missed a crucial part of the REC 3 package: its DVD release. Going straight from cinemas last Friday to home video today, the REC 3's home entertainment package is a must-have. Why? Because you get a whole new movie.
Clicking through the DVD's impressively tacky menus, you'll find a tiny selection of the obvious extras: some bloopers that are as painful as a real wedding video and a handful of deleted scenes.
But what's also tucked away there is the boringly titled "REC: Genesis – Preparing a Bloody Wedding". Be warned. This is no normal making-of: this is a 112-minute, in-depth behind-the-scenes film that's longer than the actual movie.
And in it, Paco Plaza explains just what he did to the REC series.
"The first was a classic horror. The second was an action movie mixed with horror," he says, then adds: "I believe the third is an adventure movie."
He goes on to reveal his desire to stay true to the "spirit of the previous films" but also "revolutionise the concept" and create something "completely different". There's also a lot of discussion about that crucial switch from subjective found-footage to objective camera positioning.
"We wanted it to be as anti-REC as possible," admits Plaza. And that's only 15 minutes in. Add another 90 minutes of detailed on-set insights (infinitely more entertaining than those dreadful outtakes) and you have a surprisingly fascinating bonus movie. A parallel sequel to the parallel sequel, if you will. And while the latter may not be what everyone expected, the former more than justifies its existence.
The result is a somewhat bizarre recommendation: yes, buy REC 3 on DVD. But not for the film itself. Buy it for the crappy menus. And the tinkly music. And that extra footage of the annoying relatives that you never realised you wanted.
REC 3: Genesis is out on DVD from today, RRP £15.99